Walking guide to Kiev, Ukraine
Before moving to Kiev for a fellowship, I had two associations with the capital of Ukraine: bowls of borscht and grim concrete Soviet buildings.
Friends asked in shock, "You're moving where?" and reinforced my grey, gloomy image, tossing in news reports of the 2004 Orange Revolution for extra measure.
Then I met a couple who had just returned from a trip around Europe. They decided to stop in Kiev on a whim and couldn't be more enthusiastic. "It was one of our favorite spots!" they told me. "What an enchanting city!"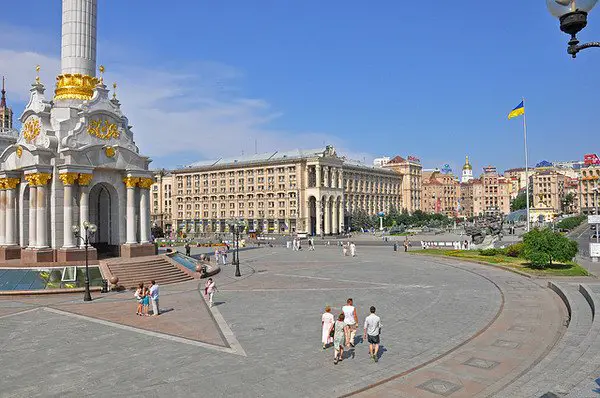 Enchanting? I was skeptical. However, in the days after I'd landed and moved in, Kiev constantly took me back. Charming coffee shops. Colorful, curving architecture. Rolling parks with sweeping views of the Dnipro River. Kiev's hip art galleries and smoky underground bars that could rival any in New York City's East Village.
I sent friends and family glowing e-mails. "I'm in love with Kiev!"
I love that Kiev is such an unpredictable city. It's home to the holiest religious site in Eastern Orthodoxy, was the center of Ukraine's Orange Revolution, is bursting with parks and staggering Soviet statues and boasts some of the most outrageous nightlife in Eastern Europe.
Visitors can see mummified monks at the Lavra, experience the ballet at the dazzling Opera House, sunbathe at the beaches of Hydropark, get Georgian food in Podil and climb the cobblestones of Andrews Descent.
Or just get vodka on the main streets and watch the crazy city go by.
To get an instant feel for the buzz of Kiev, start with a walk down vul Khreschatik, the razzle-dazzle main street of the city. Ideally go on the weekend, when the street is closed off to cars and everyone goes strolling.
Between glamorous mothers in impossibly high stilettos, makeshift breakdance concerts and men harassing passersby with trained doves, it's prime people-watching. Buy a $1 cappuccino or Americano from one of the many coffee carts that line the street.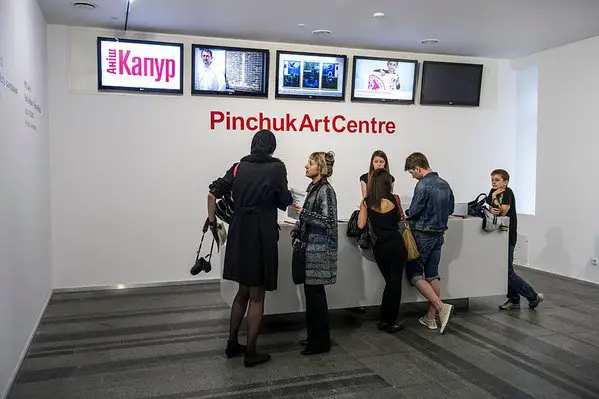 Continue your walk at the end of the Khreschatik with Bessarabsky Rynok. It's a soaring, light-filled, upscale food market, with dazzling arrangements of produce. Treat yourself to candied fruits or tins of black caviar. Across the street is the Pinchuk Art Centre. The excellently designed gallery has five floors of contemporary art, and admission is free. Stop for dessert or a drink at the gleaming, all-white SkyArt Café on the top floor.
Continue down Khreschatik until you reach maydan Nezalezhnosti, Independence Square. Soak in the atmosphere of the sweeping square: the gigantic gold statue proclaiming Ukrainian independence, the flashy clothing stores, the babushkas selling home-grown produce by the metro entrance. Try to avoid the bizarrely costumed characters walking about. Bored teenagers dressed as Bart Simpson, squirrels, pandas and dinosaurs will harass you for a picture when they're not lounging with cigarettes or making out with each other. (Yes, still in costume.)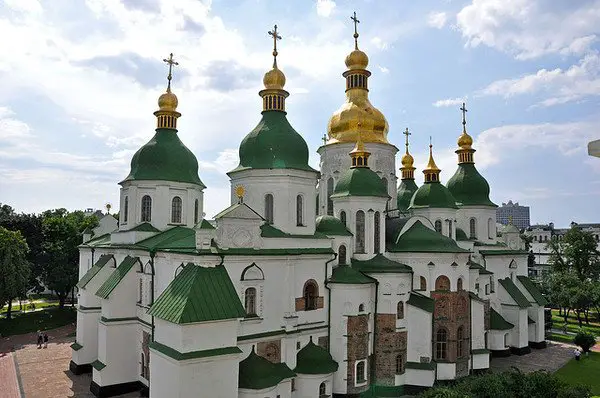 Head uphill to the beautiful St. Sophia's Cathedral and St. Michael's Monastery. While the bright blue exterior of St. Michael's is fairy-tale charming, it is the interior of St. Sophia's that is truly amazing. As the oldest standing church in Kyiv, many of the wonderfully preserved Byzantine frescos are originals, dating back to 1017 to 1031. From St. Michael's, it is an idyllic walk to St. Andrew's Church – a vision on a hilltop in turquoise and gold, designed by Bartelomeo Rastrelli, the Italian architect who designed the Winter Palace in St. Petersburg.
From St. Andrew's Church, explore the top of Andriyivsky uzviz, Andrew's Descent. The area is filled with souvenir stalls, selling everything from McLenin tea mugs to traditional Ukrainian village shirts. You can walk down the entire winding, cobblestone avenue to architecturally impressive, funky university neighborhood Podil.
Or keep going uphill to check out Sightseeing Alley – a collection of creative and whimsical sculptures, with a magical children's playground. Park benches that go up and down like a see-saw, gigantic, colorful cats with mouths big enough to stand in, towering stacks of tiled pillows; the sculptures are absolutely lovely and the area has fantastic city views.
Head back down and take the maydan Nezalezhnosti metro. The metro system is reliable, safe and fast, and also one of the steepest in the world. Watch couples kissing as you go down the long escalator rides. People sometimes sit down and chat if it's a really long one.
Get off at Arsenalna and walk to the Kievo-Pecherska Lavra. The Lavra is the holiest site in Eastern Orthodoxy and is breathtaking. The hills housing the Lavra's various gold-domed churches and caves overlook Kiev, and moving melodic chanting can often be heard from the various prayer services. The church interiors are staggering, decorated in traditional, gold-covered Byzantine style. For the particularly adventurous and not claustrophobic, it is worth visiting the three subterranean churches and caves at the Lavra. One hundred and twenty-three mummified Eastern Orthodox monks are ornamented and buried among the underground caves and can be seen by lit candles.
In good weather (or if you're feeling brave, in the Ukrainian winter!) take the metro to Hydropark or walk across the pedestrian-friendly bridge to Trukhaniv island. Both are in the middle of the Dnipro River and offer inexpensive waterfront restaurants, stretches of sand to sunbathe on, outdoor gyms and woods with running trails. The real novelty is admiring the views of Kiev, with its many gold domes, from the islands.
In the evening, enjoy the ballet or opera at Taras Shevchenko National Opera Theatre or hear music at the National Philharmonic. Both buildings are grand and ornate, and orchestra tickets will frequently set you back only $15 or so. I recently sat third row and center for a stunning production of Swan Lake for $30.
Food and drink
Ukraine is known as "the breadbasket of Europe," so be sure to sample any of the rolls, baguettes, baked goods, and doughnuts served street-side and underground – the bread comes in every variety, from cabbage-stuffed to sugar-coated.
For fun and very cheap way to sample authentic Ukrainian cuisine, try any Puzata Khata. The chain serves Ukrainian staples such as borscht, varenyky (pasta stuffed with potatoes, mushrooms, meat or cherries) and blyny (crepes) cafeteria-style, and also has hard alcohol and great pastries.
Japanese and Italian are incredibly popular cuisines in Kiev. The classy chain Olivias serves well-priced Italian with great décor. When there, try the antipasto plate for two. Café Prego also serves excellent and inexpensive Italian, and like almost all restaurants in Kiev, it has a great sushi menu.
Of the numerous Georgian restaurants in Kiev, Kazbek and Mimino are two of the best. A personal favorite, Georgian is a must-try cuisine while in Eastern Europe. Get the famous starters of hachapuri (delicious cheesy bread) and then spinach, eggplant, and red beans rolled with walnut paste. Do as Georgians do and order a plate of fresh herbs to eat throughout. Be sure to get a bottle of semi-sweet Georgian red wine. Wine is a gem of the Georgian region, especially the rich semi-sweet.
Bars tend to be casual, underground, smoke-filled and atmospheric. Get a Green Fairy at Cupidon, wine at the cozy Violas and beer at Sunduk Pub. Hang out with university students at Bar Duck or at bookstore/café/art gallery/bar Babuin. Get a Black Russian with expats at Deevan.
Listen to live music at Art Club 44, or when the weather is good, hop on a Dnipro Party Boat for a cheap and silly 90-minute disco river cruise.
*Photograph of Independence Square and St Sophia's Church by Anosmia; image of PinchukArtCentre provided by PinchukArtCentre; the lavra by Vlad & Marina Butsky; hachapuri by pussbigeyes
Pin for Later