It is naive to think that just one city sets the tone for an entire county. I quickly learned that just because you have visited London does not mean that you have visited England. I love London don't get me wrong, but it is only the tip of the iceberg when it comes to understanding English culture and cuisine.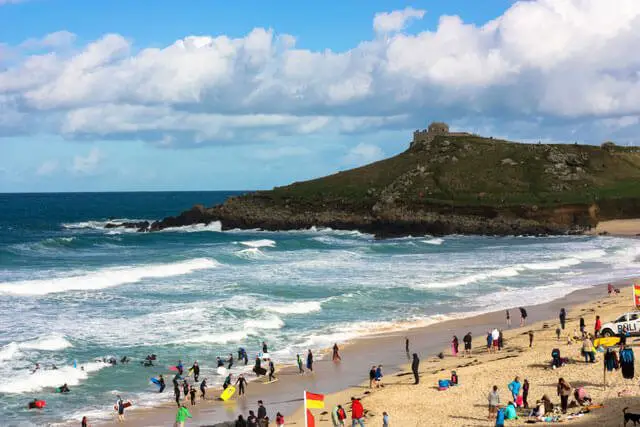 Last fall we took a road trip to Cornwall region with some friends. We rented a house in St. Ives, which is the most charming seaside village I have ever seen. Cornwall is approximately four to five hours from London by car depending which town you are visiting. We chose St. Ives because our friends had been there on family vacations throughout their childhood. And while some things had changed the permanent fixtures such as the small winding streets and local pubs had not. St. Ives was a great home base for us as we wanted to explore the other towns within the region while ensuring we were within walking distance of shopping and restaurants. Many of Cornwall's major attractions were a short drive away and allowed for short day trips to explore.
I'm not sure if it was the fresh sea air or the friendly and welcoming locals, but I loved Cornwall and look back on our time there with fond memories. Maybe that's what attracts so many visitors to the area each year. Below I've listed my five favorite places within Cornwall for you to go out and make your own Cornish memories.
 St. Ives
Although this is the town that we stayed in, I highly recommend visiting St.Ives even just for a day. The beach is amazing and the little village is filled with shops, pubs, and fantastic restaurants. Be sure to check out The Sloop Inn which is one of Cornwall's oldest pubs opened in 1312. I recommend a pint of the local favorite Doom Bar.
Land's End
Land's End is a must see for anyone visiting Cornwall. It is famous for being the most westerly point of mainland England and has some of the most breathtaking views of the sea. The cliffs are absolutely beautiful. Although it's become a bit of a tourist trap in recent years, the magnificent view makes up for the parking fees. It's important to warn you that we ran to the "first and last house" during a torrential rainstorm only to find out it's just a fixture and not actually a house you can go into, so don't make the same mistake!
Penzance
There is a lot to like in Penzance! I really enjoyed walking the city and visiting the local shops. Should it be tea time or snack time, Penzance is a really good place to stop and fill up on scones and clotted cream (a local specialty). While we unfortunately didn't have time to visit St. Michael's mount (an island village with a castle) the view of it from Penzance was brilliant
Padstow
Nicknamed "Padstein"€ by Cornwall locals, Padstow is well known for being home to world famous chef Rick Stein's many restaurants and shops. We dined at St. Petroc's Bistro and it was worth the drive. After lunch we explored the town's bustling and well-known harbor.
A drive along the B3306
It's not too often that I am left speechless, but the drive from St.Ives to Land's End along the B3306 was so stunningly beautiful, I was at a loss for words. Driving along the winding roads lush green hills, grazing sheep, and sleepy villages with a handful of residents surround you. It was easily one of the highlights of our trip.