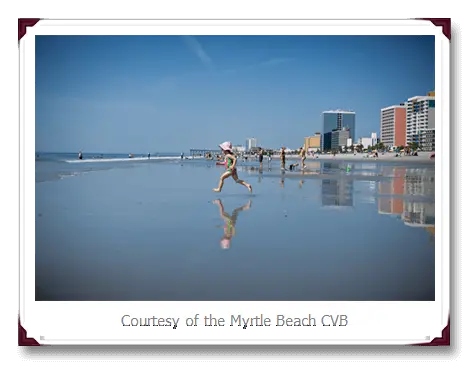 Mention Myrtle Beach, South Carolina, and many a married man gets a wild look in his eye . For them a trip to this area which is sometimes referred to as The Grand Strand is mostly associated with one thing: golf.
This first article in The Travel Belles series, "Myrtle Beach 101," isn't for them. It's for the woman who likes to have some idea of where on the map she may be visiting. That "Beach" is part of the popular resort area's name quickly indicates there is good reason for hope, but based on the questions friends and family visiting the area have asked me over the years, undoubtedly there remain many unanswered questions.
Beyond that I've observed nothing is quick in finding out "What is this Place called Myrtle Beach?" I've discerned three reasons why this is the case:
Myrtle Beach is a real city
Myrtle Beach, like Disney Land or Christmas, is a state of mind.
When people say they went to Myrtle Beach on vacation, often they are referring to a large stretch of beach communities that extend south from Little River, SC, in the north, to Pawleys Island, SC, 40 miles to the south. To confuse matters, one of these communities just happens to be called North Myrtle Beach. It has its own government and everything. No matter what you may have heard there is no South Myrtle Beach, except in your dreams and from the Myrtle Beach tourism website. If you ask a local where South Myrtle Beach is they will think there is something seriously the matter with you. (Warning: With all the "Norths" and "Souths" and numbered street names, how to use the phone book in these parts is an acquired skill. In order to discern the exact location of an establishment ask lots of questions, or pray that Garmin is in a good mood – especially if it's mid-July and would like to find your restaurant before midnight)

Primary Beach Communities in Vicinity of Myrtle Beach (all covered on the Myrtle Beach tourism website)

Little River: Quaint fishing village. Home to the famous Blue Crab Festival held each May
Cherry Grove Beach: Family beach with lots of home and condo rentals
North Myrtle Beach: Famous beach community known for being the birthplace of "the shag." I believe "the shag' is the South Carolina State dance. If it isn't, it should be. Family atmosphere, lots of hotels, condos and rental homes. If you are staying in another part of the greater Myrtle Beach area, the Barefoot Landing entertainment, shopping and dining complex is well worth a visit.
Briarcliffe Acres – If you're anything like me, you will ask, "what's that?" when you drive by the signs for Briarcliffe Acres. The private residential area is known for its natural surroundings and lovely private beach. Notice repetition of word, "private." I'm putting my neck on the line here even telling you about it.
Myrtle Beach: What can I say? This part of the beach has it all. Even if you're not staying right in the city of Myrtle Beach, be sure to set aside a day or evening to check out Broadway at the Beach which is a pleasant shopping, dining and entertainment area that includes Hard Rock Cafe and Ripley's Aquarium. (Please don't get jealous, but I can hear the foghorn at Jimmy Buffet's Margaritaville from my house.) Also worth visiting is The Market Common, a residential lifestyle community located on the property of the former Myrtle Beach Airforce Base.  I love going there because there is a PF Changs and an Antropologie. These are new phenomenon for Myrtle Beach. My precious Barnes and Noble picked up and moved there, and so now I want to move there too.
Surfside Beach: Small beach community with a certain charm. Lots of rental homes, condos and some hotels.
Garden City Beach and Murrells Inlet: Garden City consist of mostly beach homes on a thin peninsula that protects Murrells Inlet. Murrells Inlet is a fishing village best known as the seafood capitol of South Carolina. To back up this claim there are lots of great restaurants for every style and pocketbook, many which feature fresh local seafood.

* If you are reading this and saying to yourself, "Yeah, but where are the golf courses?" rest easy – they are everywhere. I'll get to that in a few lessons. (My husband and I are in the process of visiting several, evaluating from both the male and female perspectives. Hopefully it won't damage our marriage. Did I mention that I don't play golf?) Over the next several months I'll also be covering the area's individual communities in more detail. In the meantime check back next week for lesson two on Myrtle Beach State Park!
Pin For Later