Thailand is a country that keeps travelers coming back for more. From its gorgeous beaches, and amazing islands, to its charming cities, and stunning temples, most visitors find their stay too short and leave with a wanderlust for more of Thailand. I know I certainly did. Bangkok is often just the gateway for travelers either heading north to the jungles or south to the beaches and islands, but it has some of the most gorgeous and culturally significant temples in Thailand. If you have only a limited amount of time in Bangkok, here's a crash-course trio of temples you must see.
1. Wat Arun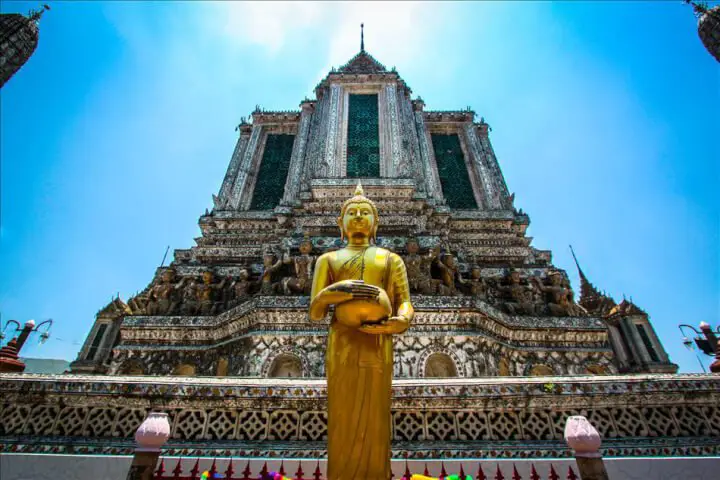 This temple's name means "Temple of the Dawn." Befittingly, try to go to this temple as early as you can (around 5 a.m.)  to see the monks performing morning rituals at this temple. Also, the near vertical killer steps of the 86 meter central prang will serve as a wake-up workout that you'll be glad not to be doing in the heat of midday.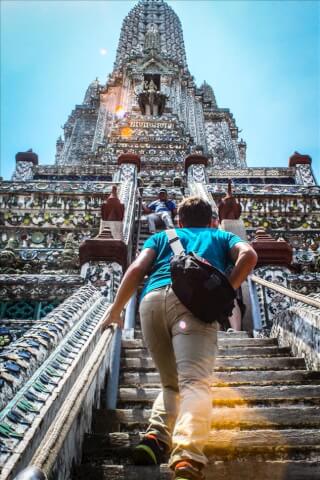 The temple merges both Hindu and Buddhist iconography to create a beautiful mixture of sculpture and architecture that is truly unique. It has countless golden Buddha images which are guarded by two legendary demons from the Hindu Ramayana. Its teal and coral mosaicked facades paired with intricate stone carvings make this temple an absolutely stunning site.
2. The Marble Temple
Between 6 to 7:30 a.m. every morning monks line up at this temple to collect their alms of rice, curry, lotus buds, and other essentials, so it may be worth scurrying over after sunrise at Wat Arun to catch this important ritual in the lifestyle of the Buddhist monks.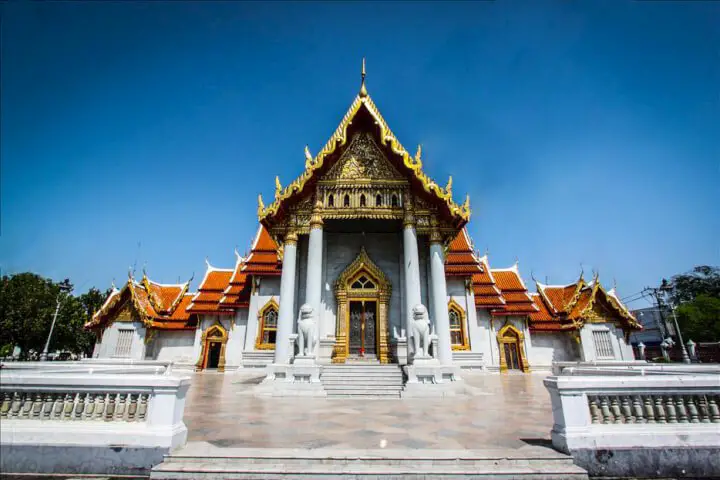 The marble temple truly lives up to its name; decked out in white Italian marble from pillar to courtyard it shines brighter than its image on the 5 baht coin. Two ornately detailed singha lions stand guard at the entrance. Gold lacquer carvings and glittering mosaic sparkle and shine in every doorway, archway, and peak of its magnificent architecture. 52 Buddha images are housed here, each depicting a different Buddhist symbol.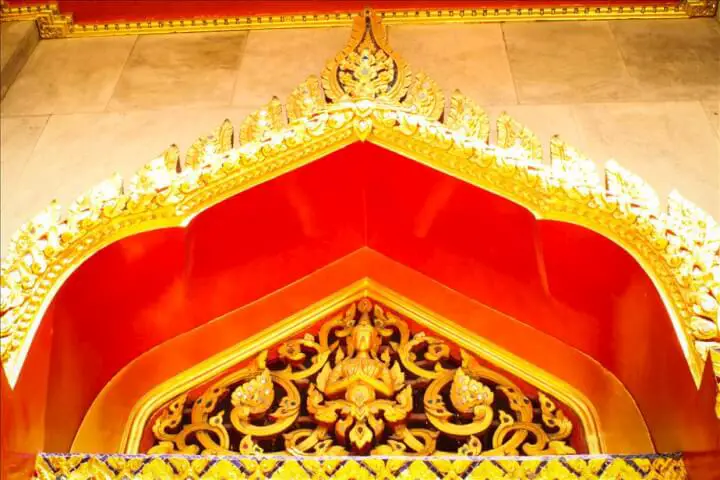 I couldn't take my eyes off of the amazing architecture here. The awesome detail work leaves something beautiful to be discovered in every nook and cranny.
3. Wat Pho
This is the famous temple of the Reclining Buddha, housing what is perhaps one of the most recognized images of Buddha in the world. At 15 meters high and 43 meters long, the giant reclining Buddha is one of the largest Buddha images and bathes its temple hall in spectacular golden light. The temple is paneled in rich detailed frescoes depicting legends. Even Buddha's mother-of-pearl inlaid feet have a story to tell with images of lotus flowers, dancers, tigers, and elephants in his footprint.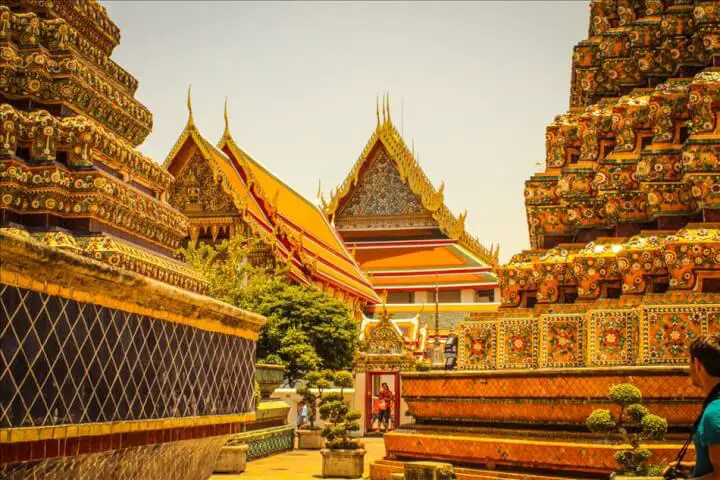 Personally I loved wandering around outside among the 92 breathtaking tiled stupas containing the ashes of the royal family and Buddha and seeing the sacred Bodhi tree which is propagated from the original tree in India that Buddha sat meditating under in his search for enlightenment.
---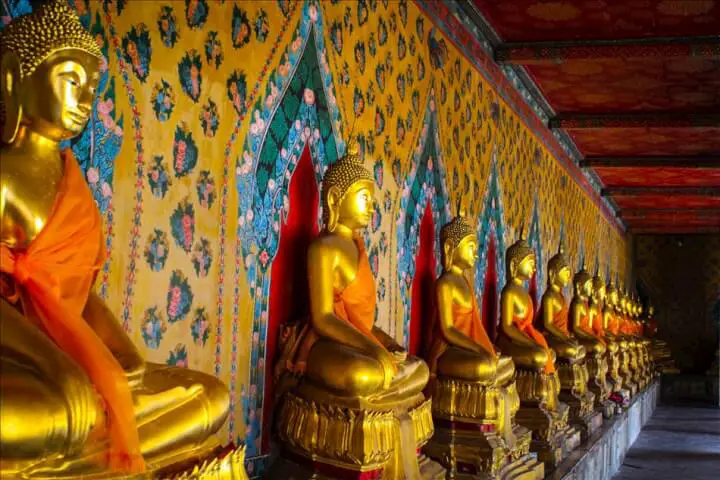 There are countless temples to behold in Bangkok. From the notorious to the nameless each has a unique beauty that even a non-temple geek can appreciate. However, if you're short on time in the capital city, make sure not to miss these three historic and stunning sites.