Mar. 28, 2013, Editor's note: London's Ice Bar is no longer the Absolut Ice Bar, but the experience described below is the same! You can learn more about it here.
If your travels take you to London during the blistering heat of summer, cool off at one of the city's trendiest and iciest venues.
With more than 3,800 pubs in London, there's nothing like a London Ice Bar, specifically  London's Absolut Ice Bar.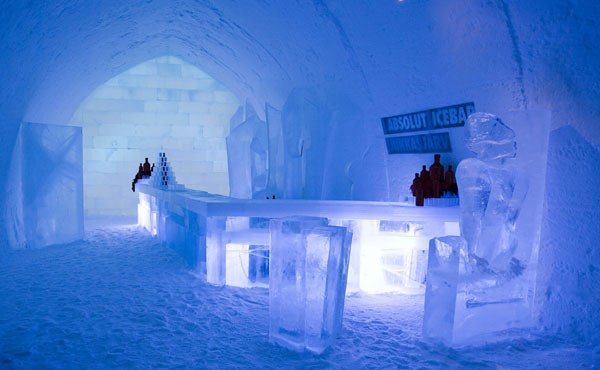 Tucked within the buzzy section of London's Piccadilly area on Heddon Street, the Ice Bar is a permanent bar chiseled out of mammoth blocks of pure ice which is sourced from the frozen Torne River in Northern Sweden. [pullquote]"Be warned, the brain freeze is brutal if you sip too fast."[/pullquote]
While others are sweating it out on the hot streets, an Ice Bar ticket claims your spot for 40 brisk minutes in a room only five degrees below zero  Once you enter, guests are required to slip on gloves and a thermal, Arctic cape with a hood.  Not a bad look since everyone is wearing the same thing.
Suddenly, you're in the North Pole and extremely frigid, dry air is snapping at your face.  Things begin to get more comfortable when cocktails arrive which are served in ice cubes artfully carved into a glass. The taste?  Unforgettably delicious and more like a liquid popsicle than a drink.  Be warned, the brain freeze is brutal if you sip too fast.  My cube was filled with vodka, passion fruit liqueur, and tropical fruit juice.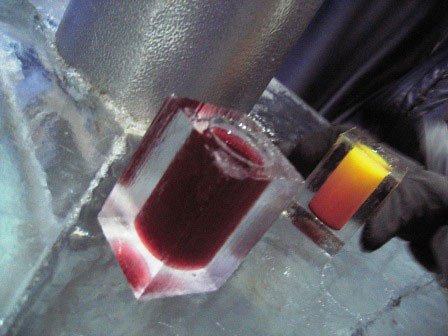 This London Ice Bar closes only two weeks during the year in order to refresh the ice and to allow a team of ice sculptures and designers to create a new theme and layout.
Tickets for the Ice Bar range from 13.50 Euros to 25 Euros depending on the time of day.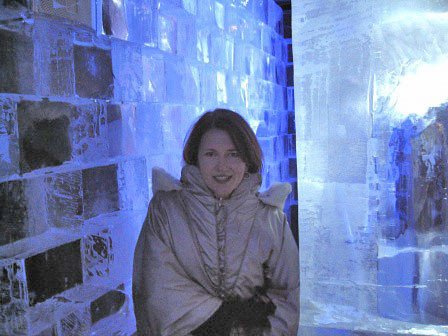 Thaw out by descending downstairs to refuel at the attached restaurant, Belowzero.  Once the location used as a wine cellar for the British Monarchy, the Belowzero restaurant has been transformed into a lavish and cozy dining area where guests can plunge into a sofa and nibble on tapas and tasty small plates.
* Photos: top photo courtesy of Absolut Ice Bar/London Ice Bar, others by Renata Parker
Pin for Later