Part two of a three part series on Krista's visit to the island of Corfu: The sun was glorious and hot as my six friends and I left our poolside oasis at the Hotel Pantokrator and headed out to explore the island of Corfu.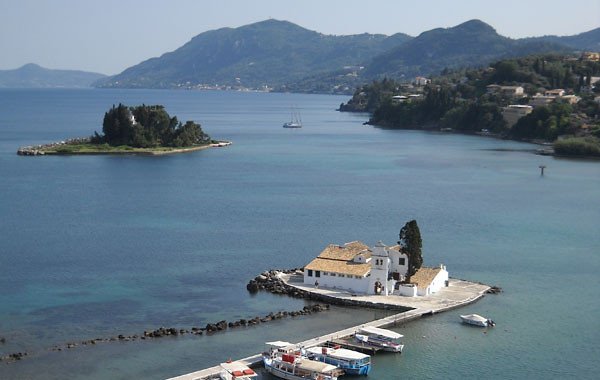 While our 9-passenger van had served us well through the back country of Slovenia, Bosnia, Croatia and Albania, it was an utter humbug in the narrow twisting lanes of Corfu. Before long we found ourselves well and truly stuck at a 90-degree turn in a tightly-walled little street, a line of cars growing behind us with lavish amounts of horn honking. Thankfully a very kind fellow hopped out of his snazzy sports car and with animated gestures guided us through an approximately 1000-point turn and out onto a wider street.
At last we arrived at our destination: the hills of Kanoni overlooking the Convent of Vlachernas and Mouse Island.  The view was marvelous and the deliciously cool breezes gusting over the hilltop made it even better. Soon we descended shady steps down the hillside and crossed the causeway to the convent.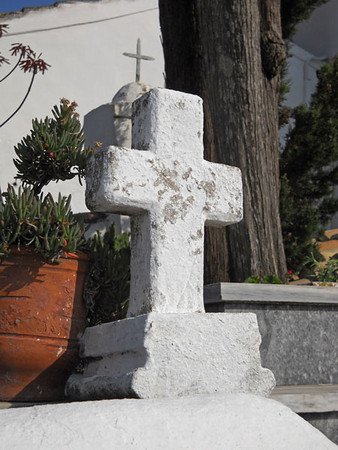 The Convent of Vlachernas, a convent of the Virgin Mary, is a tidy little place of white-washed walls, one stalwart Cyprus tree, and a tiny courtyard filled with perky geraniums, a watchful cat, and a German shepherd snoozing in the afternoon heat.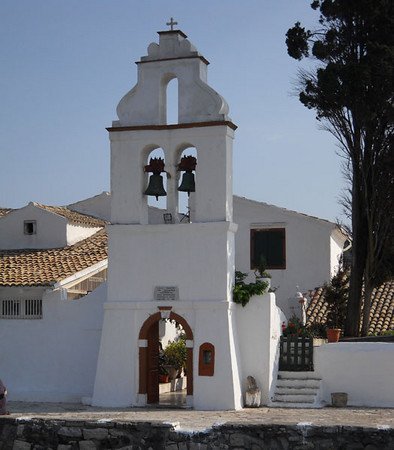 Built sometime in the 17th century, the convent has withstood hundreds of years of political and cultural turmoil under the Venetians, French, British and eventually Greeks.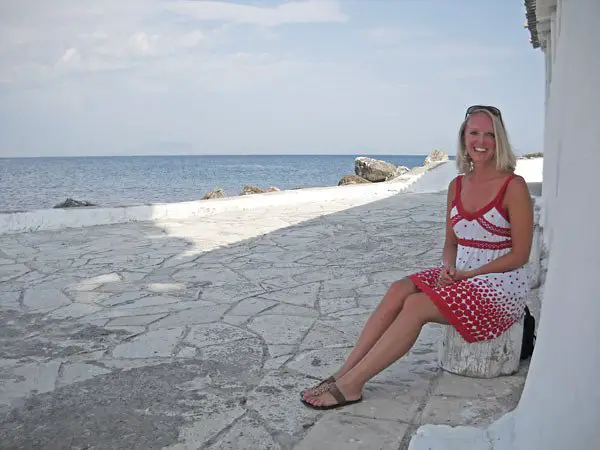 Although there is not a lot to do at the Convent of Vlachernas, it is a beautifully peaceful spot, quiet and serene with the opportunity to take a 2 Euro boat trip out to Mouse Island, or simply find a shady nook to rest and gaze out to sea.
Pin for Later