Cool NYC Cocktail Bars … or a few suggestions for what we think are the current best bars in New York City.
….It really started with [easyazon_link keywords="Sex and the City" locale="US" tag="tbelles-20″]Sex and the City[/easyazon_link].
Whatever you think about Carrie and her pals, the show bought a whole new generation to the delights of the mixed drink. Cosmopolitans may be yesterday's news, but the show's host city of New York still offers a heady mix of places to sample the hottest new drinks in the most sophisticated of surroundings.
And with cheap New York flights pretty easy to come by, a weekend break in the Big Apple sampling some of the coolest concoctions and catching up my more discerning girl friends seemed like a rather good idea.
Here are our favorite NYC cocktail bars!
Angel's Share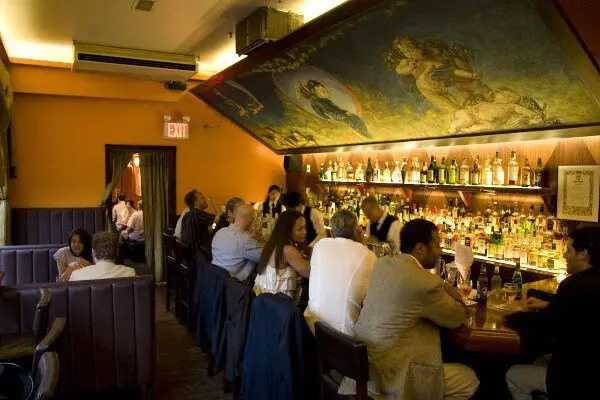 Need a discreet, shadowy parlour to offload some earth-shattering gossip or catch up on your best friend's love life? Look hard for, but then no further than this compact cocktail bar, where chic uniformed staff lead you to your table with an air that implies they are the very souls of discretion. Angel's Share is the forerunner of every speakeasy-style cocktail bar in the city. They don't brag about it, they just go about their very impressive business. The menu is mostly classic drinks, with (sometimes literally for citrus drinks) a twist. I had a delicious variation on a French 75 (mostly gin and champagne) while my friend Rhiannon had the best Dark and Stormy (mostly rum and ginger beer) she had ever had. And with her very serious commitment to cocktails, that's no small compliment, believe me. (8 Stuyvesant Street, 212 777 5415)
Death and Company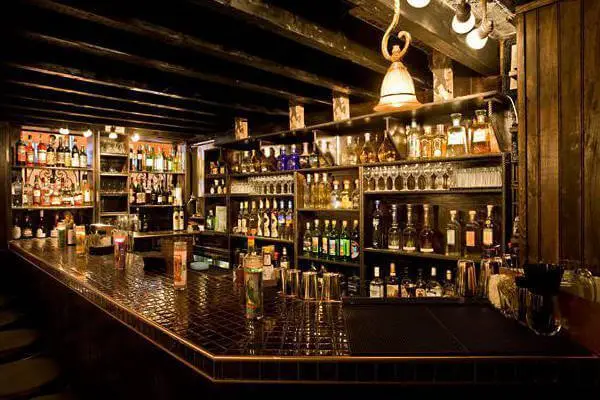 My friend Amanda wanted to step up her cocktail game from her usual bouts of Gin Fizzes in hotel bars, so we headed for this seating-only, first-come-first-served speakeasy bar in the East Village. Don't be spooked by the sinister name, which actually comes from the Volstead Act ('prohibition' to you and me), which deemed that drinking alcohol was 'to live a life shadowed by death'. We squeezed into a wood-surrounded suede banquette and studied the menus, which seemed both exotic and yet accessible at the same time. (I've no idea how.) The drinks were divided by their base spirits (tequila, gin, whiskey, etc) and had mysterious names: Gantt's Tomb, Poire Man's Cobbler, Whirling Tiger. Thankfully, the ingredients were also listed, and some minutes later, we had a round of weird and wonderful potions, which we passed between us for sampling. We savoured them as you would a gourmet meal. (433 East 6th Street, 212 388 0882)
You will also like: New York City: Best Things To Do!!! and Best Chocolate Shops in New York City
Clover Club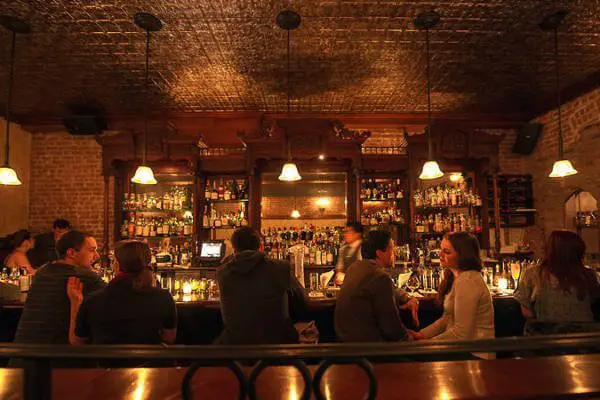 Colleen is very much a Brooklyn girl, and avoids Manhattan with an impressive dedication. Thankfully, crossing the bridge is no longer a one-way ticket to a social cul-de-sac, and Brooklyn now boasts a fine selection of craft cocktail bars. Not least is the Clover Club, a true testament to girl power, it being the brainchild of one Julie Reiner – a legendary figure in the NYC cocktail scene. The menu here draws inspiration from her native Hawaii with the freshest fruits and premium spices and spirits. The bow-tied barkeeps are friendly and knowledgeable, and though Colleen is very much a beer and shots girl, they helped her dip her toe – or tongue – into some tasty gateway cocktails, her favourites being the Southside Fizz and the New York Sour. (210 Smith Street, 718 855 7939, www.cloverclubny.com)
You will also like: Wineries in Long Island
Employees Only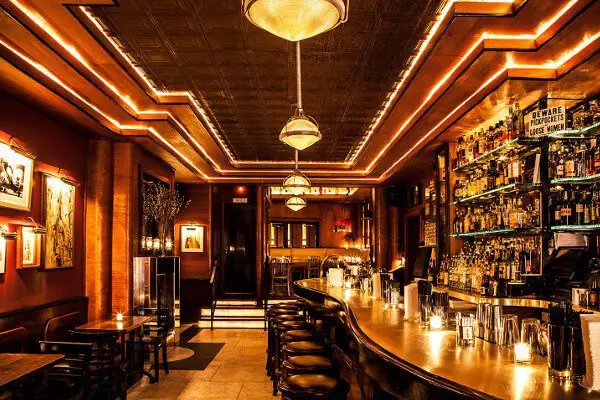 If your alter ego comes straight out of Boardwalk Empire and you feel you missed out on the glamorous life of being a flapper in the 1920s and 30s, then point your feathered fascinator in the direction of Employees Only. Based on the very first bars in which women were allowed to openly socialise with men, this prohibition-era drinking den welcomed me and my friend Tonya with open arms, and open bar menus. We wandered through the boisterous crowd in the front to the eclectic back tables. Tonya asked for a 'badass chick drink', and was rewarded with a Mata Hari, basically cognac and chai-infused sweet vermouth with pomegranate juice and dried rosebuds. The bartenders are impeccable, and it's a place that's not afraid to mix the formidable with the fancy. (510 Hudson St, 212 242 3021)
You will also like: Best Cocktail Bars in Paris
Katwalk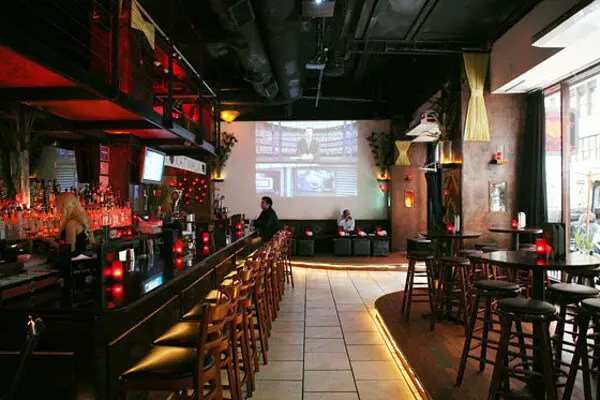 It's nothing to be ashamed of, but my friend Stacey is stuck squarely in the last decade. The girliest of girly girls, she's still reliving the Sex and the City storylines, unaware that the rest of the world has moved on to watching teenage vampires. As far as cool NYC cocktail bars go, Katwalk is an unrepentant homage to the SATC aesthetic, and even goes so far as to run its own theme nights. From 3pm-8 p.m. on Wednesdays, parties of 8 can enjoy free appetizers and cheap Cosmos as Carrie Bradshaw's highlights are relived on the big screen. While the menus may not be quite as adventurous, if living it up, SATC-style is your thing, then this place is kind of hard to beat. (2 West 35th Street, 212 594 9343)
Pin For Later