"Vidalia onions aren't just the most famous onions in the world; I think they may be the only famous onions in the world." – Chef Bobby Flay
Last week we talked strawberries. This week we compare Georgia's Capital "V" Vidalia Onions to Capital "C" French Champagne.
Bear with me.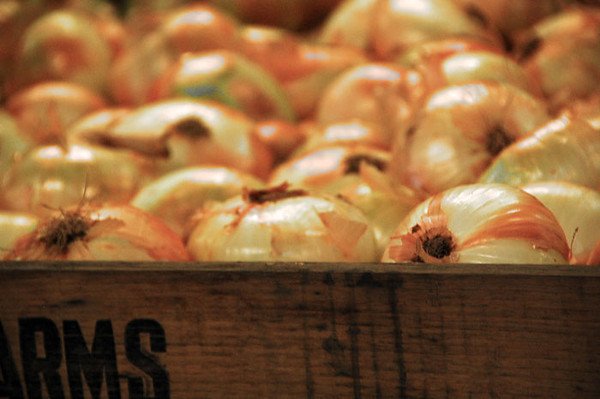 Until I visited Vidalia, I considered myself an onion person. I could chop with the best of them, and as with fine wine,  I was aware of the differences between red and white varieties. But upon visiting this area that is so well known for the sweet onion, I discovered that I was a mere wannabee in the onion world.
It all reminded me of how I felt after visiting the Champagne region of France. Until I had mingled with these people who went on about their terroirs and methode champenoise, and done a fair amount of tasting, I didn't get it. I can say the same thing now about the Vidalia onion.
The pre-trip itinerary to Vidalia, Georgia, the small city from which the sweet onion takes its name, actually had given me a small laugh. In capital letters was a stern warning that more or less said NOT TO TAKE PICTURES OF THE ONIONS. It appeared twice. When we pulled into the Vidalia Onion Museum, we were greeted by this charmer, whom I identified as being a clever foil to distract us from our journalistic photo responsibilities. I also deduced the lords of Vidalia were quite serious.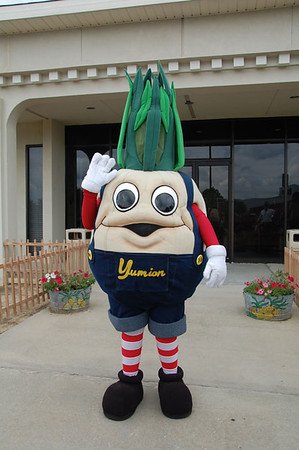 Meet Yumion, the official mascot of the Vidalia Onion.
Champagne, France, does not have mascots in the modern sense.  But they do indeed have mascots. They've just been around a little longer: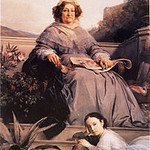 The Widow Clicquot
So what exactly is a Vidalia onion and what makes them so special?
Grown in an area of Georgia that is defined by law, the Vidalia onion is known and prized for its sweet and mild flavor. The sweetness derives from the low sulfur content in the sandy, well-drained soil. They were first grown around Vidalia, Georgia, in the 1930s. The "Vidalia Onion Act of 1986" authorized a trademark for the sweet onion's use of the name and is overseen by the "Vidalia Onion Committee." Over 200 growers cultivate Vidalias and they are harvested each year beginning in April with availability through September.
The people of Vidalia were wonderful by the way. During our visit to M and T Farms, they even let us take a few pictures of the onions!
In case you are wondering, I am not the first to make this giant mental leap in the name of comparing fine wine and onions:
"Growing Vidalias is like making wine. The farming and the harvesting are as intricate as growing grapes for delicate Chardonnay."    -Jeffrey Buben, Executive Chef and Owner, Vidalia Restaurant, Washington, DC
Last Saturday I received a bag of onions courtesy of the Vidalia Onion Committee. My husband, Dave, and I have been cooking with them almost every day for a week now. We have made tarts, dips, and casseroles. We have fried them. We have baked them.
Our favorite recipe so far was a Rustic Vidalia Onion Tart made with Gruyère cheese from a recipe in Southern Living. We almost doubled the crust and baked it just a few minutes longer.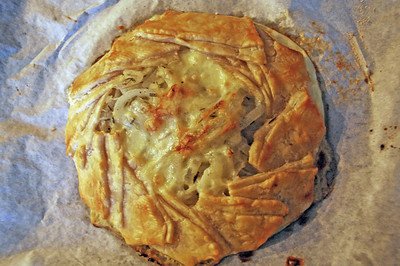 I've still got quite a few of my Vidalia onion booty left. Anyone have a recipe to try?
*All photos property of the author
Sipping Wine and Soaking in Scenery around Charlottesville, Virginia
Exotic Fruits To Try In Bali | Discover New Tastes When You Travel
A Wine Lover's Guide to Craft Beer
A Weekend in Rural New Zealand
Pin for Later