Traveling to a tropical island almost always brings about the promise of warm, sultry weather, gorgeous beaches and endless amounts of relaxing time. There is also the opportunity to snack on luscious, fresh exotic fruits throughout the day.
Here's a selection of natural treats for you to try if you ever find yourself sunning away in Bali!
Pineapple, Bananas, Mangoes Galore!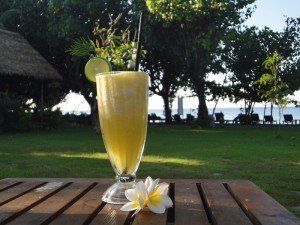 The popular holiday island destination of Bali in Indonesia is no exception. There is usually an endless supply of sweet pineapple, bananas, mangoes and passionfruit all waiting to be gobbled up or juiced for a sunset treat. Yet, Bali has a bounty of native fruits which may not grace fruit baskets back home as often.
Papayas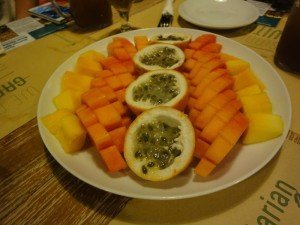 You only need to wander out into the fields surrounding the many towns in Bali to find trees laden with papayas. This versatile fruit is green on the outside, peeled to reveal an intense orange flesh. This orange variety is common throughout Bali and is served either sliced with a cheek of lime on the side to squeeze over it or chopped julienne style in restaurants to make a papaya salad.
Check out: Discovering Indonesian Food on Bali
Jackfruit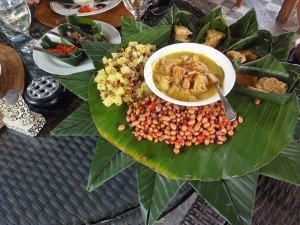 Jackfruit is another versatile fruit that is enjoyed in its sweet fruity form (a little like pineapple), or as a meat replacement in curries when its flesh is young, flavourless and starchy. Jackfruit protrudes from the trunks of its tree and is green, just like papaya, though its skin is prickly and can sometimes be mistaken for durian, Bali's largest fruit.
Durian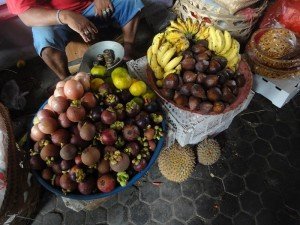 Durian is not just Bali's biggest fruit. It's also the most offensive! This football-like fruit has a sharp, spiny skin which, once cut, exudes a putrid smell. It's not uncommon throughout Bali to see signs requesting people not to bring durian into hotel rooms or on public transport. In one such hotel I stayed specifically instructed guests that they would be charged an additional night's stay if they brought durian onto the premises! While the smell is off-putting, the flesh is a complete surprise – sweet and resembling custard in taste.
Check out: Awesome things to do in Jakarta, Indonesia
Other Fruits
Some of the smaller fruits also star on many fruit platters. Rambutan, small hairy fruits, is peeled for its succulent and sweet flesh. Longans, resembling the taste of a rambutan, are little grape-like morsels.
One of Bali's loveliest and favourite fruits is the mangosteen. These purple balls are pulled apart in half to uncover one big seed along with smaller seeds. These seeds are eaten; both sweet and tangy at the same time and resembling very much like a passionfruit. Snakeskin Fruit gets its name from its brown, leathery skin that exhibits scales – just like snake skin! Once this thin skin is pulled away, the flesh is crunchy and delicious.
How many of these treats have you already tried? Which ones could you see yourself biting into when you visit Bali?
Pin For Later