In Paris, desserts can be an everyday occurrence with the "café gourmand".
France – Paris especially – is famous for its pastry and desserts. Éclairs filled with chocolate pastry cream, flaky croissants that shatter as soon as you bite into them, luxuriously rich crème brulées…since moving here five years ago, I've tried them all.
However, in deference to my jeans, which I'd prefer to continue wearing, I don't order dessert all that often anymore, with one small exception: the café gourmand.
You may also like: Paris Salons at Parc des Expositions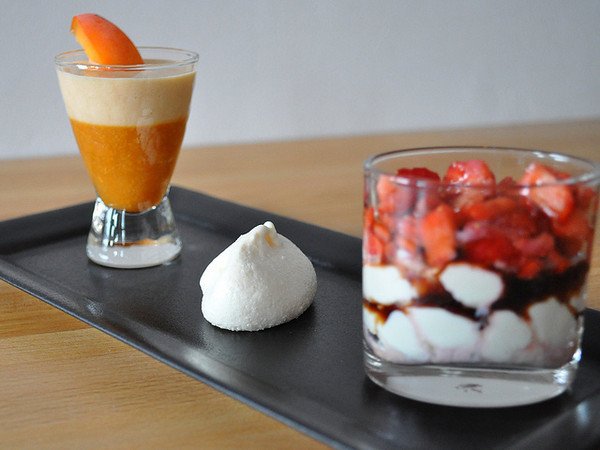 The café gourmand is a dessert version of my favorite "a little bit of everything" mentality: for me, it's a bit like heaven on a dessert menu.
I can never decide what I want to order, no matter how few items are on the menu. I love tapas and tasting menus, and the café gourmand is a dessert version of my favorite "a little bit of everything" mentality.
For me, it's a bit like heaven on a dessert menu. No matter where you go, no two café gourmands are the same, though the principle is relatively consistent: a shot of espresso, accompanied by three to five small mignardises, or mini-desserts, with just a few spoonfuls or bites of each.
Some café gourmands are less than exceptional, but I find that that's only true at less-than-exceptional restaurants, which don't really merit dessert at all.
You may also like: Bistro, Brasserie, Cafe or Wine Bar? The Differences
Most restaurants, brasseries, and cafés, even the ones in far-flung arrondissements, with just a handful of items on their chalkboard menu, will offer a café gourmand.
I know from the moment I sit down that I'll be ordering it, and for once, the dessert is the thing I look forward to the most.
I never know what to expect: a few fresh strawberries topped with homemade whipped cream? A perfect little macaron? A mini chocolate lava cake? A tangy lemon tart, with a perfect buttery crust? Anything is game, and I taste a spoonful of each before deciding on my favorite and leaving it for last.
You may also like: French Macaroons in Charleston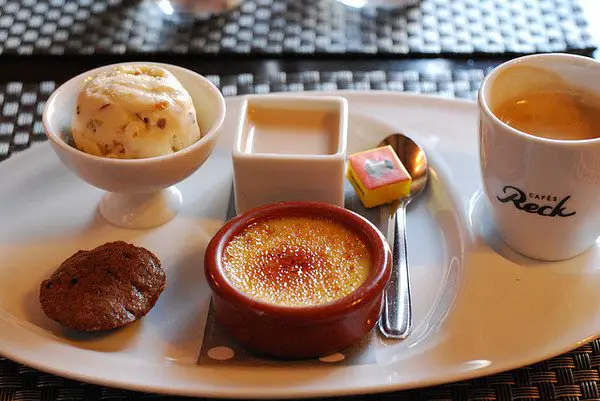 At Le Centenaire (27, boulevard La Tour-Maubourg), I tried a perfect tuille cookie, the best foil for dipping into fromage frais, an unsweetened, yogurt-like cream with berry coulis.
At La Pierre du Marais (51, rue de Bretagne), I had the most delicious panna cotta I've ever tasted. And the best part? Unlike dishes on the main menu, which change infrequently if ever, the café gourmand always changes: some days, you'll get a small portion of the daily special, like a mini crème brulée ou clafoutis.
You may also like: Recipie For Panna Cotta
Other days, it's local fruit with whipped cream or chocolate sauce or a viennoiserie from a local pastry shop. I'll occasionally be tempted by desserts on the menu, but in the end, I always go for the café gourmand and I've never been disappointed.
*Photos by fred_v and Merle ja Joonas, respectively
Pin for Later