Part two of Taylor St. John's adventures in Raglan, New Zealand.
(Part one can be found here)
Out the back of a little house in Raglan West bathing suits dangled from a clothes line and dripping wetsuits hung over a fence haphazardly, which made the neighbor angry. Paddleboards, surfboards, kayaks and bikes were scattered around a sloping lawn. The terraced backyard led steeply down to the water where a grand Pohutukawa tree stood, and from where, on days she didn't feel like driving, my host Jordan would kayak from her backyard into town for groceries.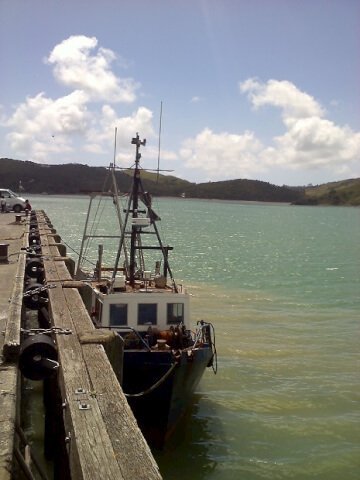 The 'bach'—a small New Zealand holiday home popular in beach towns— was the center point of my ten-day-stay in Raglan. It was where Jordan, Christian, and their roommate Lauren lived. Years ago it had been sectioned off from a larger house on property Christian's family owned halfway between the coast and the main town. The bach had a bedroom (formerly the garage) and bath, a section of hallway converted to a tiny galley-style kitchen, and a living room that doubled as a second bedroom. The house was meant to sleep one or two. We found that, with a little improvising, seven bodies fit comfortably enough. The long-term guests included another girl visiting from the States, an English couple who parked their campervan in the driveway, and me.
Spending a summer in Raglan is remembering what it's like to be a little kid again.
I fell into the schedule of the house pretty quickly. In the mornings all seven of us sat around the living room or on the back deck with our coffee and breakfasts, discussing plans for the day. Eventually we'd load the campervan with as many surfboards as we could fit and head down to the beach. The unlucky extra person had to lay down flat in the bed of the van and draw the curtains. Most of us were beginner surfers and spent lots of time getting battered by the waves. After a couple hours we'd emerge, dog-tired and happy. There's that old cliché that the best surfer in the water is the one having the most fun.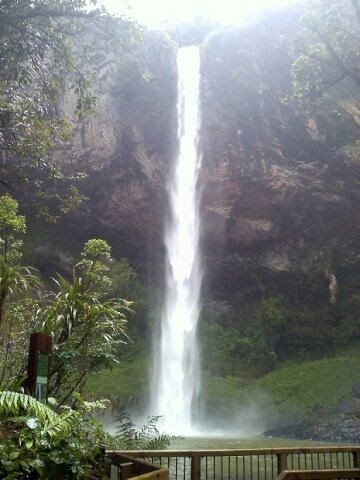 One day the four of us girls drove the fifteen minutes out of town to Bridal Veil Falls. A walk through dense native bush along the Pakoka River brings you to the top of the stunning 180-foot falls. Below is an amphitheatre-like pool reached by descending 261 steps cut into the earth, which we sprinted up and down just for fun. From the top vantage point, I watched as mist lifted up from the pool below and disappeared into the forest of ferns and palm trees. Beyond the falls were the endless rolling hills that dominate so much of the North Island. It was a landscape I'd grown to know well.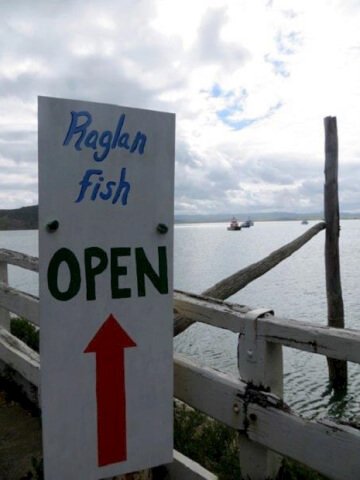 Spending a summer in Raglan is remembering what it's like to be a little kid again. You avoid indoors as much as possible, dinner is served late because you never want to stop playing, and you create all kinds of makeshift adventures with your friends. There were daily trips to the small supermarket, where Christian worked part-time and we liked to loiter around talking to the other employees. Jordan was starting work at a fish market on the wharf where the day's catch was unloaded straight from the boats outside. On opening day we visited her and sat at long picnic tables next to the harbor eating the freshest fish and chips. Another afternoon we all went down to Manu Bay, the closest of Raglan's three main point breaks, with picnic lunches and our boards. The parking lot was filled with vans and cars and anyone not in the water was enjoying watching those who were. A young dad nearby taught his toddler daughter how to skateboard as she shrieked with excitement.
This was the lifestyle of the lazy summer town. No one hurried anywhere. There were no deadlines or stress of work, at least not for me. Raglan was the first real chance I was getting to sit quietly and look back on what had been a dizzying year of new experiences. I figured if I'm looking for reflection, it might as well be on a beach, or sitting on a board in the ocean, or while sharing a beer with friends at a bonfire.
The end of November was fast approaching, and while Southern Hemisphere temperatures were rising with the coming summer, on the other side of the world it was almost Thanksgiving. It's hard not to feel that pang of homesickness around the holidays when living abroad. The four Americans in the bach were eager to bring a little Yankee tradition to the shores of New Zealand, and no one else argued with a holiday built around eating enormous amounts of food.
We set up tables in the backyard by the water and did our best to replicate our favorite dishes in that miniature kitchen. Family and neighbors came, each bringing their own contribution. In all there were twelve of us gathered around the outside spread representing three different continents. Jordan had filled mason jars with black sand and shells from the local beach and tied cards around each, on which people could write what they were thankful for. There couldn't have been enough blank spaces to account for how grateful everyone felt. When the sky turned dark we lit a fire and celebrated well into the night. In a few weeks, I'd be returning home to the people I'd missed so much over the past year. But on one of my last nights in Raglan, sitting around a table with a group of friends I'd known only a short time, home didn't feel that far away.
Photo credits: Featured and 3rd photo by Jordan Newberry, all others by the author.
Pin For Later