Hamburg knows how to celebrate in the warm season with a host of summer festivals
"Yes, Hamburg is a great city," my boyfriend's father said, "but you should really come during the summer. There's more to do and more festivals to attend. That's when this harbor city comes to life!"
It was one year after starting a long-distance relationship and due to circumstances, it seemed that every time my boyfriend, Jan, and I were reunited, he got lovely summers in Philadelphia while I was bound to harsh winter vacations in Hamburg.
Despite the quintessential north German weather, I was still enjoying my second stay in Hamburg and found warmth in winter festivals such as the iconic German Christmas Markets and the Alstervergnügen, an ice festival held on the Alster River whenever it freezes. But as I learned a few months later when I returned in August, a completely different Hamburg awakens for the summer festivals.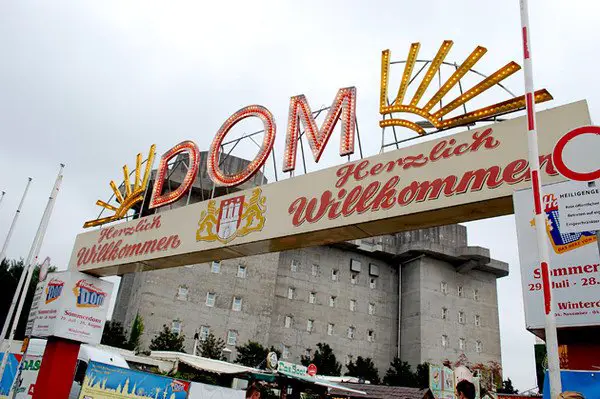 I was surprised that during my one week in Hamburg I got to experience three events. The first Hamburg festival Jan showed me was The Hamburger Dom. This traveling carnival comes to town three times per year, but with better weather and longer days, the summer Dom is most certainly the liveliest.
The setting reminded me a lot of my childhood spent at the Jersey Shore except with a German flair. Instead of eating a Jersey Shore sausage sandwich, I ate a Holsteiner Wurst with curry ketchup. Rather than stores selling T-shirts with snarky and risqué comments, vendors sold Lebkuchenherz (gingerbread hearts) with enduring messages. Everything was familiar yet different.
The real culture shock came at nightfall when the local soccer team, F.C. Sankt Pauli, won their game. Sankt Pauli is known as Hamburg's edgiest district with a soccer team of underdogs, both of which attracts a crowd of punk rockers, hooligans and anarchists. Since the Hamburger Dom was situated directly next to the stadium, it wasn't long before fans, clad in the team's symbol of skull and crossbones, flooded the Dom. The rest of the night was spent drinking and riding carnival rides while cheering for F.C. Sankt Pauli.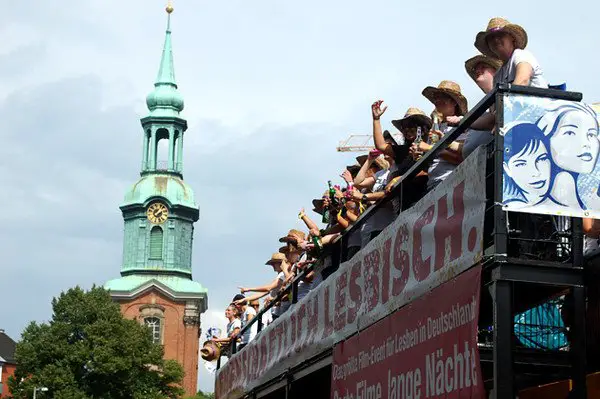 After recovering for a day, we attended was the Christopher Street Day Parade. It is held each year after a week of gay pride celebration, discussions, speeches and other events that raise awareness. It started out as a drizzly day in Hamburg, but they didn't let the weather rain on this parade! The community continued to march proudly through the rain, passing out stickers with humorous messages on social and political issues their community faces on a regular basis.
One of my favorite aspects of German parades is when bystanders join in and follow the parade into town to party into the night. This held true for the Christopher Street Day Parade, and when the end of the parade came, Jan and I joined a group of men dressed as women, women dressed as men, and everyone in between. We followed the crowd to the Alster River where white tents were pitched and already serving hungry parade participants with delicious grilled sausages and beer.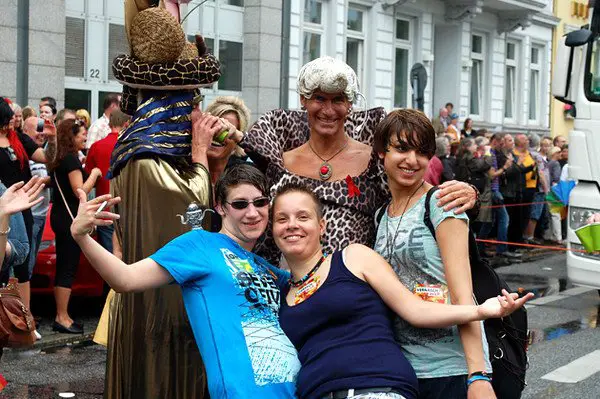 We continued along the Alster and suddenly approached another festival in front of the Rathaus. Happening simultaneously to the gay pride celebration was the Stuttgart Wine Festival. Jan explained to me that for two weeks, the Hamburg Fischmarkt trades places with the Stuttgart Weindorf, one of Germany's finest wine festivals. While Stuttgart gets a taste of fish served in the Hamburg tradition, Hamburg gets to experience fine wines of the Rhine region.
Within a short 10-minute walk, we went from frolicking with the gay pride community to hob-knobbing with Hamburg's finest, sampling German wines and shopping for Rhineland trinkets. This was a festival that attracted an older and more relaxed crowd, a contrast to the Christopher Street Day Parade we attended a few moments prior. Surrounded by grapevines in a shaded wine garden with a Riesling in my hand, I'd almost forgotten that a couple blocks over there were men, more graceful than I in high heels, dancing at an outdoor disco.
Before this past summer, I was so certain that I was familiar with Hamburg's culture through its winter festivals. But it wasn't until celebrating shoulder to shoulder with locals at the summer festivals where I met with Hamburg's more vibrant and colorful sub-cultures; sub-cultures that seem to hibernate during the winter months.
*All photos by and property of the author, used with permission.
Pin for Later