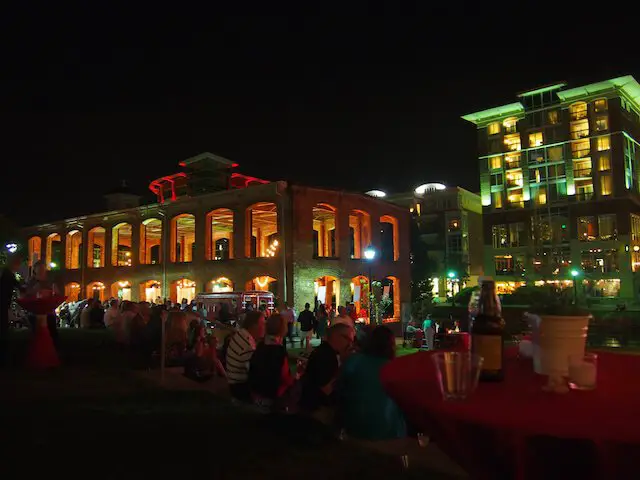 Euphoria Festival Greenville, South Carolina | Food, Wine, and Music
Last Updated on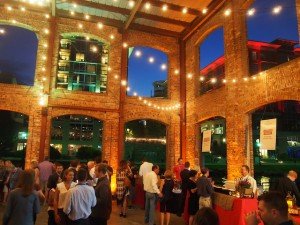 We came. We saw. We ate. We drank.
The aptly named Euphoria Festival was held in Greenville, S.C. The festival has quickly become a favorite Southeastern jaunt for people near and far.  The festival was founded in  2006 by singer/songwriter Edwin McCain and local restaurateur Carl Sobocinski. Food and music together in the setting of Greenville with its award-winning Main Street make for a unique event with the kind of broad appeal that makes it worthy of a special trip.
Greenville is a town of many distinctions. As some of you know, I became familiar with Greenville in recent years because my daughter was a student at the South Carolina Governor's School for the Arts and Humanities. The school is located in the middle of downtown, but given its position behind the trees in Falls Park, most visitors will never know its there. Recognized as one of the nation's best high schools, the school carries the added distinction of being the only public residential high school in the country.
Euphoria features three and a half days of food and libation tastings, cooking demonstrations and world-class musical entertainment. I liked the way each event, with its own combination of bites and tunes, had its own vibe, appealing to different crowds. Although the VIP full weekend ticket isn't cheap, picking an event or two based on your own taste and music/food preference ratio is a viable option.
Thursday night's "Songwriter's Recipe" was a highlight for me. The behind-the-music event featured legendary songwriters Tim Nichols, Rivers Rutherford and Bob DiPiero. The way only the best new experiences can, the interaction of these three highly talented and entertaining artists sparked my interest in something new. I entered the event a country music ignoramus and left a fan!
Euphoria historically has been held on the third weekend of September. Keep on eye on the Euphoria website for details.
For more highlights, check out the photos below. Click on any photo for captions and slideshow.  I didn't have my camera with me everywhere, but these shots will give you a good feel for the event.
Thursday evening's Swine and Dine, featured barbeque courtesy of Skylight Inn barbeque of Ayden, NC
Innovative way to try the different barbeque sauces. Our favorite was the Apple Gastrique.
Skylight BBQ was chopped, mixing together the skin and meat. It was crunchy, sweet and tender.
The Songwriter's Recipe featuring Bob Piero, Rivers Rutherford, and Tim Nichols
I know it sounds odd to buy new jeans in the middle of a food festival, but the local entrepreneurs at Beija-Flor and their amazing fitting jeans made ethically in Brazil, were too hard to resist.
The Wyche pavilion on the Reedy River was the setting for Friday evening's Taste of the South
Charleston Chef Nate Whiting of Tristan in Charleston shows me the candied wafer that is part of his recipe for Candied Pork & Kale "truffle" with preserved lemon and malt.
Whiting's final product, which I'm still dreaming about: Candied Pork & Kale "truffle" with preserved lemon and malt.
I don't eat much sugar anymore, but I made room for this from one of my favorite Greenville restaurants – Salted Caramel Panna Cotta with White Chocolate Ganache, Whipped Cream peanut brittle.
Chef Jacob Sessom's of Table in Asheville's Marlin Crudo with preserved plums.
Taste of the South is Euphoria's Friday night event, held in the Wyche pavillion on the Reedy River. The band Sixstring
Saturday's tasting showcase was fantastic. So many wonderful small providers from the region were represented.
Chef Jacques Larson demonstrates how to make gnocchi with Jim Cantore as mc.
Tasting the gnocchi.
The wine seminar, Think Pink, was held at the Westin Poinsett
Border Springs Farm of Patrick Springs, Virginia, was on hand for the Tasting Showcase and Saturday's late night, "Lambs and Clams."
Divine lamb sliders from Border Springs Farm.
Saturday night's "Traffic Jam" is a local favorite, featuring local food truck food and entertainment. I loved the band, Seven Handle Circus  – very unique bluegrass band. So much energy!
A taco in a Fritos bag from Greenville's own Papi's Tacos. I want to make this to serve at a football party!
Libations were everywhere. We did our best to pace ourselves with both the food and drink. Tried.