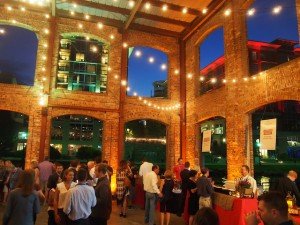 We came. We saw. We ate. We drank.
The aptly named Euphoria Festival was held in Greenville, S.C. The festival has quickly become a favorite Southeastern jaunt for people near and far.  The festival was founded in  2006 by singer/songwriter Edwin McCain and local restaurateur Carl Sobocinski. Food and music together in the setting of Greenville with its award-winning Main Street make for a unique event with the kind of broad appeal that makes it worthy of a special trip.
Greenville is a town of many distinctions. As some of you know, I became familiar with Greenville in recent years because my daughter was a student at the South Carolina Governor's School for the Arts and Humanities. The school is located in the middle of downtown, but given its position behind the trees in Falls Park, most visitors will never know its there. Recognized as one of the nation's best high schools, the school carries the added distinction of being the only public residential high school in the country.
Euphoria features three and a half days of food and libation tastings, cooking demonstrations and world-class musical entertainment. I liked the way each event, with its own combination of bites and tunes, had its own vibe, appealing to different crowds. Although the VIP full weekend ticket isn't cheap, picking an event or two based on your own taste and music/food preference ratio is a viable option.
Thursday night's "Songwriter's Recipe" was a highlight for me. The behind-the-music event featured legendary songwriters Tim Nichols, Rivers Rutherford and Bob DiPiero. The way only the best new experiences can, the interaction of these three highly talented and entertaining artists sparked my interest in something new. I entered the event a country music ignoramus and left a fan!
Euphoria historically has been held on the third weekend of September. Keep on eye on the Euphoria website for details.
For more highlights, check out the photos below. Click on any photo for captions and slideshow.  I didn't have my camera with me everywhere, but these shots will give you a good feel for the event.