A well-dressed woman tells us how Silver Fork Vineyard and Winery got its name: It is on this 32 acres of land that Silver Creek and White Fork Creek intersect. Both creeks, flowing from the Catawba River almost come together here, and then flow parallel before gracefully crossing and then once again becoming parallel.  When the owners were first looking to purchase property several years ago, they saw this spot as their destiny and a fitting metaphor for their own lives.
Located less than an hour east of Asheville and minutes off I-40, Silver Fork Vineyards, harvested their first vintage in 2012. But for several reasons, I'm still having a hard time wrapping my brain around the fact that I'm visiting a vineyard in North Carolina.
First, there's the view.
At Silver Fork Winery, located in Burke County, North Carolina, the view is downright sublime. Having grown up in Virginia and now living in South Carolina, I should know better than to think I know the neighbors. Especially when I've never so much as been to a specific corner of the backyard.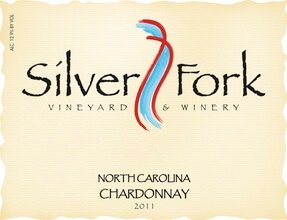 Yet my entire life I've managed to bypass this small slice of North Carolina's Piedmont region.  I later learn that the South Mountains, towards which Silver Fork's new outdoor tasting patio faces, are an ancient and isolated remnant of the Appalachians.
Also, this North Carolina winery lacks slushy machines.
No brightly colored muscadine varietals served in tiny plastic cups here. Not that there's anything wrong with that.
Even though I was aware that North Carolina was home of the Scuppernong of the Muscadine variety, which is recognized as America's first grape, this was my first introduction to the state as a producer of a variety of wines.  Cool fact: According to the state tourism website, North Carolina is the only place in the world where every major type of grape is grown.
Finally, the last thing making it hard for me to wrap my brain around this place is the first impression made by the proprietors.
It would be impossible to miss that  Jennifer Foulides and Ed Wisnieski, appear remarkably fresh pressed for new vineyard and winery owners. He, strapping in a crisp window pane oxford shirt, looks well rested. Jen,who is explaining the inspiration for their enterprise's name and logo design, wears clearly non-vineyard traipsing black patent slingback heels.
They're making it way too easy to jump to conclusions. But that would be hasty. As proprietors of the sixth vineyard in Burke County and part of what is becoming known as the Catawba Valley wine area, it becomes apparent that Ed, a former businessman and Jen, a former chemical engineer, have wine-stained hands deep in all of it.
Turns out they spiffed up in our honor.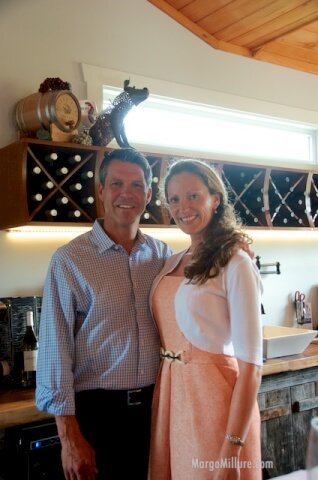 Having become weary of the pace of their lives as successful business people in the New York City area, Ed and Jen knew they wanted to change things up in a big way. Drawn to North Carolina, they began exploring the possibilities several years ago.  Following some initial research into local viniculture and after having driven hundreds of miles around the state, what was becoming their vision for a small, high quality boutique winery, suddenly came together.
They knew they had found both right spot and seller when they found Larry Kehoe and his property, South Mountain Vineyards. Located at 1250 feet, the location was ideal. Being just a few minutes drive off of Interstate I-40 near Burke County's seat of Morganton, both terroir and setting was indeed appealing.
Cinching the deal, Kehoe was a pioneer in North Carolina viniculture and highly regarded in North Carolina wine circles. He had been cultivating vines featuring old-world European style grapes such as Chardonnay and Cabernet Sauvignon on the property since 1992.
In Kehoe, Ed and Jen knew they had found an important partner. With both their vision and someone from whom to seek good advice,  they moved forward. They acquired the property from Kehoe and with his mentorship, began their apprenticeship of viticulture (grape growing) and enology (winemaking.)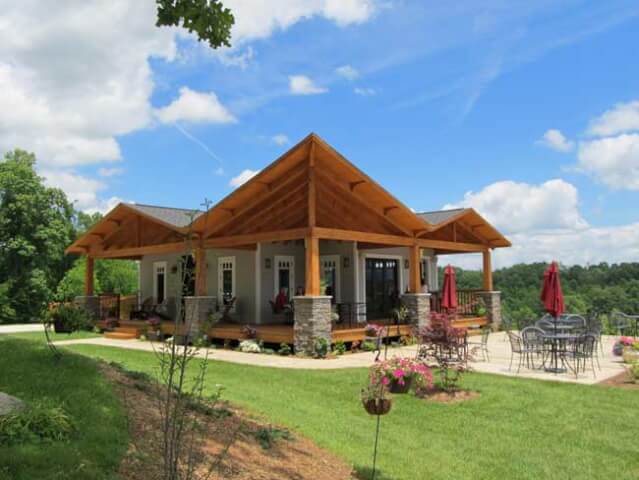 In the past three years they planted on 1.5 more acres  Merlot, Cabernet Franc, Petite Verdot and 2 new varietals; Malbec and Tempranillo. Additionally, an elegant tasting room was built that takes full advantage of expansive views over the vineyards and mountains.
But how is this North Carolina wine?
In addition to the view, the lack of slushy machines and the pulled together owners, of course, there's the wine.
Silver Fork Winery's first vintage includes eight varietals of Bordeaux style wines: two Chardonnays, a Cabernet Franc, a Cabernet Sauvignon, a Merlot, a Chambourcin, a dry Rosé, and a blended red wine.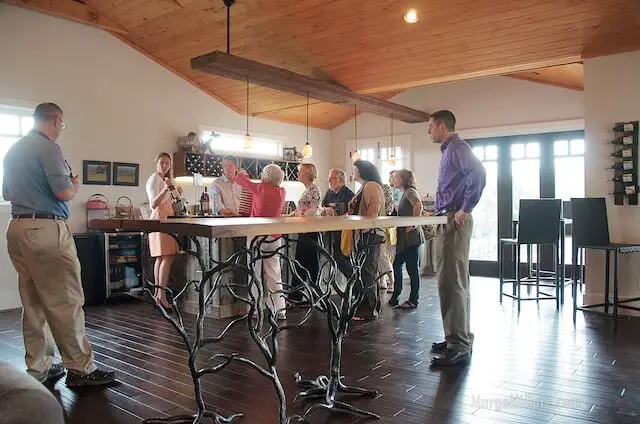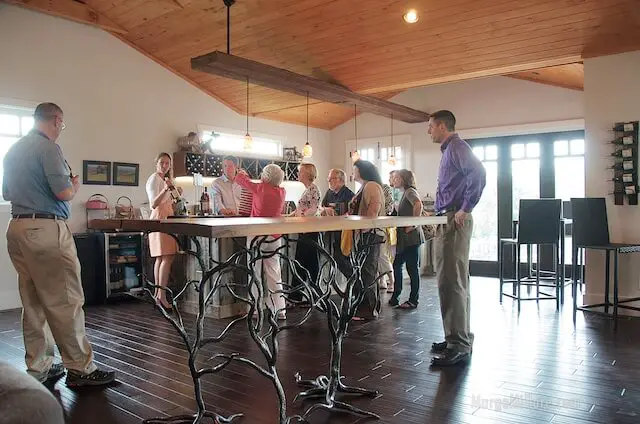 "We're doing all dry wines – no semi-sweet or sweet wines," Ed says. Music to my non-slushy seeking palette.
Like everything else about this visit, I'm pretty impressed. I'm starting to like this former no man's land of North Carolina, I've until now only known as "the cities and space between I-95 and Asheville."
On a fall afternoon, I  would suggest showing up with a picnic and grabbing a bottle of the Chardonnay or Chardonnay reserve. Then get a bottle of their blend, Four Dog Red, named for the couple's four dogs, for the cellar. Oh – and another bottle of the Chardonnay Reserve too.
Meeting two of the dogs, as well as getting to see Jen walking among the vines in her heels, make me want to stay much longer, or at least someday, return.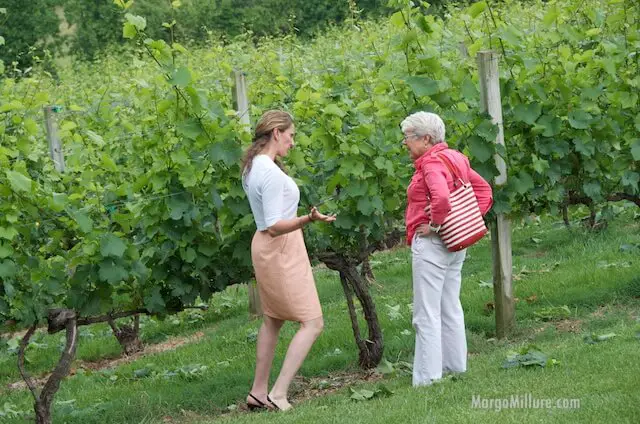 Visit Silver Fork Winery
5000 Patton Road
Morganton, NC 28655
Tasting Room phone:  828-391-8783
Hours:
Wednesday – Friday: 12pm – 7pm
Saturday & Sunday: 12pm – 6pm
In addition, to live music being offered on Saturday afternoons, several festivals and events are scheduled in the coming months. One Saturday a month this summer they held Movie Under the Stars, staying open until 11pm. (One of our favorite movies, Breakfast at Tiffany's, is scheduled to be the  last film in this year's series on August 31!)
For More Information: Silver Fork Vineyards and Winery