Among Dublin, Ireland's most beautiful day trips
A co-worker once described Glendalough as "one of the most beautiful places in Ireland," which is surely high praise given the country's rolling green hills and impressive coastline. Since then, the ancient monastic site has been a top priority on my travel to-do list for the Emerald Isle. Found in Wicklow Mountains National Park and about one hour from Dublin, the historic village provides the perfect destination for a day trip from the Irish capital city.
So on a sunny Saturday, a group of friends and I boarded a big, white bus with our guide, David (Dáithí in Gaelic, he insisted), to happily play tourist for the day.
St. Kevin established Glendalough in the 6th century and the monastic settlement prospered for hundreds of years. To enter the site, we passed through two archways that remain from the original gateway building. After the second one, there is a large cross etched into the stone wall. People visiting the holy city believed they could erase their sins, no matter how grave they were, simply by touching the cross, David explained.
Just beyond the archway, I stopped to take in the mountain-framed panorama. All around, gravestones stick out of the ground. Some are firmly rooted down and stand straight, while others lean in varying degrees, as if they might collapse at any moment.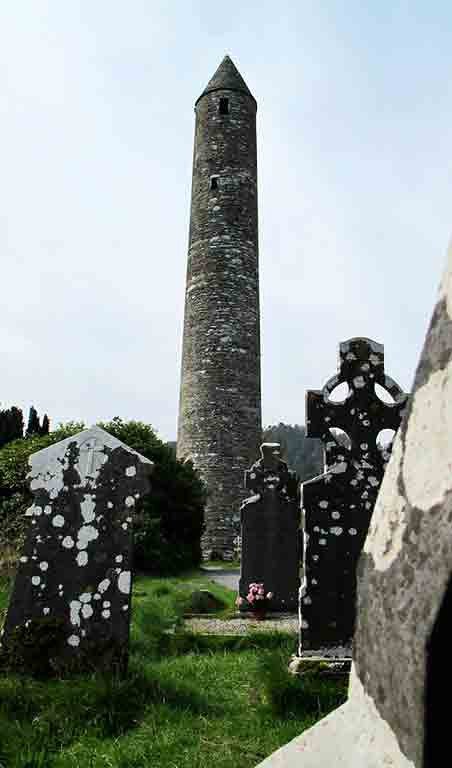 The most prominent feature of Glendalough is the stone round tower, which stretches 100 feet into the sky. This type of cylindrical monument was characteristic of medieval settlements in Ireland. According to David, an old Irish myth says that if a single woman walks clockwise around the tower starting at the entrance – which faces the church's doorway – she will find a good man to marry.
Before leaving Glendalough, we gathered around St. Kevin's High Cross to hear another folklore. It is believed St. Kevin granted the wishes of his followers, and today his power rests in the cross; if you can wrap your arms around the enormous stone structure, your wish will come true. It sounded simple enough, so I hugged the cross as tightly as I could, but in the end my petite frame betrayed me.
Our Dublin day trip, part II, Glendalough to Avoca
After bidding farewell to beautiful Glendalough, we boarded the bus again and drove about 30 minutes south to Avoca, a quaint and colorful village known throughout Ireland for its hand-woven goods. Having wasted away many afternoons browsing the seven-story Avoca shop in downtown Dublin, I was eager to visit the village and mill it takes its name from.
With pink and yellow houses and baskets of flowers adorning its main street, Avoca contrasts sharply with Glendalough's natural tones of green, gray and brown. Just a couple minutes up the road from the village pub sits the Avoca Mill, along with its store and café. The quiet site is a popular place for visitors to enjoy a bite to eat and pick up some gifts.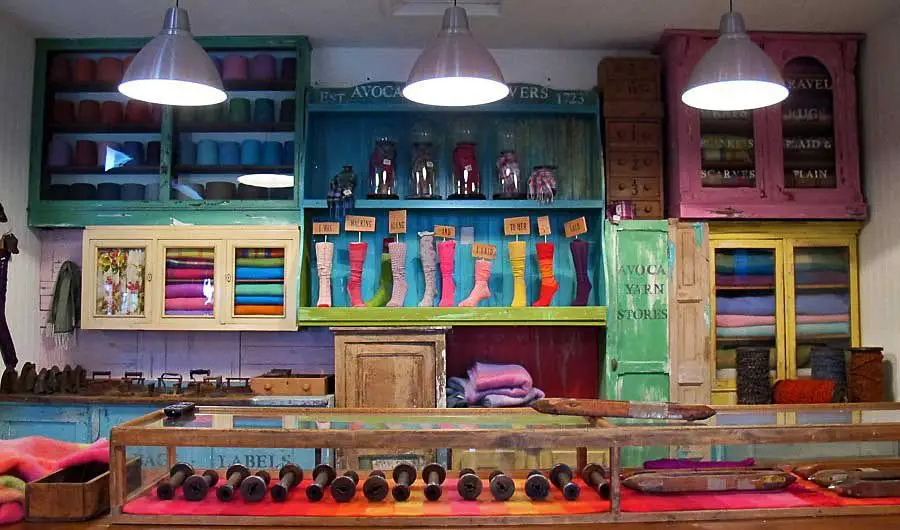 Avoca serves up a feast for the senses. The interior of the mill building is an explosion of color, with shades of pink, green, blue, yellow, orange and everything in between. Some of the soft mohair, cashmere and lambswool throws and scarves are also on display for visitors to touch.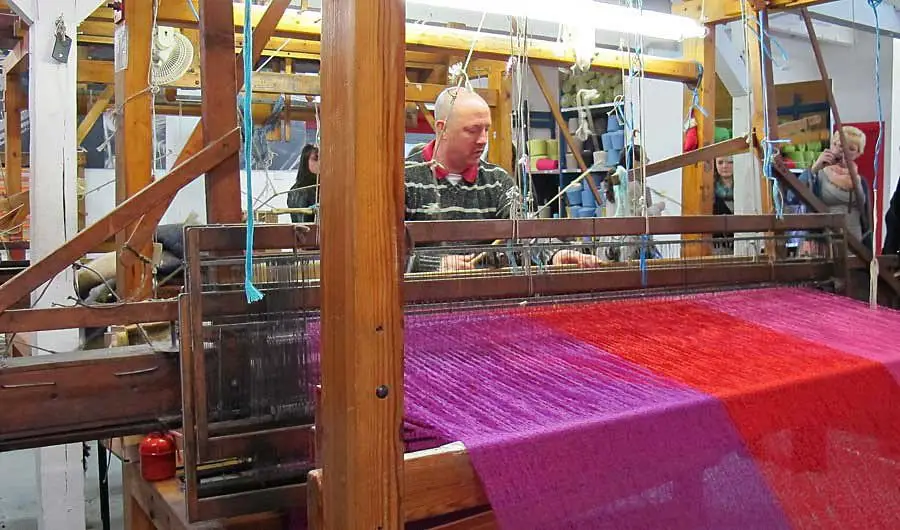 After an introduction about this Irish family-run company, we walked up a short flight of stairs to the 'backstage area,' where a weaver was waiting to show us his craft. He quickly moved his hands and feet in coordination along a seemingly complex machine, creating a rhythmic swish-swish sound and, millimeter by millimeter, transforming the row of threads into a bright, beautiful fabric.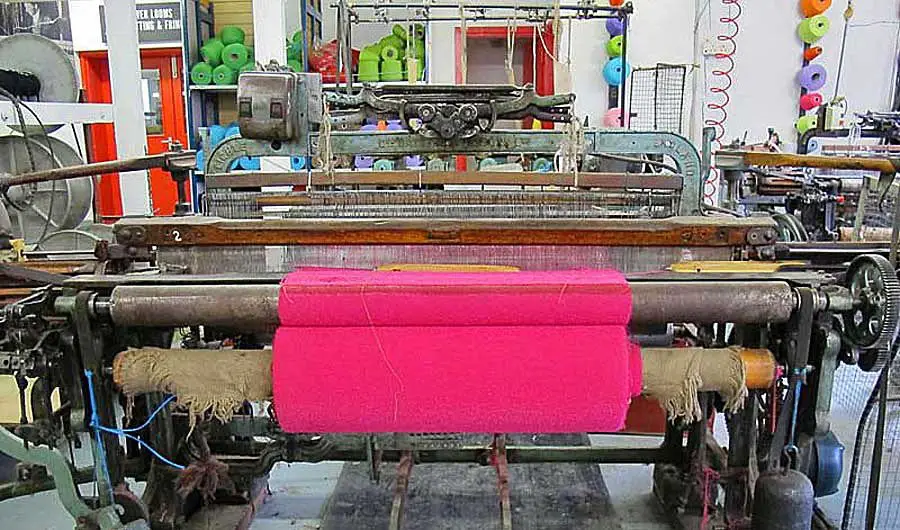 Avoca is the oldest working mill in Ireland, as people have made hand-woven goods there since 1723. While the machines on display are no doubt modern, the long-standing tradition of and appreciation for handcrafts remains strong as ever.
All photos © Briana Palma
More Dublin articles:
A Dublin Expat Remembers to be a Tourist
Explore Pubs in Dublin with "Dublin Does Fridays"
Pin for Later