In our first #TBCafeChat of 2014,  we discussed  solo travel. We asked the Belles: Have you ever travelled solo? What did you learn from the experience?
Experiences varied widely – from occasional solo weekend trips, to long solo adventures of several months. Yet the feelings and the lessons learned were surprisingly similar.
The most important one? Learning to put ourselves first.
Justine enjoys her odd week-long trips abroad and weekends away closer to home because: "solo travel brings about a sense of individuality for yourself – doing it your way and when you want."
Margo was so used to putting others' needs before her own – in travel, and no doubt in all aspects of her life – that solo travel was an awakening experience: It was scarier in some ways, putting myself so "out there," but easier to hear myself and follow my own heart.
Krista wasn't going to settle for spending a day alone in an airport, so she booked into a luxury island retreat to make the most of her solo time:  "I spoiled myself rotten with room service and swimming and reading in a hammock on the beach."
Katy loves solo trips and has started eschewing museums when she's alone: "I have also learned to be calm and kind with myself, and to just do things I enjoy, not things I think I should do."
Solo travel is not all wonderful: it can be a challenging experience which tests you to your limits.
Judith recounts an experience in Naxos, where she had been left on her own: "The hotel owner would not speak to me other than to ask over and over 'was I going to have men visit?'"
But part of the experience solo travel gives you is learning to be resilient and coping with any sort of situation.
Krista delights in the fact she sorted everything independently: "It felt so good to figure it all out by myself, make all the arrangements, get a taxi, figure out a Fiji visa,"
Katy has become much more confident because of her travels: "I have learned that I can navigate my way around a foreign place without help, and that I can cope with all manner of small crises which arise in the course of travelling."
Judith has coped in a wide variety of places considered dangerous: "I've traveled solo for work many times, ending up in places so small dogs slept in the streets, and in places that were daunting like Port-au-Prince."
Solo travel doesn't mean that you spend all your time on your own!
 Justine would quite like some alone time, but she usually ends up with a band of followers: "I tend to attract poeple that want to follow me where I'm going and do what I'm doing. I struggle to tell them that I just want to be on my own, out of politeness!"
Katy has done things with other travellers she's met that she'd never have thought of doing otherwise:  "I have been to a classical music concert with an American lady in her 70s and to a reggae gig with two young Eastern European girls."
Margo has found it easier to meet new people travelling solo because: "you appear more open and attract them because others don't assume that you already have an agenda."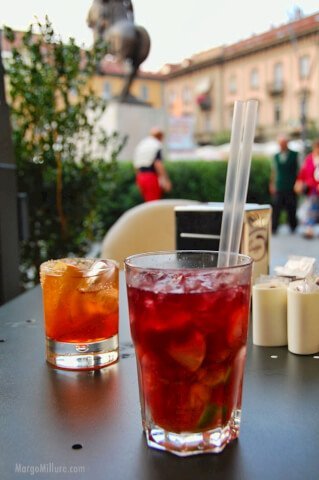 So, that's our #TBCafeChat wrapped up for April – though feel free to share your views on solo travel with us!
We'd love it if you pulled up a chair and joined us – there'll be a drink waiting for you!
Pin For Later