Learning to master jump shot photography (or trying to anyway)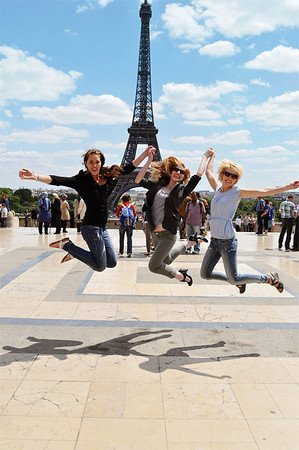 After graduating with my BA in German in 2010 and finding myself in the awkward position of being both underqualified for any position that didn't value knowledge of German literature (read: most) and overqualified for a cashier position at PetSmart, I did what any impulsive 23 years old would do and moved abroad. I found, to my dismay, that knowledge of the German language is not any more an impressive job skill in Germany than it is in the United States. I burned through my savings while looking for what available positions my mediocre qualifications might afford me.
While in Germany, I became so disillusioned with my failed attempts at obtaining employment that I began to have irrational thoughts. In attempts to rebuild my self-worth, I began to convince myself over €3 bottles of Riesling that certain silly ideas I daydreamed were worth pursuing. One of these misguided ideas was what we will now collectively refer to as the "jump shot". I thought it would be a fun, carefree alternative to simply standing straight and smiling in front of the historically and culturally significant places that I visited while abroad.
The "jump shot" is not an idea original to me. I had seen plenty of photos like the one above, with happy travelers frozen gracefully mid-air in front of well-known monuments. Bright smiles, hair carefully tousled but out of their faces, eyes wide open, some of them were even pulling this off in heels. I needed to show my friends and family back home that I was actually having a good time in Europe, and that unemployment was not crumbling my self-regard. What better way than the "jump shot"?
I pictured myself beaming at the camera with my arms relaxed and extended at my sides, my legs curled up high behind me. My eyes would have a slight sparkle from the sunlight and my hair would look like a cover model's does when an intern stands in front of her, ever so carefully holding a fan under her chin. Mostly my shirt would stay down and I would look radiantly happy. How could I go wrong?
The first attempt at envy-inducing jump shot photography
After a few drinks at one of my favorite bars in Heidelberg, I got up the courage to give it a go. I asked my friend Jon, whom I felt close enough with to avoid judgment, to take my photo outside in front of the bright, neon-orange sign. He happily obliged.
Part of me still wonders if he didn't know what was to come; if he wasn't bracing for my embarrassment and the slight amusement it would provide. We paid our tabs and went outside into the brisk January air. Jon told me he would take the photo on a count of three, so we agreed that I should jump right at one. I did so, and this is what came of it: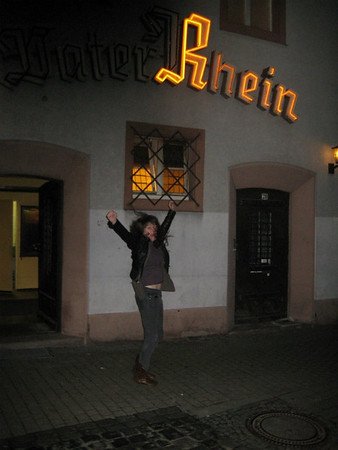 Up, up, and away!
The look on Jon's face told half of the story. A slight grin was present, but I think he honestly wanted to protect me. He knew this wasn't going to be the Facebook profile picture I was hoping for. My shirt was lifting to expose part of my stomach, my hair was in total disarray, and my feet weren't even off the ground. Was I just lifting or had I just landed?
He must have been trying to determine this, but he suggested that we try one more before I look. That's a normal request, right? Generally, when taking a photograph, you take two shots and choose the better of the two. I was worried but pushed my concerns aside. Jon directed me to jump on two, and he would snap on three. This was our second attempt:
I usually hide photos like this in a folder on my computer named "Taxes 2007," but this one got by me. A friend found it several months later and asked about it. I slammed the computer shut and told her I was pantomiming my desire to take a taxi home instead of having to go by foot. I think she bought it.
Jon would later call it my "poop squat". What must have been clear to Jon from this photo is that we were taking the picture too soon. I don't know how we coordinated the first photo, but having this photo allowed for a more deductive comparison: I was landing in the first photo, and in this one, I am bracing before propelling into the air. We tried to adjust our timing but eventually gave up after a grand total of 12 photos. The closest I ever got was here: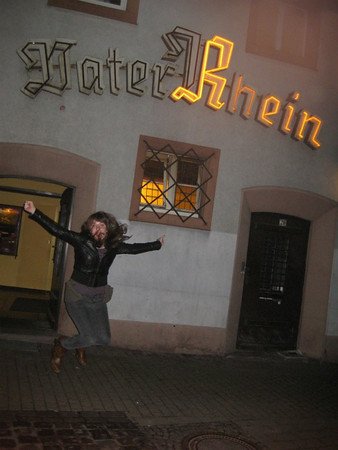 Hair in my face, arms out to my side like a total loser, this photo is awful and should never be shown. I should have given up. My legs were tired and my jacket was a tight fit, so my arms were getting pinched with each jump. All of this on top of my being tired and ready to go home. It was embarrassing. If Vater Rhein wasn't my favorite bar, I might not have been so desperate. It still remains the photo that never was.
You're probably thinking that I gave up on the "jump shot", but I didn't. I assumed that alcohol was the reason the first attempt failed. In fact, I took it to the next level and attempted it in a much more public manner: at the Reichstag in Berlin. That's right: I jumped like an idiot in front of the German Parliament.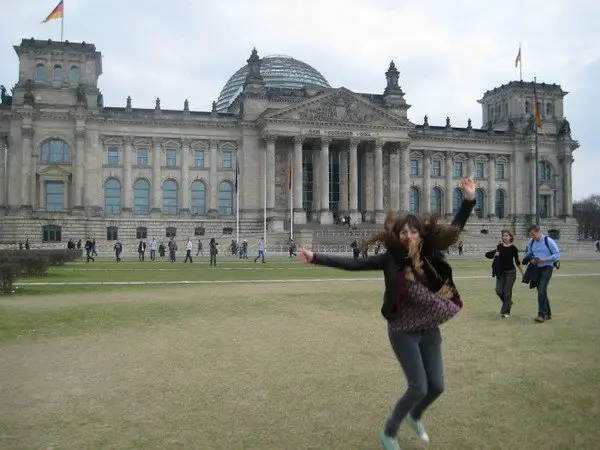 Just talking about this one is painful. One thing I learned off the bat is that you cannot pull off the "jump shot" in a loose-fitting top. My shirt rode up, my hair flew in my face, the timing was still all wrong and it was still Jon behind the camera. I did this in public, people. I was mortified just doing it but thought a good picture might be worth it in the end. After this shot I saw several people looking at me funny, so I decided to give up, but my mom insisted I should let her try. This was her result: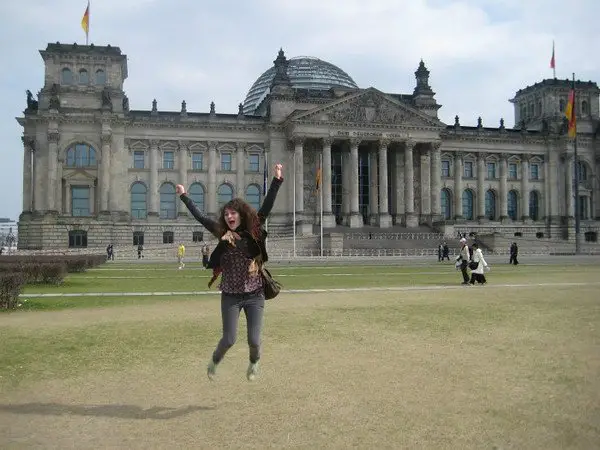 Ok, my hair is out of my face, I'm in the air, but my legs aren't tucked under like I've seen in my favorite "jump shots" other people have successfully taken. It's just not a flattering photo. My mom is convinced it's wonderful, but she is my mom. Moms are easy to please when it comes to their children or at least mine is. I told everyone I was fine with this photo so that we could just move on, I wouldn't have to jump anymore, and we could walk somewhere away from all the picnickers who saw me jumping to begin with.
The next day we went to the Soviet War Memorial and I decided on a new pose, slightly inspired by the "jump shot":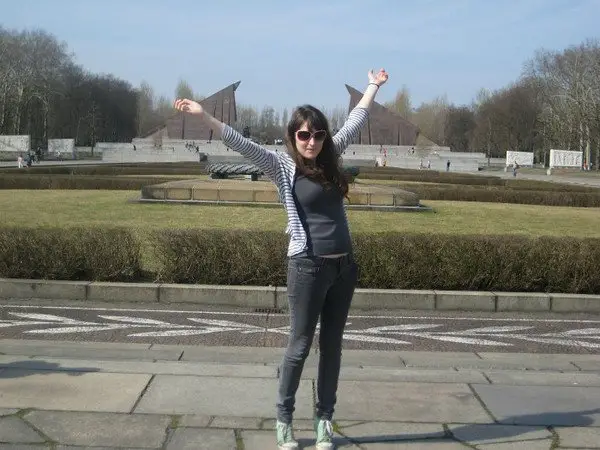 Standing slightly on my tippy-toes, chest lifted outwards, arms reaching to the sky, I look carefree yet have complete control over my hair, clothing, and integrity. Maybe I'm not smiling enough, but nobody is perfect. This photo became and remained my Facebook profile photo for months after and I had the world convinced I was living large in the EU.
*Perfect jump shot by Truly Sarah. Other images by and property of the author. All used with permission.
Pin for Later