Raise your glass to Mendoza, one of the world's great wine capitals
After living for several years in Mendoza, Argentina, I am still enamored with the periwinkle and fuchsia mornings as the sun's rays hit the Andes, as well as the cool, starlit nights. The striking landscapes are equaled by scrumptious wine and cuisine, making Mendoza an oasis for a luxurious and elegant escape.
As Latin America's largest wine producer, and the sixth-largest producer of wine in the world, the Mendoza province offers much to see and of course, taste. With more than 200 wineries open to visitors, and three different wine regions within a few hours from the city, it's easy to be overwhelmed. These hints and guidelines will help you more fully enjoy your time in Argentina's wine country.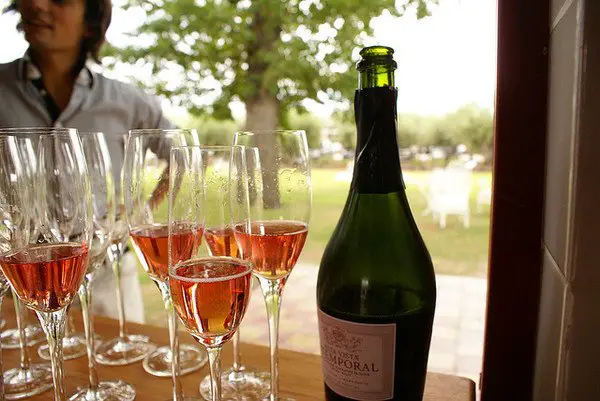 Wet your whistle
Before you venture out into the countryside, a good place to begin your Mendozan wine adventure is in the city itself. The Vines of Mendoza (Espejo St. 567) is the go-to spot to start tasting. Within this elegant grapevine-enclosed tasting room, you'll find knowledgeable staff who will familiarize you with the wineries and different wine regions around Mendoza.
For a more intimate and exclusive tasting, try Mendoza Wine Connection (Saramiento St. 677). This smaller tasting space is open by reservation only and offers a unique selection of wines you'll never have heard of at home. Mendoza Wine Connection also doubles as a small exhibition room rotating works by local artists.
The grapes
The luscious and fruity Malbec grape has put Mendoza firmly on the map internationally. However, you'll find that Mendoza produces a plethora of lesser-known varietals of the same caliber. An ephemeral and floral white, Torrontes is the country's only native grape. Much of the Torrontes is produced in the northern province of Salta, but many wineries grow it within Mendoza or alternatively have vineyards up north.
Bonarda is Mendoza's second most planted grape and well worth a gander. While it will be a few years before Bonarda reaches the quality of Malbec, there are a handful of lovely and soft wines out there to quaff, and each season brings new improvements. Tempranillos, especially from the Uco Valley, are surprisingly rich and delicious, while Cabernet Franc and Petit Verdot promise excellent things for the future.
The regions
Wine production in Mendoza centers around three main regions. Think about these regions along a gradient of traditional to modern. Maipu is the most historic region with roots dating back to the early 1800s, Lujan de Cuyo blends history and modernity, and the Uco Valley is brand new across the board. Wineries in all three of these regions range from tiny family-owned operations to larger and more industrialized facilities. It's a good idea to visit wineries small and large, to see both sides of this spectrum.
Besides history, altitude is also a very important component in defining differences in these regions, and subsequently, the style and characteristics expressed in wines. Maipu, sitting east of Mendoza City tends to have lower altitude vineyards farther from the mountains. The result is warmer nights and less change in temperature between night and day, making the region more apt for table wine production.
Certain parts of Lujan de Cuyo and most of the Uco Valley pride themselves on high altitude vineyards (anywhere from 900 to 1,300 meters above sea level), making them more suited to fine wine production. At higher altitudes, the larger temperature change between day and night helps grapes develop tougher and thicker skins, leading to wines with better tannins and acidity.
Of the three regions, the Uco Valley is the farthest away from Mendoza City, an easy two-hour drive south.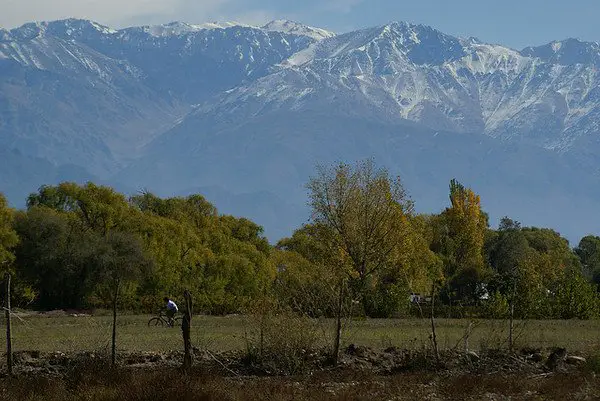 Getting to the wineries
Your budget will largely determine how you experience Mendoza's wines and wineries. While a handful of wineries are accessible by public bus, the distance between them makes it hard to do more than one or two without some other kind of mobility.
A budget-friendly favorite is bike and wine tours, most common in Maipu and Lujan, and just starting up in the more scenic Uco Valley (Baccus Bike and Mr. Hugo are two reliable companies to try.)
For those with a little more to invest, hiring a chauffeur, booking a wine tour through an agency, or renting a car are some alternatives.
Rental cars present the complications of having to navigate unfamiliar territory while imbibing rather strong wines, and also the problem of organizing one's own tastings (many wineries in Mendoza require advance reservations or have designated tour and tasting times.) Chauffeurs, who can often be hired directly through your hotel, will simplify things and take care of reservations for you.
Finally, there are many reliable tour agencies with competent English speaking guides who will give you a more profound experience of the area, giving your everything from history to tasting advice. An added benefit of going with an agency is that you pay one flat rate, whereas with a chauffeur you'll be expected to pay for your own tasting fees at each stop.
Lodging
Many use Mendoza City as a base to explore the surrounding region. Within Mendoza you can count on fabulous restaurants and a thriving nightlife. If you're looking for a more relaxed, country experience there are several luxurious hotels outside of the city in Chacras de Corria, a tiny hamlet in the heart of Lujan's wine country, or even farther removed in the Uco Valley. For budget travelers, Mendoza City offers dozens of decent hostels, but there are few in the surrounding wine regions.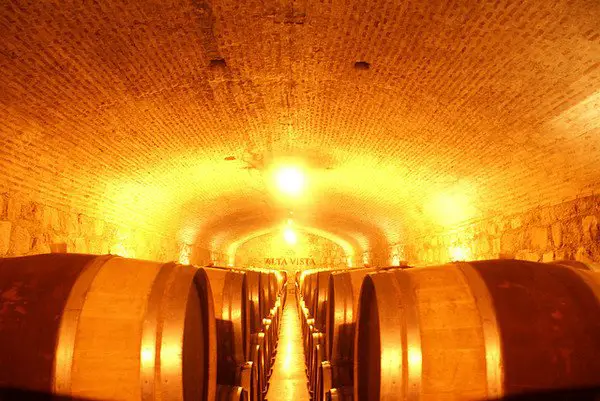 Heading to Mendoza, check out this tour of Alamos Wines:
Winery index
Here you'll find a list of a few wineries in each of the different wine regions surrounding Mendoza City. As I mentioned earlier there are more than 200 wineries open for visits, so this is just a brief guide.
Maipu
Cecchin: a small organic winery, this quaint little affair has a charming restaurant literally surrounded by vineyards under the shade of an impressive walnut tree.
Carinae: a tiny French-owned winery, Carinae offers impressive wines at even more impressive prices.
Familia Zucchardi: with solid wines but perhaps a more interesting touristic experience, this large Maipu winery sports everything from horseback riding through the vineyards to flying over them in a hot air balloon.
Lujan de Cuyo
Alta Vista: a larger French-owned affair, Alta Vista's beautifully restored colonial winery cranks out delicious Malbec and Torrontes across the board as well as elegant picnic lunches in the surrounding gardens.
Carmelo Patti: this is a small, one-man show where Mr. Patti is the winemaker, owner and tour guide. You'll find tremendous Cabs and blends within his impressive profile.
Catena Zapata: another one of Mendoza's mega producers, this epic winery is shaped like a Mayan Temple.
Uco Valley
Salentein: another temple-like facility, this remarkable winery at the foot of the Andes also has a wonderful art museum within its confines.
La Azul: this petite, family-owned winery specializes in Malbec and Cab Sauv.
O'Fournier: looking more like a spaceship than a winery, this impressive edifice is built according to the laws of gravity so that the winemakers never have to use pumps to move the wine around.
*Photos by and property of the author, used with permission
Pin for Later