I never cared much for soup until I went to the Czech Republic.
The first time I traveled there, my shoe-stringing friend and I would split an entrée at restaurants just so we could each order soup.
Since then, I've taught English twice in a small Czech town where nearly every lunch special includes one of their delicious soups.
You may also like: Peruvian Potatoes Recipe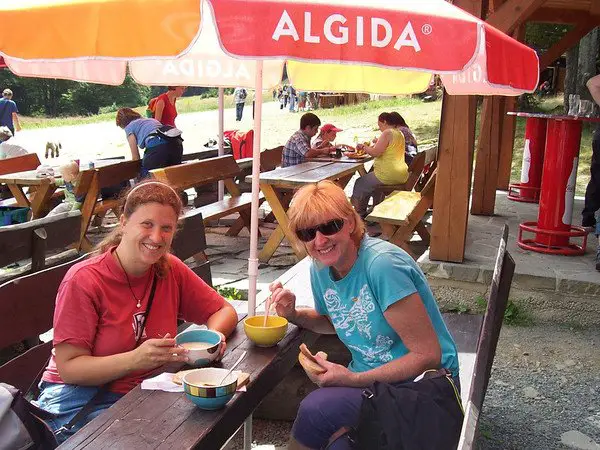 The ones with liver dumplings aren't so much to my taste, but others I long for after I leave, like garlic soup (česnecková) topped with fried bread and cheese.
At the best restaurants, it may have a raw egg cracked right into the broth while it's hot, pretty much poaching the egg.
Then when you dig in, the yolk thickens the soup. Exquisite. Many other fine soups fill menus: onion, cauliflower, lentil, goulash and potato, to name a few.
Kyselice sometimes translates as "sauerkraut soup," but that doesn't do it justice. The perfect Kyselice includes up to three kinds of meat, homemade sour cabbage, and lots of cream.
My very favorite, however, is kyselice (pronounced kiss-eh-lee-tsa), a sauerkraut soup popular in Wallachia, a hilly and mostly rural area near the Slovak border. Kyselice sometimes translates as "sauerkraut soup," but that doesn't do it justice.
The perfect Kyselice includes up to three kinds of meat, homemade sour cabbage, and lots of cream. Available at mountain chalets and hikers' pit stops all over the region, it's hearty, tasty and – to me – quintessentially Wallachian.
For my birthday one year, two of my Czech friends, the warm and generous Petr and Lenka, gave me the perfect gift: a kyselice kit, complete with potatoes, spices, specially chosen kielbasa, cream and homemade sauerkraut from their cellar.
In adorably imperfect English they'd written the recipe. Delighted, I followed their instructions the next day and produced my own entire pot of homemade kyselice. I'd rarely felt so rich.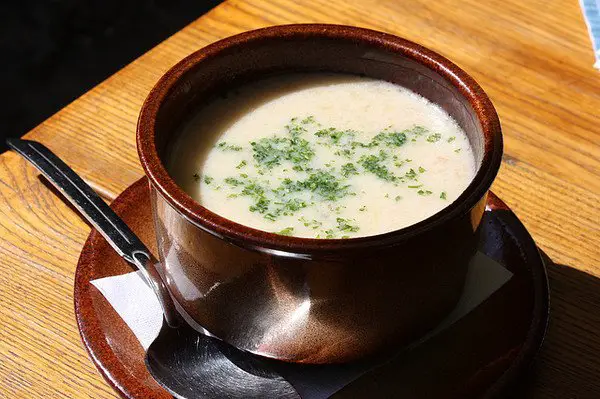 As with most of the recipes gathered in my travels, the original version gives few measurements. When asked how much sauerkraut, for example, Lenka just said, "As much as you want."
Hmm…
So, I've put measurements for the way I like it. Adjust as needed for your own tastes.
You may also like: Recipe For Aromatic Singapore Curry
Kyselice (Czech sauerkraut soup)
Ingredients
• 15 oz sauerkraut
• 8 oz polish sausage/kielbasa, or a combination of polish sausage and smoked ham
• 1-2 potatoes
• ½ onion
• 2-3 tbsp flour
• 1 cup half and half (or heavy cream, if you're feeling extravagant)
• Peppercorns
• Allspice berries
• Caraway seeds
• Salt
• Marjoram
• Oil
Method 
In a large pot, generously cover sauerkraut and meat with water. Add peppercorns, allspice berries, caraway seeds and a little salt. Bring to a boil, reduce heat and simmer (approximately 30 minutes).
In a separate pot, boil the diced potatoes.
Fry onions until golden brown, then sprinkle with flour and let cool. Gradually add cream, stirring until smooth.
Remove meat from the pot and cut into small pieces.
Add the cream and onion mixture to the sauerkraut. Boil 1 minute, stirring constantly.
Add meat and boiled potatoes, and season with salt and marjoram.
Serve with bread, especially a light rye.
The best kyselice I've had comes from home-made sauerkraut, which has a crisper feel, and a taste stronger and more raw, yet also less vinegary.
It might have whole cloves of pickled garlic, or slices of horseradish, turned mild by the process. It's fantastic right out of the bottle, made into kyselice, or even sweetened and braised in the Czech fashion and served with pork.
If you're a culinary adventurer, and want to try making your own sauerkraut, here's my helpful neighbor Jarka's recipe: shred 60 pounds of cabbage with 4 pounds of onion, 1 pound of fresh horseradish and 1 pound of garlic.
Add salt, caraway seeds, allspice and mustard seeds (however much you want, I suppose). Put it all in a huge ceramic pot with a lip to catch the condensation.
Cover it and keep it in your warm apartment for three weeks. Then transfer it to a cold basement or cellar.
After three more weeks, it's ready, but you can store the concoction in your cellar for the rest of the season.
I can't say I've ever tried this. I'm not generally in possession of 60 pounds of cabbage, and wouldn't even know where to buy horseradish root in the U.S.
Secondly, I don't have an appropriately lipped urn. Even if I did, I live in Arizona when not abroad. Most of the population there survives without cellars or basements.
Try fermenting cabbage in your house for six weeks in the desert and see if you're still alive and sane at the end. In Wallachia, however, it's a highly sane thing to do.
You may also like: How To Satisfy Comfort Food Cravings Abroad
Kyselice is delicious comfort food even with store-bought sauerkraut, but if you want the full experience, and don't want to invest in 60 pounds of cabbage and a root cellar, consider a plane ticket. The Czech Republic and its soups await.
*Photos provided by the author, used with permission. 
Pin for Later