Take a break from safari to visit one of these three amazing South African wine regions
If you're lucky enough to find yourself in South Africa, first of all, good for you! One of the best and most exhilarating travel experiences I've ever had was my trip there a few years ago. From a safari in Krueger Park and a lion preserve where I pet a cub to a hike with chains and ladders up the back of Table Mountain in Cape Town, this place is beautiful, diverse and hard to beat in terms of wow-factor.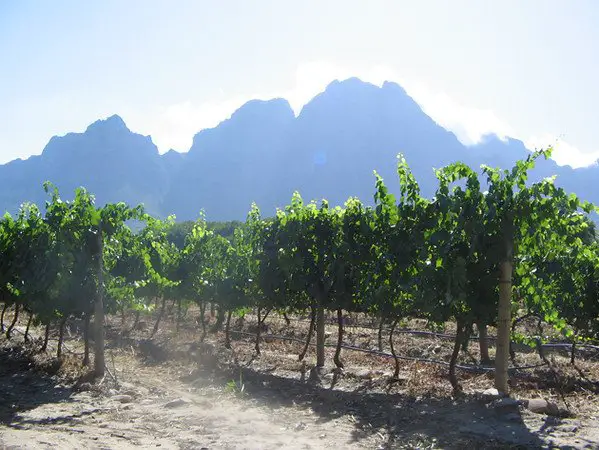 With all this going for it, I find people rarely think about the other two delights that await you on a trip south: the divine food and the ever-improving South African wine.
You may be surprised to learn that wine has been made in South Africa since the 1650s – long before those fancy Chateaux of Bordeaux ever existed. Set up as a restocking station for Dutch sailors on the way to India, this area ramped up wine production (wine kept better than water back then, and let's be honest, what else is there to do on the open water for months but drink?) and has been in the winemaking game for more than 350 years. Hobbled by apartheid for a significant part of the 20th century, the industry has bounced back and the wines coming out of the country are delicious, unique and on a great trajectory.
If you're heading to South Africa or heading to the store for some armchair travel, you should know that the top winelands are right outside of Cape Town, about 45 minutes away. If you're not familiar with them, get excited.
The wines of South Africa are so different from anything you may have had from Europe, South America, Australia or the U.S. that you may be a little perplexed. To me, they are the perfect happy medium between the earthy, less fruity European styles and the fruit-forward, higher alcohol, more bold styles of everywhere else. South African wines are both fruity and earthy. They are a balance of minerals and dirt flavors with great mouthwatering acid and mouth drying tannins, and juicy, ripe fruit flavors with moderate to high alcohol.
The big grapes in the wine regions of South Africa are Chenin Blanc, Chardonnay and Sauvignon Blanc (my favorite) for whites, and Cabernet Sauvignon, Syrah and blends for reds. You may also encounter South Africa's very own red grape, Pinotage, which is a cross of Pinot Noir and another Southern French grape called Cinsault. Be careful with this native son though – it can taste like raspberries and cherries or, in less skilled versions, like paint chips and powdered cherry candy.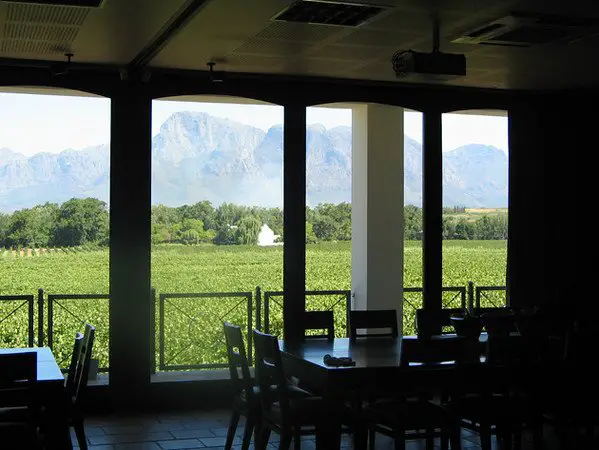 Now you're ready to have it! If you're heading the wine regions of South Africa, here are my top three wine places to explore:
South African Wine Regions
1. Stellenbosch
Set up in the 1680s as a farming and wine community, this is the premiere place for winemaking and wine growing in South Africa. A university town that boasts an excellent wine school, this area is lovely and quain, and makes delicious wines. It's known best for Cabernet Sauvignon, Merlot, Shiraz and Pinotage, with a little Chardonnay and Sauvignon Blanc thrown in.
This area, 45 minutes east of Cape Town, is a goldmine of goodness; it has the highest concentration of fine wine estates and its wine route is as tourist-friendly as they come. In Stellenbosch the estates that I love are Mulderbosch, Neil Ellis, Vergelegen, Thelema and Waterford.
2. Franschhoek
Meaning "French Corner," Franschhoek sits about an hour northeast of Cape Town and is where the French Huguenots set up shop about 300 years ago. They brought French winemaking techniques with them and the wines are outstanding, albeit less well known than those of Stellenbosch. A warmer, scenic area, abutted on all sides by the massive Franschhoek and Drakenstein mountains, this is a smaller place, a little warmer and more inland than Stellenbosch but well worth a visit. The grapes are similar to those from Stellenbosch. Another bonus for this neighborhood: Franschhoek has several top restaurants and another tourist-friendly wine route with fabulous wineries, including my top picks: Boschendal (one of the prettiest wineries I've ever visited), Graham Beck, Rupert & Rothschild Fredericksburg and La Motte.
3. Walker Bay
This little enclave lies about 45 minutes southeast of Cape Town. Given its location on the tip of Africa, it's kind of cold but the area is gorgeous and, as a side note, pretty good for whale watching from June to December if you're into that. This is Chardonnay and Pinot Noir country. There are fewer wineries here, but all are pretty high quality, including my favorite, Hamilton Russell.
One final and very important thing for any Travel Belle to know about traveling to the winelands and Cape Town: there are super strong wind gusts off the Atlantic (and coming from the end of the world, a.k.a. Antarctica). And I don't mean a nice breeze. If you get out of the car in some areas that aren't protected by trees, your hair will surely become a nest of some sort. Be prepared and bring a hat or hairband – you won't regret it!
And if you're virtually traveling to South Africa by picking up a bottle from one of the places I mentioned, you can sit in front of an industrial fan to get the sensation of the wind, sip some wine that is unique to South Africa and plot your future adventures in this majestic, amazing place!
If you'd like to learn more about South Africa, please listen to the Wine For Normal People podcast on the subject on iTunes.
Pin For Later