The food in Rome is a slice of this, that and heaven
Rome has St. Peters, the Vatican Museums and the Borghese Gallery. But it also has that temple of high gastronomy known as Volpetti. No visit to Rome is complete without entering the small shop on the Via Marmorata to gaze, taste, sniff, and shop. Small but mighty, it is crammed with delicious delights and staff that want you to try a taste – a slice of this, a sip of that. A gourmet's idea of heaven.
Not long ago my daughter and I were on a girl's week in Rome. We popped down to the shop near our hotel to do a little shopping for a picnic and for treats to take home to assuage our husbands left behind in Seattle's rain while we tried a little dolce vita in the sun.
Naturally, I wanted to memorialize our visit with a camera. The first shot was of the window display. Not only was their mouth-watering pizza, but there was also one of the shop's happy owners looking back at me with a reflection of the busy street included.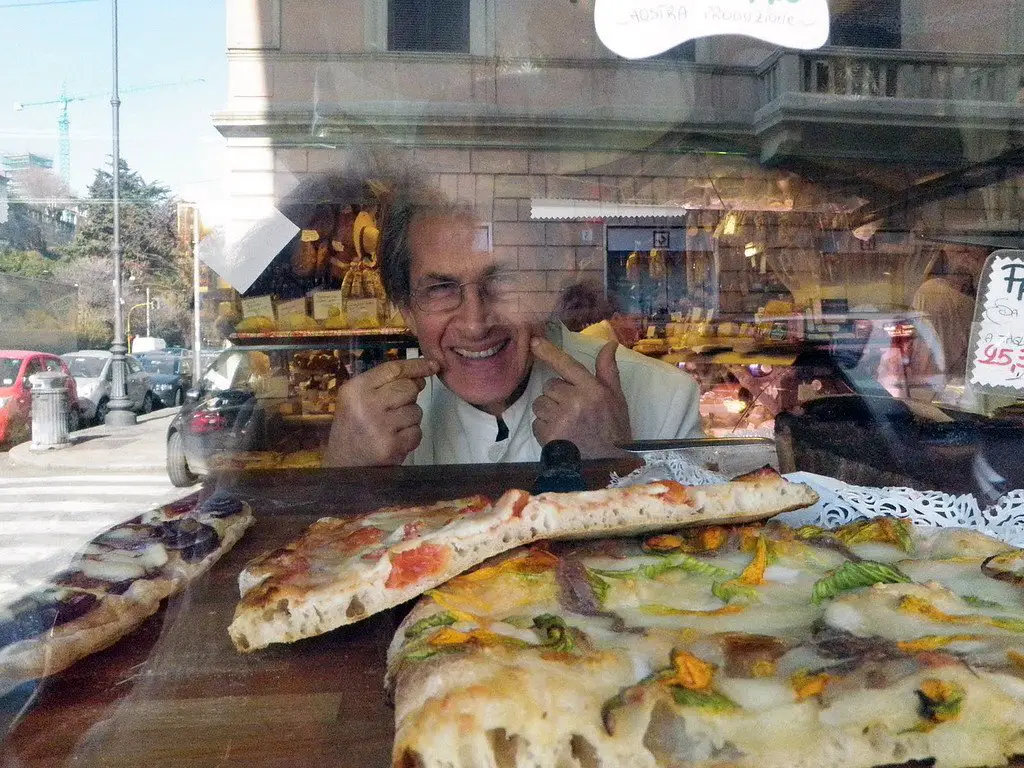 That was enough to entice us in without further hesitation.
What to look at first? Our eyes rolled around, dazed with the splendor until we saw the humble cheese pacifiers. What mamma and bambino could resist such a temptation?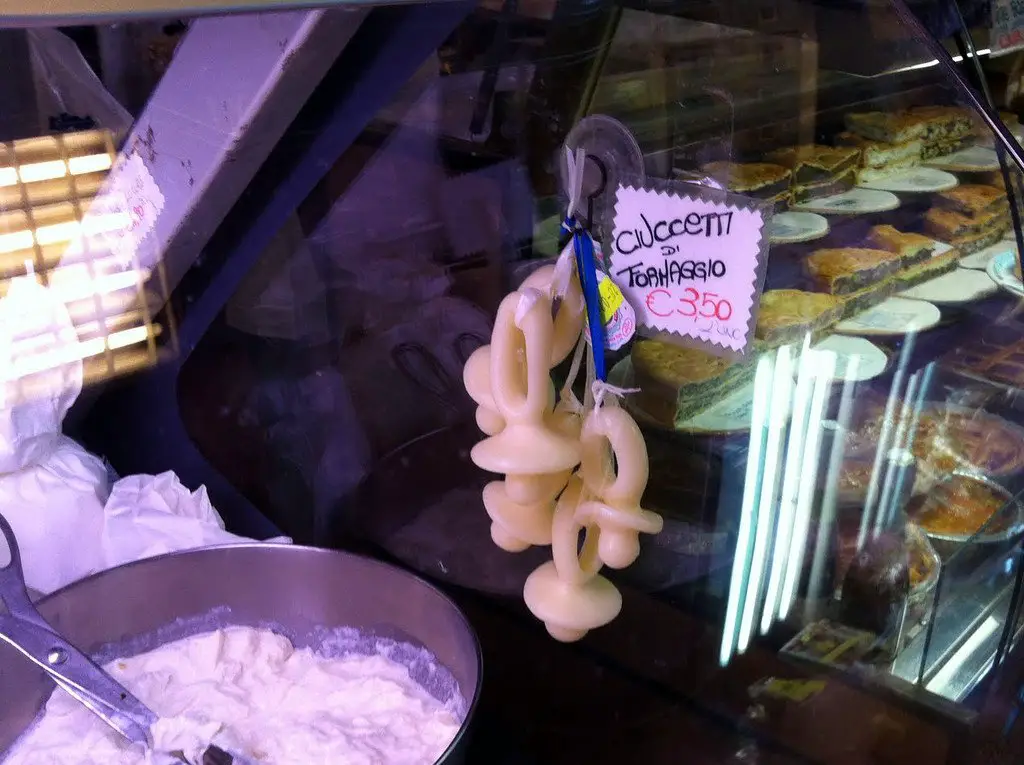 Next came serious business – the purchase of balsamic vinegar. Tastes were offered. After several we decided that the best was from the Acetaia Dodi, founded in 1891. The Riserva di Famiglia made me dream of strawberries just picked on a summer day. The daughter said, "This is it! I taste black cherries, Barolo and honey."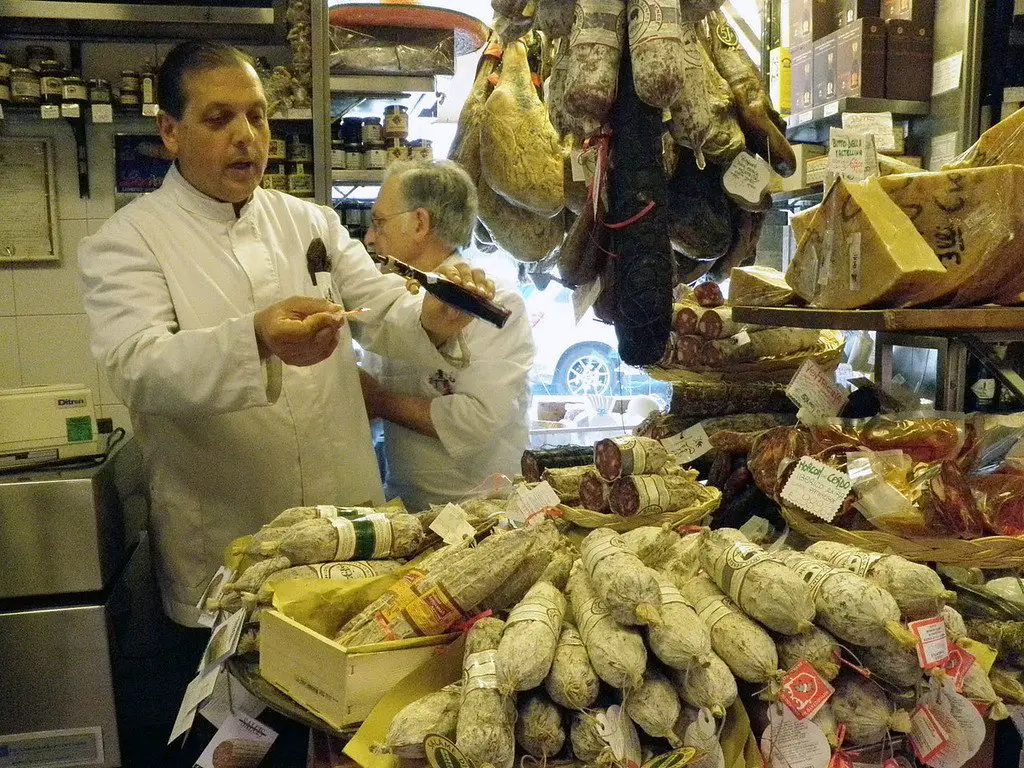 Now we were being offered more samples, this time a slice of cheese. Pecorino or was it caciocavallo? No matter – we bought a chunk along with a bottle of red wine as snacks to enjoy in our room. Our helper threw in slices of good Roman bread, all neatly wrapped so they wouldn't go stale.
Maybe a taste of prosciutto or a chunk of sausage with fennel? Yes, let's try some. But could we buy the honey with truffles or cans of tuna or sardines in olive oil? No, can't eat it in the hotel and too heavy to take home.
(What I really wanted was whole prosciutto – an impossibility.)
The last display case to inspect held sweet treats: tortes with bottles of prosecco helpfully set nearby to remind shoppers that there surely must be a festive occasion to celebrate in fine style coming up soon.
By this time we were starving and Volpetti Più, just around the corner, was open for lunch. We paid for our purchases and took one last look at an outside display window where starters like arancini, deep-fried rice balls filled with mozzarella, were set out for shoppers to take home and heat up.
The tavola calda was already crowded. We picked up our trays and started down the line trying to decide what to have: pizza was waiting but I saw pomodoro al riso, tomato filled with rice, my favorite, and some olive ascolane that I cannot resist. They were added to my tray. For a secondo I settled on rosemary roast chicken with the Roman spring vegetable, agretti, on the side. My daughter wanted to try the arancini before moving on to insalata al mare with octopus and a plate of grilled vegetables.
When we were finished it was time for a decision – a siesta or more sightseeing? No contest – time was short so we jumped on the Metro to head for the Via Condotti. Shoes, instead of food, were now our goal.
Volpetti website
All photos property of and by Judith Works © and used with permission.
Pin for Later