Editor's Note: When we think of cruising these days, it's usually all about vacation, and hitting sunny ports of call. But not so long ago, often the transatlantic voyage was  the way Europeans immigrating to North America traveled and began new lives. Today writer Krista Bjorn, (aka, the rambling tart) takes along on her own family's journey on a particularly notorious vessel for our new section about vintage travel, "Vintage Style".
She may be known as the cause of one of cruise ship history's most famous maritime disasters, and for an attack by pirates, but to me the MS Stockholm will always be cherished as the vessel that brought the first of my Danish family members to North America.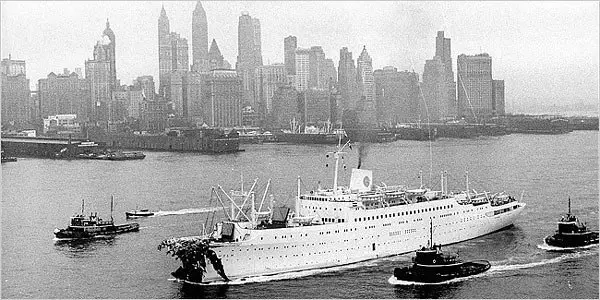 My Grandpa Alfred and Grandma Ruth were born and raised in Denmark and met when Grandpa joined a Spejderne troupe  (Danish version of the Boy Scouts) led by Grandma's brother-in-law. She was 18 and he, 22.
"I got to look at her and said she's the one for me," Grandpa said simply in his strong Danish accent. Grandma grinned. "Awww, he was a nice guy."
They were soon married and settled into the life of farming they'd always known. Grandpa had started work on a neighbor's farm when he was just 9 years old, working every morning and evening, going to school during the day.
"We thought it was fun," Grandma said. "But now, to look back and think of it, it was terrible."
Things didn't improve with time. Grandpa worked very hard, going to work at 5 a.m. every morning with one Sunday off a month. They decided this was not the life they wanted and began saving every penny they could to start a new life in Canada.
Their families weren't keen on the idea. "A lot of people thought we were crazy," Grandma said. Her own mother admonished them saying, "How can you go over to such a heathen country?"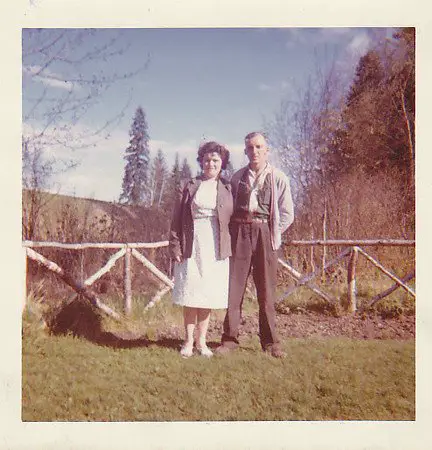 But they were undeterred and kept on saving. By the time they had enough, Alfred and Ruth were 31 and 27 and had four children – Erik (my Dad), Gerda, Tina, and Arne. Their passage was paid for by the Canadian government which needed farmers, so they packed up their belongings into several suitcases and a big box they could add legs to and turn into a table when they got to Canada.
It was October in the early 1950's when they took the train to Copenhagen and boarded the glistening white MS Stockholm, waving good-bye to the many family members gathered to see them off. 
"They kept waving until we were out of sight," said Grandma.
All six family members shared one cabin lined with bunk beds, but the whole ship was their playground for the next week and they loved it!
At 525 feet with a gross tonnage of 12,165, the MS Stockholm was the smallest passenger ship operating on the North Atlantic route at the time, but there was plenty to entrance four farm kids who had never even seen a car before. They roamed the hallways and decks and my 9-year-old Dad rode the elevator up and down, up and down. "That was where we could always find him," Grandma said.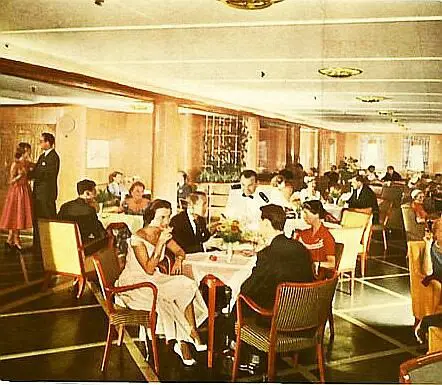 By far their favorite aspect of the voyage was the food.
"The best part was when we all gathered outside the dining room, a big crowd, and the Captain would open the doors and welcome us all in," Grandma said. "We took turns sitting at the Captain's table, all of us, even the kids."
"Oh you wouldn't believe it," Grandpa said, his eyes twinkling at the memory. "One time they came in with a big turkey on a platter all lit up inside with a candle. Oh, we had good food there."
Their grand adventure on the MS Stockholm came to an end when they docked in Montreal, Quebec and boarded a passenger train for a 5-day trip across Canada to the tiny logging community of Crescent Spur, British Columbia. They arrived in the pitch black and were picked up in a jeep by a friend of Grandpa's who had immigrated years earlier.
"I didn't know until later that we crossed the river on a bridge made of just two boards in the middle of the night," Grandpa said with a grin.
They soon settled in to their new home and made friends with the Dutch and Swedish families who made up the small town.
"We just loved it!" said Grandma, reminiscing about the gorgeous scenery and her lush gardens. "We never ever regretted it once."
Grandpa agreed. "It was the best thing we ever did. We had all our kids and steady work all the time. We should've done it ten years earlier. We were never homesick once."
The MS Stockholm found infamy a few years later when she collided with the Italian ship Andrea Doria on the night of July 25, 1956 in thick fog off the coast of Nantucket. The catastrophe killed 51 people and earned her the name of "the death ship".
Although severely damaged herself, the MS Stockholm helped in the rescue and carried 327 passengers and 245 crew members from the Andrea Doria as well as her own passengers and crew. After the Andrea Doria sank, the MS Stockholm sailed to New York City under her own power and was repaired three months later.
Over the years she served as an ocean liner and barracks ship before being refitted as a modern cruise ship known as MS Athena.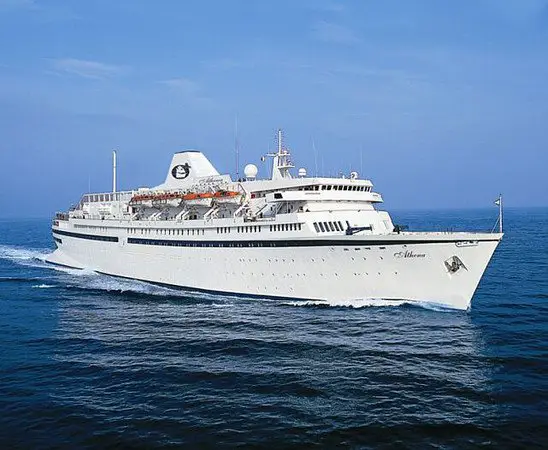 On December 3, 2008 MS Athena was surrounded and attacked by 29 pirate boats in the Gulf of Aden. Thankfully this time tragedy was averted when crew members firing high-pressure water cannons and the presence of a hovering US Navy P3 Orion maritime patrol aircraft finally sent the pirates fleeing.
The MS Stockholm may be known as "the death ship" to some, but to me she is a life ship. Without her, I wouldn't be here.
*A big thank you to the cruise line history site, Cruising the Past for information and photos used in this piece.
Pin for Later