Things to do in Shreveport, LA, "the other side of Louisiana," for a day of arts, Elvis, and even a ghost or two
Shreveport's new arts district and The Agora Borealis
As we walk through the door of The Agora Borealis opened in July 2014, owner Katy Larsen, urges us to try the granola. What she doesn't know is that only a couple of days into our trek across the state of Louisiana, we have already been exceptionally well-fed. Besides, we are the group that opted for this Art to Elvis tour, instead of the other one that focused on Louisiana Cuisine that involved beignets and a peculiar pork product I'll tell you more about later called cracklins.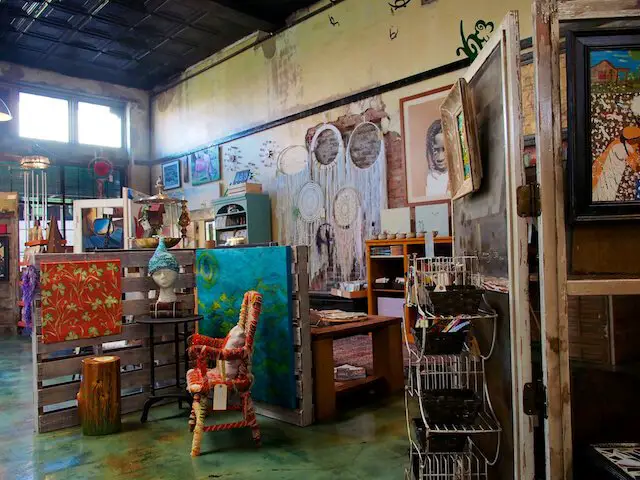 Located in a former service station on the edge of downtown between I-20 and the business district, at first The Agora Borealis appears to be just another art gallery or eclectic home decor sales floor.  But from the minute Larsen opens her mouth, it's clear this community and eco-minded woman has more in mind.
Larsen comes across as an intelligent and friendly version of hip. Her goal is to create a local arts district for the tri-state area (Louisiana, Arkansas, and Texas) . "We are building a hub for creativity and place for local economics to thrive."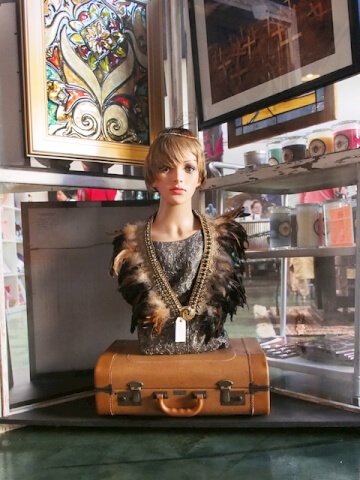 Opened in 2014, The Agora Borealis with its large and charming Deco-style street front, anchors the burgeoning district. Her mother and sister are also artists and help out around the store along with several volunteers."Agora" means marketplace, while "Borealis" means "to the north."
It would be hard to miss Larsen's challenge. Controlling the chaos of diverse creative endeavors into a mix of something that can thrive has never been easy. But with yin and yang, Larsen seems to be doing just that.  While the spaces are busy and eclectic, they also feel inviting and orderly.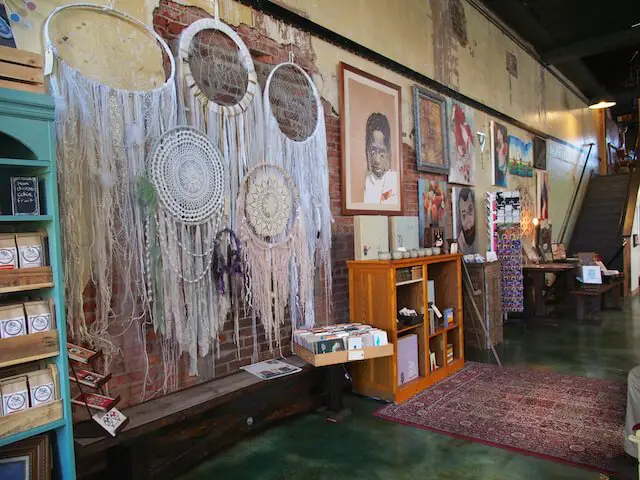 Central in Larsen's mix of priorities is her passion to be both environmentally friendly and economically responsible. She leads by example in both her business operations and the creation of her own art.  She insist on hiring local contractors and vendors whenever possible. As a jewelry maker she works only with up-cycled materials  "People aren't aware of the cost of buying products from overseas," she says. She takes discarded treasures that most people would throw away. "We break them down and divvy them out."
Every six weeks The Agora Borealis features a different local artist. Currently featured is Taffie Garsee.  The medical receptionist explains the symbolism in  her artwork to us, which features bugs, plants, and personal transformation. "But no politics!" Garsee adds.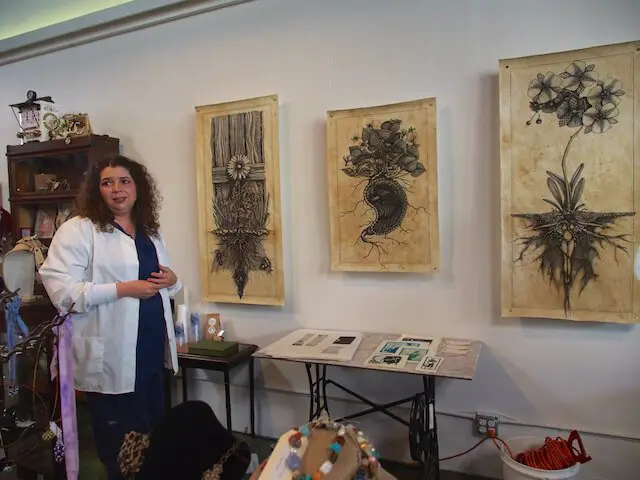 Besides hoping to convince more community and creative-minded businesses to join her artistic block party, Larsen continues to grow The Agora Borealis's offerings. A busy event calendar includes art classes, book signings, astrology readings, poetry events, trunk shows and fundraisers. There was a Mardi Gras fashion show that featured one-of-a-kind jewelry, masks, shoes, clothing and vintage items. Up next, she plans to open class and event space in the other half of the building. She envisions turning adjacent outdoor spaces into gardens. She hopes to privately fund a mural.

And that granola? When the baker a couple of doors down is baking, granola smells waft in through the ductwork of The Agora Borealis. That Larsen wants us to try it is just one more way she invites people to both experience and participate in her passion project. Intent on generously promoting others, the store's Facebook page is a stream of shoutouts  to local artists, events and the community. Refreshing!
Shreveport Municipal Auditorium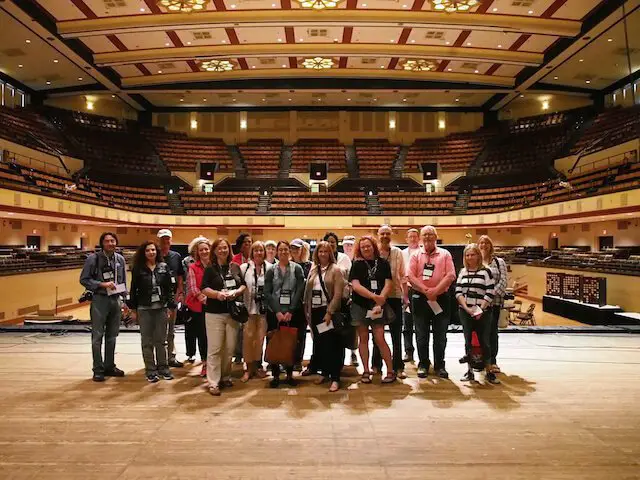 Discovering more things to do in Shreveport
Next up is the "Elvis" part of our Shreveport-Bossier tour. The Shreveport Municipal Auditorium has a storied history as the home of the Louisiana Hayride, which ran from 1948 – 1960. This weekly radio show featured not just Elvis, but stars such as Johnny Cash and Hank Williams. The famous saying, "Elvis has left the building," was coined here. The host would announce this up-to-the-minute information for the female fans who would come out in droves to see the young King of Rock and Roll in action.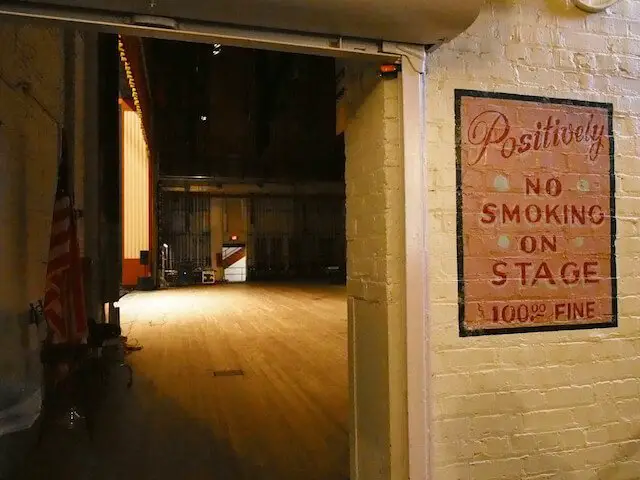 Many African American musicians, including James Brown, Aretha Franklin and B.B. King have also played at the auditorium over the years. These days I'm especially interested to see where tourism and the more unsavory aspects of history meet. I was extremely impressed by how the issue of racism was handled on this tour. Our guide told us a particularly poignant story about American R and B singer, Sam Cooke. In 1963 following his performance at the auditorium, he was not allowed to check into a local hotel because of existing segregation laws. He stood up for himself and was arrested by the Shreveport police later that evening. In reaction, he wrote his most famous song, "A Change is Going to Come."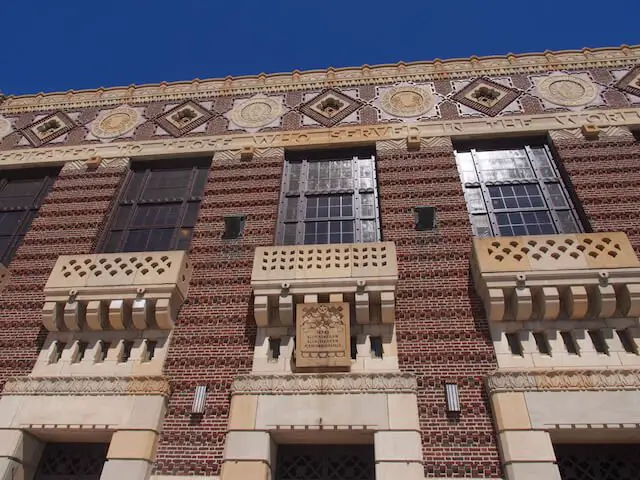 The building with its renowned acoustics and intricate brickwork is known as one of the finest examples of Art Deco architecture in Louisiana. There's even a ghost or two around. Siri on my phone acted up unbidden over by the old soda fountain.
If you go:
The Agora Borealis 
421 Lake St.
Shreveport, LA 71101
318/268-3011
Shreveport Municipal Auditorioum
705 Elvis Presley Avenue
Shreveport, LA 71101
318/841-4000
Tours available by appointment
* This visit was sponsored by several parties, including the Louisiana Dept. of Tourism, and part of my visit to the Travel South Showcase held in Shreveport in March 2015
* First photo from Agora Borealis Facebook page, all others by Margo Millure ©