In recent years, travellers have become a little jaded with traditional travel guides. Tired of turning up at restaurants supposedly packed with locals only to find tables of tourists clutching the same tome, these holidaymakers are seeking alternative sources of information. In addition to podcast tours and mobile phone apps, local travel websites offer travellers tips on where to eat, stroll and hang out: all written by city residents.
However, travel writer Vicky Baker suggested that instead of locals, expats may be the best travel guides. After all, locals may know where to grab a bargain brunch or where the latest trendy bars are, but they might not be able to point you in the direction of all the sights as well. As foreigners, expats know what visitors want to see and can understand cultural differences, yet as residents, they often possess a significant stack of information on where to eat, drink and party.
When I was living in Spain's largest city, I played host to a stream of visitors and developed my own Madrid tour (tailored to my guests' interests, naturally). So in order to test the expat guide theory, here's my guide to seeing Madrid in a weekend: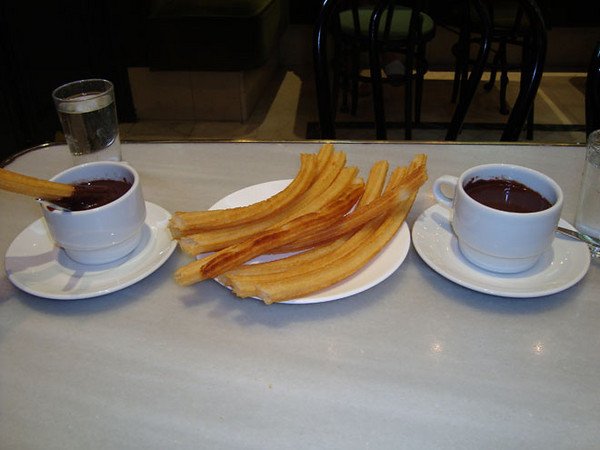 Saturday usually began at La Puerta del Sol, Madrid's centre point. After pointing out the giant Tio Pepe sign dominating one end of the square and the statue of Madrid's emblem, a bear nibbling a strawberry tree, I led my party up to the Plaza Mayor, past a long line of street mimes (the disco goat and the fat spiderman are personal favourites).
After taking in the splendour of Madrid's main square, we might make our way to Chocolatería San Ginés for chocolate con churros or to the recently re-opened gourmet market, the Mercado de San Miguel , for a glass of wine and a tapa. The bustling indoor market is a lively place at all hours of the day, offering a perfect introduction to Madrid's reputation as the real city that never sleeps.  Click here to see a traditional recipe for chocolate con churros.
After that pit stop for refreshment, I hoisted my umbrella in the air and guided my merry band to Plaza de Oriente, a beautiful pedestrianized square with the opera house on one side, the royal palace on the other and statues, fountains and ornamental hedges in between. We might have visited the palace itself, or perhaps the next door cathedral, which is admittedly not one of Europe's finest despite having colourful stained glass windows.
After a quick stroll around the palace's formal gardens, if the weather was kind we headed across Plaza de España to Parque de Rosales to admire the views across the city to the palace, watch passers-by and contemplate the strange sight of an Egyptian temple in the Spanish capital. A present from the Egyptian government to thank Spain for its help in saving the temples of Abu Simbel from the Aswan dam, the Templo de Debod has stood in this spot since 1972, bringing a touch of the Middle East to this corner of Madrid.
For creative, trendy tapas in a buzzy atmosphere, La Musa on Calle Manuela Malasaña is a good bet, while for classic Spanish cooking with a slight twist, I would choose Albur on the same street.
As I was a tour guide of little mercy, this rest was usually followed by more action: perhaps a jaunt over to Casa de Campo, Madrid's 'wildest' park (in more ways than one, as night time visitors would discover) on the cable car (teleférico), or a visit to one of Madrid's world-famous art museums, the Prado, the Thyssen-Bornemisza or the Reina Sofia, depending on my visitors' artistic preferences. If however they were more inclined to spend an afternoon perusing rails of clothing than rooms of paintings, we would have headed back to the centre to hit the shops on Gran Vía and Calle Fuencarral, wandering into Chueca to check out a few independent boutiques, and maybe stopping for a cup of tea at Lolina Vintage Café or a cupcake from Happy Day Bakery, both on Calle de Espíritu Santo.
When dinner time came around, we might have made our way to Malasaña, home of the 1980s movida madrileña and a perenially 'cool' neighbourhood despite the fickle nature of fashion. For creative, trendy tapas in a buzzy atmosphere, La Musa on Calle Manuela Malasaña is a good bet, while for classic Spanish cooking with a slight twist, I would choose Albur on the same street. For something more central, we might have tried Ginger close to Plaza Santa Ana, putting up with the quirky service for the sake of the low prices and, more importantly, the lip-smackingly good white chocolate cheesecake.
From here it's just a few steps to the Me by Melia hotel and its glamorous rooftop bar, the Penthouse, which is the perfect place to spend what we saved on dinner on a swanky cocktail, to be sipped as we gaze out at the city's skyline. And if any of us had any stamina left after that intensive itinerary, the many bars of the Huertas area are nearby to ply revellers with drink until the early hours.
Sunday is a time for R & R: Rastro and Retiro. Madrid's El Rastro fleamarket takes place every Sunday until 2pm in the La Latina area, drawing a heaving throng of folk to browse or buy anything from handmade jewellery to frying pans to gas masks, and everything in between. After all the pushing through the crowds that a Rastro visit entails, we were ready for lunch in Calle de la Cava Baja's bustling tapas bars or outside on Plaza de la Paja (ideally at vegetarian Viva la Vida if my meat-eating friends didn't object).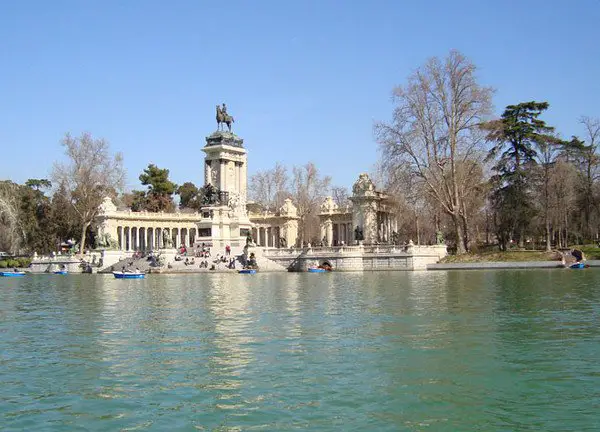 Madrid's other Sunday tradition is a walk in the beautiful Parque del Buen Retiro (Retiro to the locals), a former royal retreat. The palace it surrounded has now gone, but there's more than enough to keep s occupied: a boating lake, formal and less formal gardens, exhibition spaces and the Bosque del Recuerdo, a miniature forest designed in memory of the victims of the 2004 bombings in Madrid. Even on a busy day like Sunday, Retiro still has plenty of quiet spots and is perfect for a lazy afternoon in the sun to relax and round off the weekend.
* All photos property of Kate Turner
Pin for Later