"The great doing of little things makes the great life."
Author Eugenia Price did great things. Her journeys, both spiritual and geographic, touched many lives over a literary career spanning more than 50 years and helped to both promote and preserve a lovely island off the Georgia coast.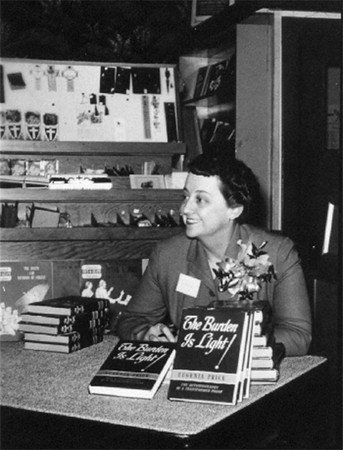 This Travel Belle's restlessness began at an early age. Born in Charleston, West Virginia in 1916, the dentist's daughter's first ambition was to become a writer. But by the time she graduated from high school in 1932 she had decided to follow in her father's footsteps. Declaring herself an atheist, Eugenia enrolled in Ohio University, and soon became the only female student at the institution's Northwestern Dentistry School.
But after two years Eugenia had a change of heart. Always, by her own admission, something of an extremist, she drove all night back to her parents' house.
At 3 a.m. she tossed pebbles at the window until they woke up, and announced: "I've got to write!" She left school and got a job with NBC radio, writing for the In Care of Aggie Horn show. In 1942 she moved on to writing serials for Proctor and Gamble.
In 1949 Eugenia experienced another profound change in direction. After an intense all-night conversation with a friend in a hotel room in New York, she converted to Christianity. Her faith would play a significant role in her subsequent life and career. She began writing for popular Christian radio shows, in particular, Unshackled!, a drama that first aired in 1950 and remains the longest-running radio drama in history.
At a road junction on the Georgia coast, the women were intrigued by a nearby island they saw on a map. On a whim, they turned off to investigate. The four-mile drive over the bridge to Saint Simons Island was to change their lives forever.
Eugenia published her first inspirational book, Discoveries Made From Living My Life, in 1953. Soon she had built a successful career as an inspirational novelist, traveling the country as a speaker.
A 1961 book-signing tour with her friend Joyce Blackburn proved that a turning point can be both literal and figurative. At a road junction on the Georgia coast, the women were intrigued by a nearby island they saw on a map. On a whim, they turned off to investigate. The four-mile drive over the bridge to Saint Simons Island was to change their lives forever.
One of the "Golden Isles," Saint Simons, along with Jekyll, Sea Island, and Little Saint Simons, was not unknown. Prior to the Civil War, the islands' plantations were renowned for their luxurious long-staple cotton. Their idyllic landscape had been immortalized in the 1870s by the poet Sidney Lanier, who had sung the Golden Isles' praises in "The Marshes of Glynn:"
Sinuous southward and sinuous northward the shimmering band
Of the sand-beach fastens the fringe of the marsh to the folds of the land
In this setting of moss-draped oaks, gleaming beaches and marshes of rippling grass, Eugenia and Joyce investigated Saint Simons' long and fascinating history. Originally inhabited by Native American hunter-gatherers, the islands were discovered and colonized by the Spanish in the 16th century.
English pirates drove the Spanish out in the 17th century. During the Revolutionary War, a naval battle between American and British forces took place in the narrow channel between Saint Simons and the mainland.
Timber from the island's live oak trees was used to construct ships during the early days of the Republic. The founder of the Methodist Church, John Wesley, lived on Saint Simons for a time.
Eugenia was particularly moved by Saint Simons' architectural legacy. Fort Frederica, now a National Monument, was founded in 1736 by James Oglethorpe, the founder of the colony of Georgia, to protect the colony from the Spanish in Florida.
The island's original lighthouse was built in 1811. It was destroyed by Confederate forces in 1861 to keep it from falling into Union hands. The current structure was completed in 1872 and is still in use.
But it was Christ Church and the bittersweet story of Anson Greene Phelps Dodge, Jr., with whom it is inextricably intertwined, that had the most profound effect upon Eugenia. The church was completed in 1820 but had fallen into ruin. Dodge, from a fabulously wealthy and philanthropic family of timber barons, visited the church in the 1870s and decided to restore it. Dodge's wife died tragically of cholera on their honeymoon in India. He returned home with her embalmed body in an ebony casket and buried her beneath the church's altar. He later remarried and dedicated his life to a restoration of the building, eventually taking holy orders and becoming the church's rector.
Eugenia and Joyce settled on Saint Simons. Inspired by the beauty and history all around her, Eugenia began a series of three meticulously researched historical novels about Saint Simons. The first of these books, "Beloved Invader," was based on Dodge's life. Eugenia's books were much loved and drew public attention to the beauty and history of Saint Simons.
She became actively involved in preserving Saint Simons' natural and historic beauty. As a member of the Coastal Georgia Historical Society, she donated documents from her research for the Saint Simons Trilogy to the Saint Simons Island Lighthouse and Keeper's Dwelling archives. Today, visitors drawn to Saint Simons by Eugenia's books help contribute to the upkeep of the structure.
Eugenia lived on Saint Simons until she passed away in 1996. She is buried next to Reverend Dodge and his wives. Her literary legacy is one of the journeys spiritual and physical, and through modern times to the past. She worked to preserve the history and nature of a place she found and loved.
See more about
*Photo courtesy of www.unshackled.org
Editor's note: King and Prince resort on Saint Simons, is one of our favorite places to stay in the area.
Pin for Later