Part one of a three part series on visiting Corfu
Arrival: The spring sun was setting brilliantly over the Ionian Sea as my six friends and I boarded our ferry in Igoumenitsa, Greece, and headed for the island of Corfu.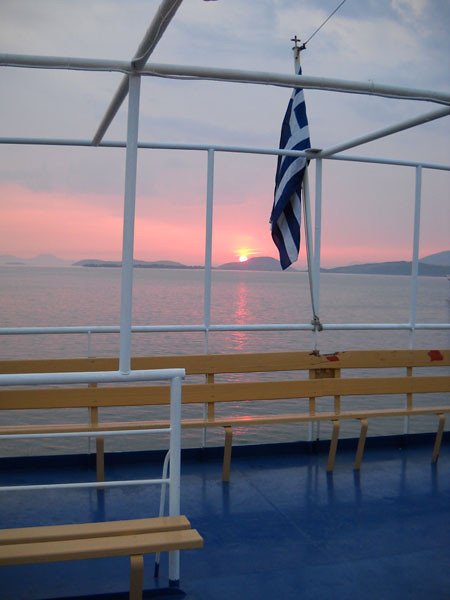 We clambered up to the top deck, found spots on slatted wooden benches, and let the sea breezes and peaceful vista wash away the stress and tension of our recent driving adventure through the back country of Albania.
Arriving well after dark,we drove our unwieldy 9-passenger van along the narrow roads wending along the cliffs above the coastline, and found our home for the next few days, the Pantokrator Hotel in Barbati.
We couldn't see much of anything so we just hauled our bags up to our rooms, collapsed into bed and slept like the dead.
The next morning we rubbed bleary eyes, opened our windows and couldn't believe our eyes.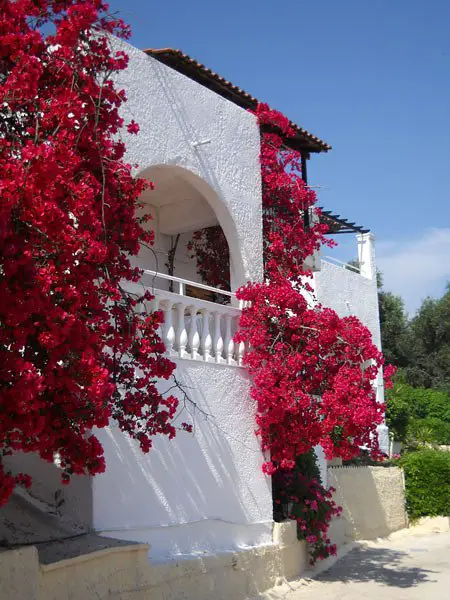 What gorgeous place had we stumbled into? Surely this couldn't be our 12 Euro a night hotel!
Vivid fuchsia bougainvillea tumbled over whitewashed walls, scrub-covered mountains towered up behind us, and the sea stretched out blue and hazy in the sunshine.
Exclaiming delightedly we hurriedly got ready and headed down to explore our new environs.
We strode down the hill admiring the profusion of blossoms everywhere, the pristine white of buildings and balconies, the trim little lanes that led from the hotel rooms down to the lobby, pool and dining room.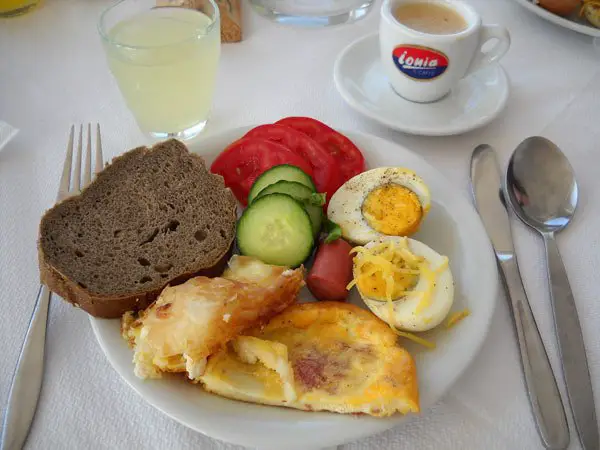 We started our day with a fabulous brunch – included in the 12 Euro price – and eagerly dug into plates mounded with fresh fruit, pastries, eggs, sausages, Spanikopita, hearty breads, ripe tomatoes, hot coffee, and all manner of delicious options.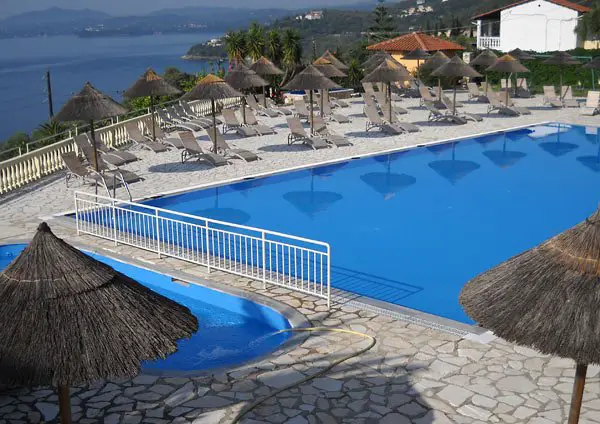 Exhausted from the latest leg of our trip, we spent our first morning by the pool taking naps, reading books, soaking up sunshine and taking dips. It was a bright blue oasis of coolness in the baking heat, and the perfect start to our Greek adventure.
This is part one of a three part series on Krista's travels to Corfu. Part two is about touring one of the defining visual features of the island, the Convent of Vlachernas. Part three is about visiting Mouse Island, the tiny island that rests just offshore.
Pin for Later