Belles bring back knowledge about many things from their travels… one of our favorites? Food!
Couscous is a North African dish traditionally served with meat, seafood and a spicy vegetable stew spooned over it. For those unfamiliar with Maghreb food, couscous is granular semolina (coarse wheat often used to make certain kinds of pasta), which has been moistened with water, and rolled into tiny bead-like pellets.
Couscous is prepared by steaming, or combined with boiling liquid and let to stand until the liquid is absorbed, and typically served in the Middle East and North Africa with vegetable stews.
You may also like: Cooking Around The World: Czech Soup
Elsewhere it's also a fashionable salad or grilled veggie topping. Couscous is available at large supermarkets, or specialty stores, sold in fine, medium and coarse grain grades; and constitutes an extremely versatile preparation, considering that it can be made with beef, lamb, mutton, seafood or even a hot sausage called merguez.
The history of couscous dates back to the early 13th century. Today, in Egypt and the Middle East, couscous is common, but in Morocco, Algeria, Tunisia and Western Libya it is a staple. It was introduced to Turkey in the 16th century and is now widely eaten in most of its provinces.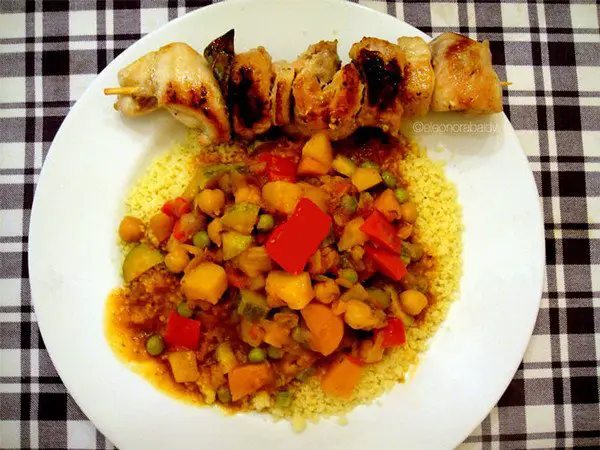 Given geographical proximity, couscous is furthermore a classic of Western Sicilian cuisine! At the end of September the annual Couscous Fest in San Vito Lo Capo, near Trapani, gathers chefs from all over the Mediterranean, who compete to obtain the coveted recognition of best couscous of the year. Sicily often wins this contest.
You may also like: Exploring Night Market Food In Taiwan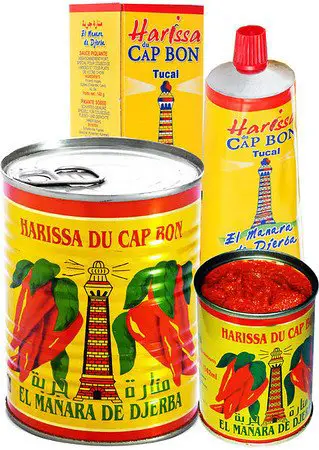 This we'll be making, is a virtually fat-free Tunisian stew for a vegetarian couscous, kindly shared by Aisha, my wonderful Berber host who opened her home and kitchen to us during a film shoot in Carthage some years ago, and graciously taught me how to belly dance, a thing or two about female emancipation and liberty, and how to make and appreciate this wonderfully complete dish.
Tunisian Couscous (vegetarian)
Ingredients for 4/6 people
2 cups medium grain couscous
1 cup tomato juice
 1 white onion, cubed
1 red onion, cubed
2 carrots, cubed
1 turnip (when in season)
2 medium potatoes
1 large red bell pepper, cored, seeded and chopped
1 (14 ounce) can chickpeas, rinsed and drained
4 small zucchini, cubed
1 cup frozen baby peas, thawed
1 cup summer squash, cubed
1 tbsp ground coriander
1 tbsp ground caraway (cumin)
1 tsp paprika (or chili powder)
1 pinch of powdered cinnamon
Extra virgin olive oil
Salt to taste
2 cups vegetable stock, boiling (can be made in advance with a stock cube)
First, prepare the couscous semolina.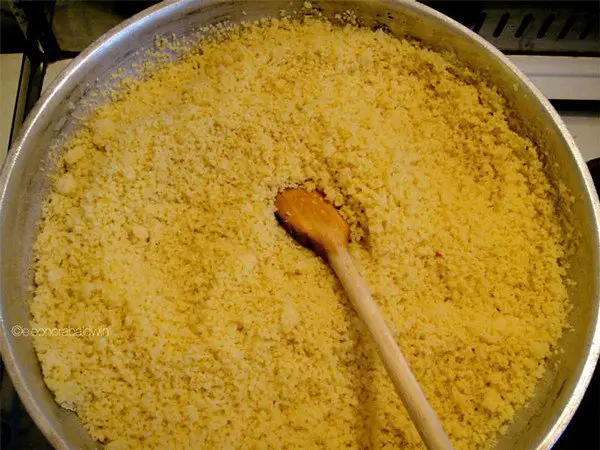 Place the couscous in a large salad bowl. When the vegetable stock comes to a rolling boil, pour it over the semolina and let it stand until fully absorbed. Once cool, get in there with your fingers to break up the lumps.
Film a large skillet or sauteuse (ideally this should be made with a couscousière: a type of double boiler pot) with 2 tbsp olive oil to toast the revived couscous for 5 minutes. Set aside, covered.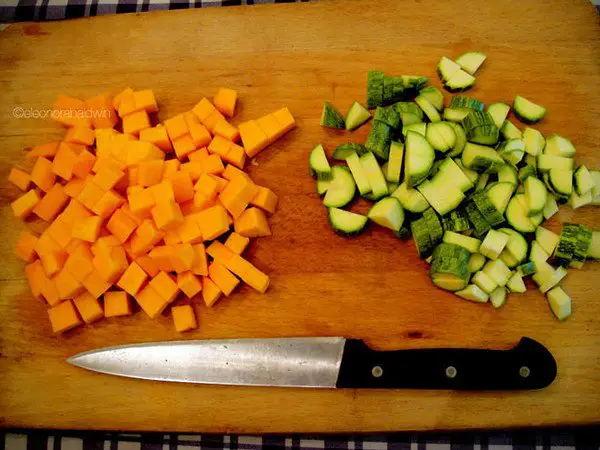 And now let's make the vegetable stew.
Pour the tomato juice in a large stewpot, and heat briefly. Add a little salt, onions and carrots, and sauté for 10 minutes; onions will verge towards translucent. Add spices and 2 cups of warm water.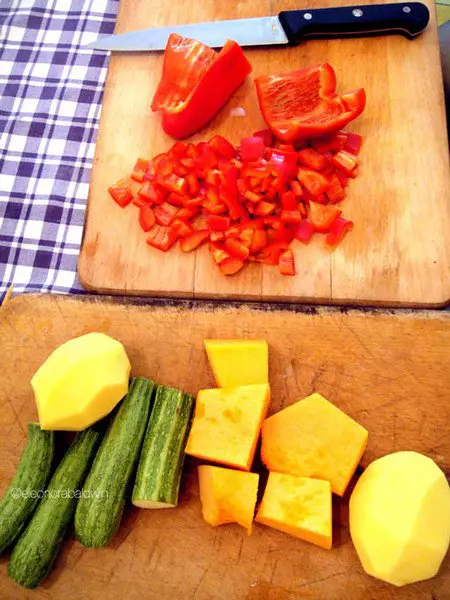 At 10-minute intervals, add other vegetables in this order:
Turnip – potatoes – bell pepper – chickpeas – zucchini – peas.
Keep at a medium simmer, adding more water if necessary, as it absorbs. This particular stew needs to be quite "soupy," later you'll see why.
When the zucchini are soft––and before your potatoes turn to mush––add the cubed squash. Cook another 10 minutes, or until soft, and adjust seasoning.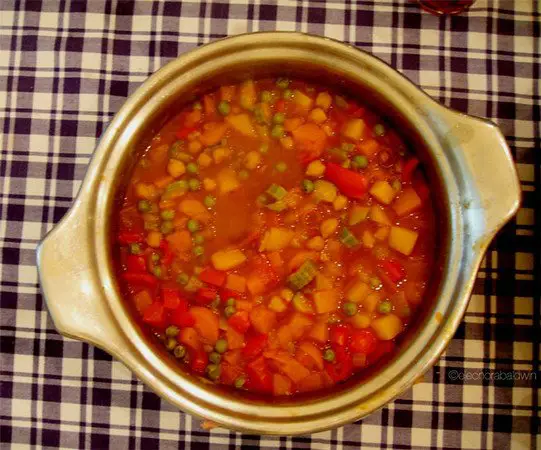 Prepare individual plates with some heaped couscous, ladle some stewed vegetables on top, and wet with spicy liquid sauce to coat thoroughly. Serve alongside grilled pork, chicken and sausage kabobs, adding optional harissa* for those who like extra heat!
You may also like: A Paris Dessert Secret
* Tunisian hot chili sauce is commonly eaten in North Africa. The main ingredients are piri piri chiles, serrano peppers and other hot chiles, plus spices like garlic, coriander, and cumin.
Shukran!
* Photos by Eleonora Baldwin
Pin For Later