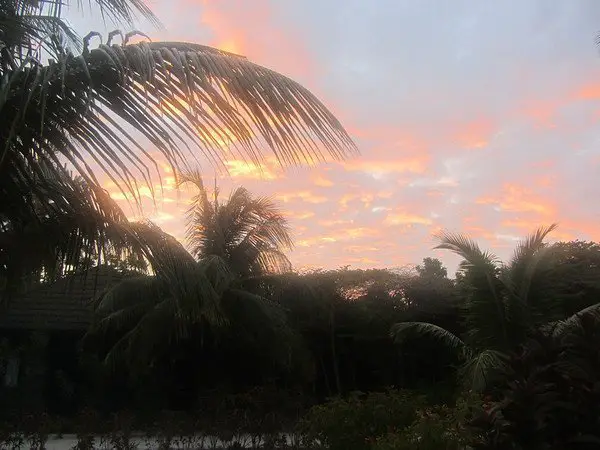 The Maldives may only have been a tourist destination since the early 1970s, but these days this Indian Ocean Republic, so idyllic it has an aura of unreality, welcomes almost a million visitors a year. I had the enormous good luck to help to make up the numbers recently.
The Maldives gained independence from the UK in 1965 and today, about one-sixth of its almost 1200 islands are inhabited, with tourism as the primary industry.
Not least because of mounting amounts of people and airplanes arriving, there is an increasing move towards both sustainable and cultural tourism in the Maldives. Our stay at Herathera Island Resort indicated just how deep their commitment is to combining luxury with sound social and ecological policies.
They offer regular excursions in a small minibus to the inhabited neighboring island, offering privileged glimpses of women in traditional dress and home to the oldest cemetery in the Maldives.
The treat of seeing a genuine, working local island, and the importance of gaining knowledge of the rich indigenous culture beyond the international luxury hotels, is one of many things which makes this resort well-worth a visit.
Herathera captures the ethos of the Maldives in its wooden villas with both front and back gardens and trees and shrubs forming natural screens between the beach bungalows. Even the very first Maldivian tourist resorts in the 1970s used thatched huts and local building materials, thus avoiding the scarring concrete development that has blighted so many global destinations that emerged as points on the tourist map in the same era.
Herathera also has an incredible spa. A number of beach villas have been converted into treatment rooms, each with its own massage table, foot spa, shower and changing room. Four treatment rooms have a Jacuzzi bubbling away outside on their sunny terrace too.
They offer a wide range of amazing massages using local techniques, as well as facial treatments and body scrubs. One massage that I found particularly helpful, given the posture problems I have from hunching over laptops and ipads all over the world, involved using a mixture of firm and light pressure and a blend of oil made from local ingredients like coconut oil and flower essences.
Maldivian spas pride themselves on a massage technique that is not borderline agonizing like a Thai massage can be, but genuinely deep and effective all the same.
The emphasis in spa treatments throughout the Maldives tends to be on deploying the local nature as a relaxation tool. There are places where you can watch tropical fish through a glass floor while you are massaged, and numerous options for treatments in the open air. Even the biggest spas, like the eight-room Talise Spa at the Vittaveli, are constructed from wood, partially laid out over the water, and even modelled on a dhoni boat, to maintain harmony with the traditional local aesthetic and surroundings.
Somewhere like the Maldives, you might worry about food miles, so it's a relief to know that plenty of what's ending up on your table or in your room or spa is sourced as locally as possible. A culinary tradition, that may well catch on as a global food fad, is the tea time treats, kind of like tapas without the alcohol on the side, known as hedhika.
The vast majority contain tuna, which can be caught in the waters around the Maldives at certain points and seasons. Bajiya are like tuna fish samoas, and there is also a regional version of spring rolls, but some, like boakibaa, defy explanation beyond "a tasty fish cube". I had an interesting conversation with one local diver and fisherman about his fishing expeditions beyond the lagoon we were situated on, and the plentiful, and lucrative, tuna it was still possible to catch there.
The fresh green coconuts that Herathera delivers to your terrace every morning must be as carbon-neutral and organic as you can get, having been sliced seconds before from the nearest palm tree.
As an indication of just what a remote desert island paradise this Southern part of the Maldives remains, the South African Survivor TV programme was shot at Herathera Island Resort for three months. Temporary structures were built and the iconic sequences in which contestants are evicted by walking along a path of burning torches were filmed onsite. The contestants lived on an even smaller island dot in the Indian Ocean next door with no luxury facilities.
There's no need to go back to basics to that extent unless you're trying to win a reality show, but it's good to know that in the midst of all the high-end luxury, the Maldives hasn't dropped the ball around sympathetic development and retaining its cultural identity.
All photos property of and by the author.
Pin For Later