So, you want some culture? You want some great Italian food? You can travel. You can have your great debates over what little Italy is the best little Italy (I've been to many, and they are ALL wonderful!) You can have your fist fights over New York versus New Haven pizza (I have loyalties here, so I can't comment). Only, there's one Little Italy that stands apart.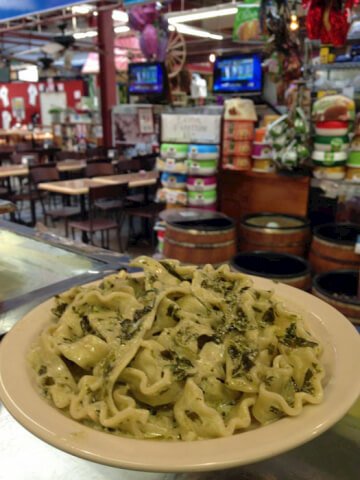 The Lost Witch makes The Bronx the New Black!
In 1997 I packed up my three-year-old and trekked to the Bronx to attend graduate school. I went alone. I didn't know anyone. And I was terrified. Because I was a graduate student with a child, there weren't any on-campus housing facilities for me, so I rented an apartment across Fordham Road and about two blocks away from the center of what I found out, quickly, was the quintessence of Italian American cuisine, culture, and community.
Here are a few highlights of must-visit places if you are making a trip. Don't forget, this area of the Bronx is within walking distance of The Bronx Zoo and The Botanical Gardens, making it easy to take a walk into another world, another time. Be prepared for magic.
The first place I want to highlight is The Indoor Market. Established in 1940 by then-Mayor Laguardia it is a thriving market with all sorts of produce, food vendors, meat sellers, cheese sellers, and everything. You can eat there, shop there, or just stand in the middle of the beautiful, colorful chaos and smell the air. Culture Saturation. That's what it is.
When Rosy (my daughter) and I had been in the Bronx for about a week, we'd spent so much time in Arthur Avenue's indoor market that when I strolled her in, the vendors would start yelling "RosaMaria! Bella!" and then give her free things. They were so kind to her. And to me. I felt at home. Also, there was this handsome, handsome man who sold cheese and I had an enormous crush on him. He couldn't speak English but he always brought me to the front of the line!  For a complete tour of the indoor market, visit www.arthuravenue.com. Two other well-known places in the Bronx's Little Italy, located right on Arthur Avenue include Dominick's Restaurant, Enzo's and Tino's Delicatessen.
But there is one restaurant that I went to regularly. Tucked on the opposite side, on the lovely Crescent Avenue, there is a restaurant called Roberto's. I went there every Friday with Rosy. We called them "Fancy Friday's" and when the weather was nice we'd sit outside. The owners and managers of this amazing place got to know us well, to the point where I didn't even have to order!
Luscious fresh salads full of arugula and chicory and all the good Italian greens would arrive at our table. They'd bring grilled chicken unlike any I'd ever tasted. And pasta? Let's just say, it's all in the sauce. I grew up eating Italian American food cooked by my Gram. And I never thought I'd be able to have anything that even resembled what she created in her magical kitchen. But at Roberto's, and in Little Italy in general, I was home. I will be forever grateful for that.
And also? The time spent there turned into the inspiration for my novel, The Witch of Little Italy.  I hope you get to tour this wonderful part of Italian American History and Tradition.
(And thank you to everyone who made me feel a little less lost when I was there…. maybe you remember me? Or at least… RosAMaria!)
Photo courtesy of Mike's Deli The Original Arthur Avenue Italian Deli
Pin for Later