Celebrating Thailand's New Year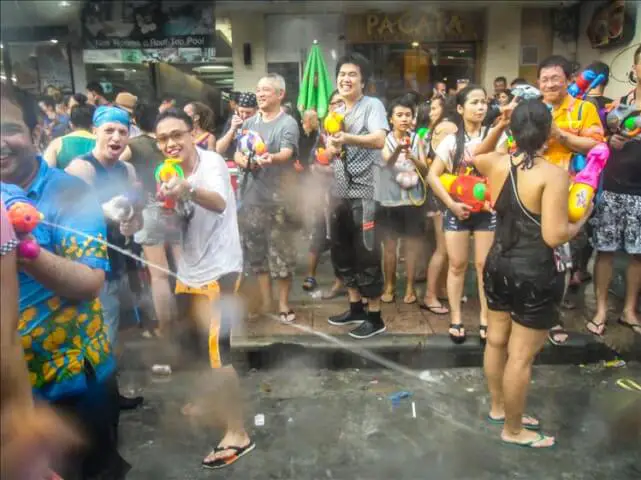 Every April, the whole country of Thailand takes up arms, rallies, and wages a war that has nothing to do with politics or social unrest. Foreigners and locals fight side by side, and everyone no matter what age is a target in the largest water fight in the world: Songkran.
Songkran is Thailand's New Year festival. Historically, what stemmed from the ritual of bathing the Buddha statues in shrines and temples to wash away the past year, blossomed into a water fight of epic proportions to ring in the New Year, incorporating any water projectile device ranging from buckets to elephants. Each April, hordes of people flock into Thailand to take part in what may be the happiest event on earth for the 3 day-long celebration. Naturally, I had to see what all the buzz was about, so I bought a ticket to Bangkok, and set into motion the wettest weekend of my life.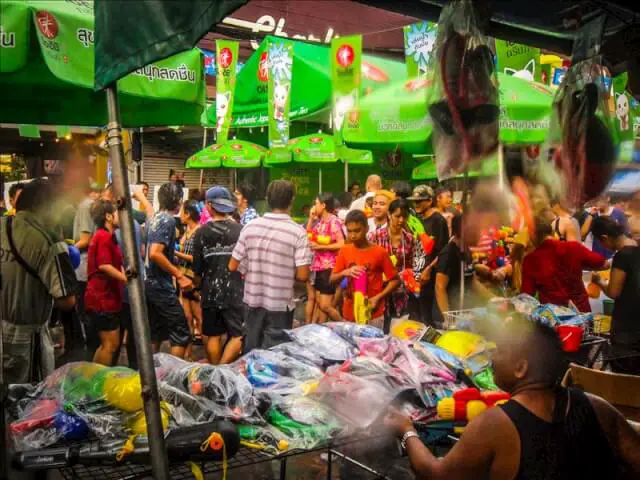 As soon as I had dropped my things off in my room I headed out for some battlefield action. Khao San road is host to one of the biggest hotspots of warfare, street food, and bars, so I decided to kick off the New Year there. In a matter of minutes, I was drenched. Smiling strangers pounced on my fresh, dry, unarmed meat like lions in the Savannah, buckets of ice water christened me and white paste was smeared on my cheeks marking me as part of the celebrations.  The atmosphere was thick with streams of gunfire and water ribboning from hoses. Khao San street was lined with people dancing, drinking, and soaking in wet uninhibited celebration.
I had to take up arms, and after surveying the options I decided to go big or go home and picked up the double water tank pump-action Rambo style water gun. The rest of the night flashed by in wet and wild glory. I proceeded to drench everyone who crossed my path, and shot spray up in the air to rain down on anyone in a 10 meter radius who hadn't crossed it.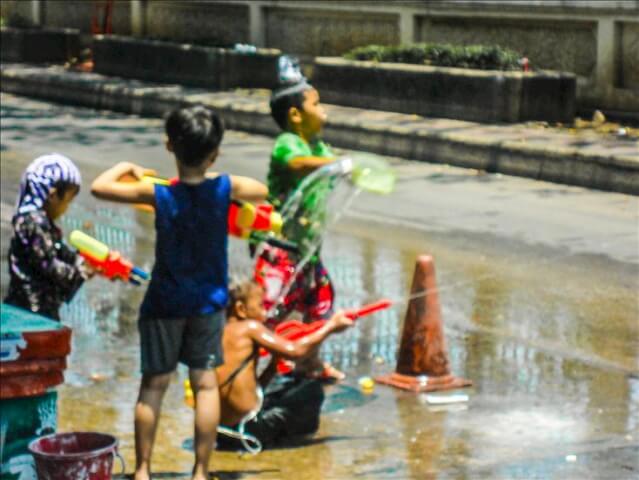 Leaving Khao San road, I topped off the night with a cross cultural exchange and was adopted by a Thai family drinking and eating on the street and soaking the completely open tuk-tuks and cars carrying people. I engaged in a very personal heated fight with a pair of 8 year-olds using human shields and ducking behind objects between sending streams of water to hit any unblocked part of my body. Two against one is not a fair fight even when you do have a better water gun than the both of theirs combined so I grudgingly surrendered my weapon to so that they could avert their targets back to the passing cars with more firepower. They traded me for a bucket and I took a place in the line of aggressors alongside a Thai girl about the same age as me. We exchanged smiles and nods signaling when to ambush the passing vehicles on the street.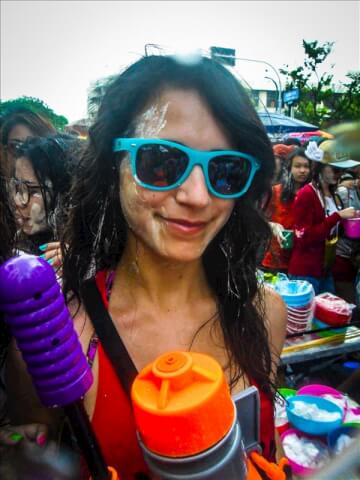 A bowl of street made pad-thai served as a midnight meal and fuel for the fight that would start the next day. I devoured it and collapsed into bed already dreaming about my tactics for the next two days.
On the second day, I awoke with more determination and battle zeal than the night before, but first decided to tour the small corner of Bangkok around my hotel. On my morning stroll I happened to come across a Thai ceremony of people bathing a large golden Buddha atop a pedestal surrounded with lotus flowers. The water vials were scented and the smell of tropical flowers engulfed the platform as people flung water onto the statue. A parade passed by in glittering gold and bright colors. Incense and Thai barbecue hung thick in the air around the celebration. I was the only non- Thai person observing the ornate scene of traditional Songkran ceremony, but was welcomed with smiles and offers of food.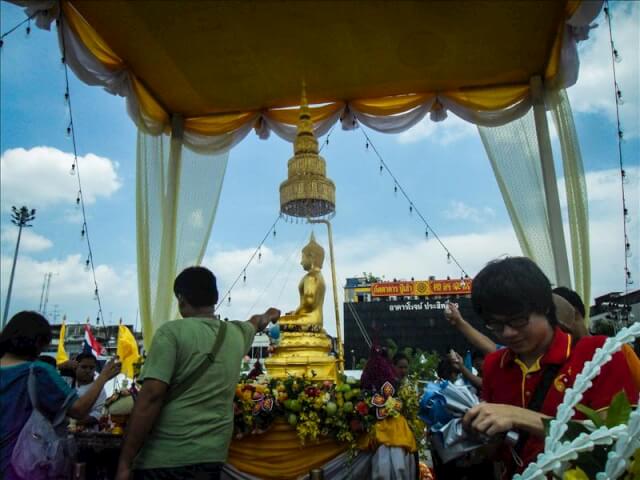 As soon as I had left the scene of the ceremony, I was caught by some teens with their hose, and it was time to go to war again. I started the day off by sniping unsuspecting people from my balcony and received smiles and "Happy New Years!"  from my victims. The following days passed in pure child-like joy at playing in water as I experienced both the traditional and the modern aspects of the Songkran celebration.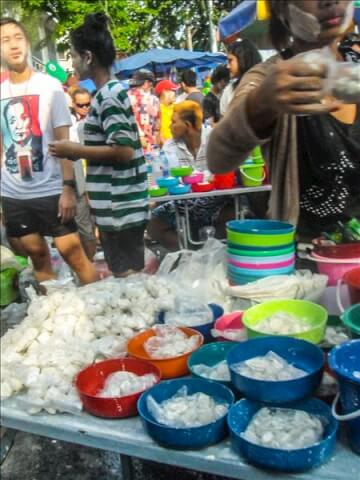 The Songkran festival is an essential for the traveler who loves to participate in cultural celebrations and isn't afraid to get very, very wet and stay that way for 3 days.Thailand's New Year is an unforgettable event for any age; I've definitely put it on my revisit list!