Weekend Getaway To Myrtle Beach: Where To Stay And What To Do
Heading to South Carolina's Myrtle Beach means soaking up the sand, sea and America of the past.
Myrtle Beach is at the centre of the 60-mile Grand Strand of beaches across the Atlantic coast. And it is certainly worth a visit.
From arcades to Family Kingdom to the SkyWheel, there is so much to do and so many perfect memories to make with loved ones and family.
Even if you wish to simply relax by the sea for a day, Myrtle Beach's yellow sand and bright blue sea will accommodate you just nicely.
There is an undying retro charm to this location too, satisfying those with a nostalgic longing for the past.
We teamed up with Expedia.com to share our top picks for your weekend getaway to Myrtle Beach.
Where to stay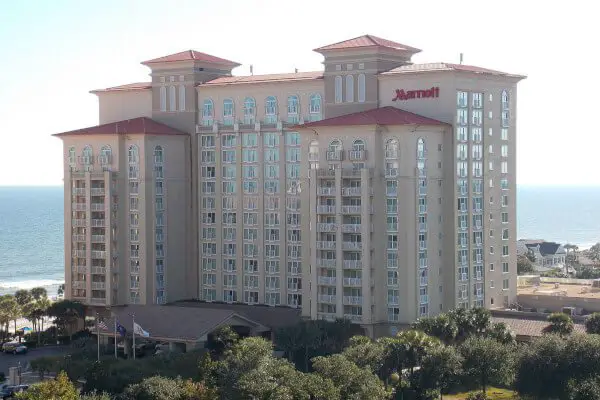 Choosing where to stay during your weekend getaway to Myrtle Beach all depends on your budget and your requirements. Seeing as your stay is only short, you may want to choose a top hotel along the beach with waterparks and an all-inclusive package option. But you may be having a weekend getaway as a cheap way to take a break.
Regardless of your budget, there are good ways to ensure you're staying somewhere great over the course of your weekend getaway. Using sites like Expedia.com will enable you to find good deals on the top Myrtle Beach hotels and you can always check out other guests' opinions in the user reviews.
If you need a hand getting started with picking a good hotel, here are our suggestions.
Grand Atlantic Ocean Resort
This hotel is an ocean front resort on Myrtle Beach and has a 4-star rating to give you that extra added confidence. There are two outdoor pools and three indoor ones, as well as free Wi-Fi and top attractions within walking distance. It's not too pricey depending on which room you opt to book, and even the cheapest rooms provide a partial sea view.
Another lovely hotel to check in to on your weekend getaway to Myrtle Beach is the South Bay Inn. With stunning views of the blue ocean from your bedroom window, it's the perfect view of luxury. It's an extremely kid friendly hotel too with lots of activities for children and a waterpark on site.
You may also like: Harbor Island: South Carolina Beach
What to do in Myrtle Beach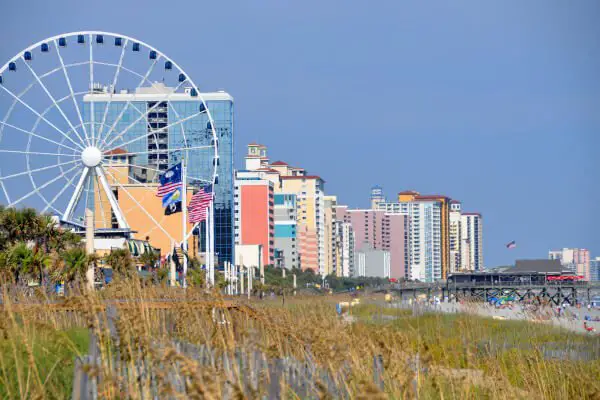 Myrtle Beach is filled with awesome things to do. Even if your hotel doesn't have its own waterpark or umpteen different pools, you can still have a great weekend getaway to Myrtle Beach. Be it chilling inside in an arcade which carries a retro atmosphere, eating great food along the shore in a renowned restaurant or having a family fun day at the amusement park, there are plenty of opportunities for fun and games in Myrtle Beach. Start your search for Myrtle Beach activities on Expedia.com and take some of our recommendations for the top things to do while staying by the ocean.
1. Family Kingdom amusement park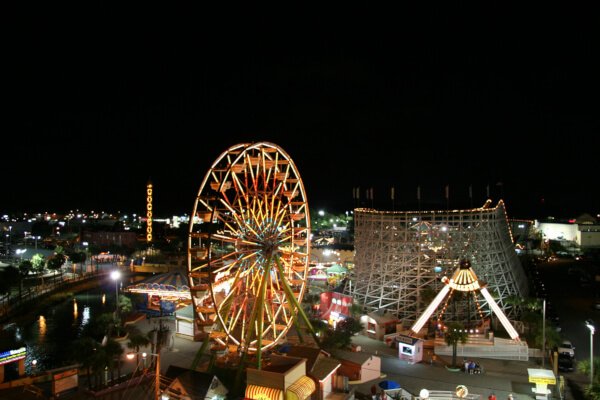 With over 38 different rides, Myrtle Beach's amusement park, Family Kingdom, is a perfect way to spend the whole day – or afternoon – with the kids during your weekend getaway. There are roller coasters, bumper cars, a thrilling sling shot ride and a giant swing with a twist.
There is also a Splash Park on site which features a lazy river (perfect if you want to have a relaxing time with your family), water flumes that reach crazy heights and speed slides that are great for any adrenaline junkie out there. And to top it all off, the Splash Park is Myrtle Beach's only oceanfront water park.
2. Go paddle boarding
While relaxing on your weekend getaway to Myrtle Beach, try out paddle boarding in the ocean. It's a fun way to learn a new skill and get some awesome photographs for Instagram of your fabulous weekend away. You can hire boards by the ocean with no problems.
Also, if you're with a partner, paddle boarding can be pretty romantic. Splashing around after falling off the board, or paddling while your loved one sits on the end of your board into the sun set is a great way to spend your quality time together.
You may also like: Margaritaville in Myrtle Beach
3. Hard Rock Cafe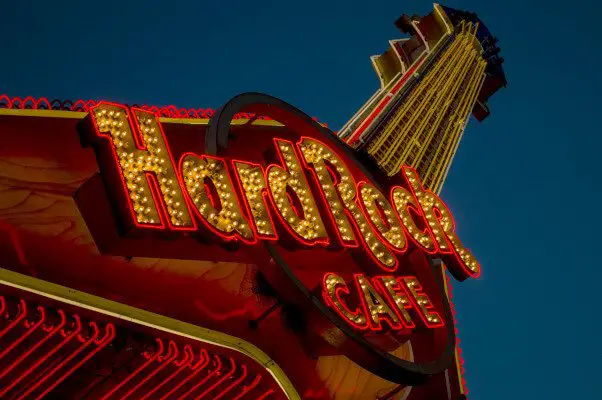 If you want to indulge in all things food, then the Myrtle Beach Hard Rock Cafe is the place for you. It's got that American diner feel and that world-renowned reputation. Plus, you'll absolutely get a decent burger in there, so give it a try.