On a clear day, you can see the White Mountains when landing in the Manchester-Boston Regional Airport.
Their peaks stretch up above the landscape, and if you know the geography, you have time to name them West to East, from Moosilaukee to the Carters.
Hundreds of thousands of people take to these mountains every year, and when on the right trails in late summer, you will encounter Appalachian Trail through hikers who will tell you time and again that these mountains are the hardest they've encountered.
Whenever I'm out hiking in the summer, somebody will always ask where I'm from. "Right here," I tell them. They nod and smile. "You're pretty lucky," they say.
During the winter, though, I'm the luckiest. New Hampshire's back country trails become eerily quiet as the throngs of fair weather hikers abandon the state, intimidated by deep snowfall and below zero temperatures. This is the time to get out.
No bugs, no mud, no overflowing parking lots, no pesky boulders to climb over, the clear winter air will rid you of the seasonal blues. Winter is the best time to take to New Hampshire's trails.
Be prepared
Hiking in the Whites in New Hampshire is not a feat to take lightheartedly, of course. You can actually die if you are not prepared or do not pay attention to the weather reports (and people do).
Be sure to wear proper winter gear and let others know what your hiking plans are. Check trail reports on places like Trails NH and check peak forecasts on Mountain Forecast.
Don't let this scare you – most people die in the mountains because they take unnecessary risks or are not prepared.
There are many online winter hiking guides, but at the minimum, be sure to pack the following:
● Water. Keep your water in an insulated bottle or thermos so that it doesn't freeze.
● Snowshoes. Even if some of the trails look packed down, you will be surprised to find yourself sinking into snow above your knees. "Postholing" as this is called is tiring to the hiker and pesky to other snowshoers. Wearing snowshoes is an act of safety and consideration. You should really check out some good quality [easyazon_link keywords="snowshoes" locale="US" tag="tbelles-20″]snowshoes[/easyazon_link] before you head off.
● Microspikes. There may be places on the trail that are covered in ice instead of snow. Microspikes keep you from sliding.
● Layers, dry clothes, extra socks. "Cotton kills" is the old winter hiking adage. Keep a synthetic material next to your body and layer from there. Your top layer should be windproof to protect you from the below zero wind chills that might greet you at the top.
● Warm winter hiking boots. At minimum, you want a boot with 200mg of insulation.
● Lots of snacks. Be sure to have lots of food to fuel your trip!
● Map. Don't rely on your phone! Sometimes it freezes in the cold, and often there is not enough service.
● First Aid Kit. Always!
● Headlamp. Night comes fast in the Whites in the winter. I've found myself using my headlamp on numerous unexpected times.
You may also like: The Five Best Rain Boots For Belles
So now that you're prepared, where should you go? These are a few of my favorite snowshoe hikes:
Easy
Pondicherry Wildlife Refuge, Jefferson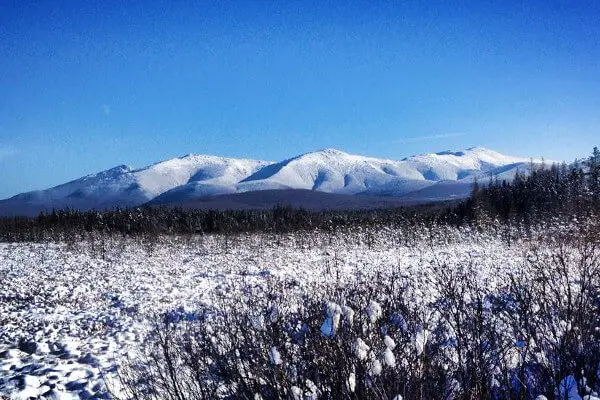 A hidden gem in the Whites, not frequented by tourists, Pondicherry is my favorite hiking secret. A mile and a half out on a completely flat trail, a viewing deck off the south side of Cherry Pond delivers beautiful, sweeping views of the Presidential Range and utter silence.
Whether you are a beginner snowshoe-r or just looking for a beautiful spot to squeeze in a quick hike, Pondicherry is an easy way to get into the mountains without having to get up them.
Quick local tip: Swing by Polly's Pancake Parlor for some pre-or-post-hike fuel!
Mount Willard, Crawford Notch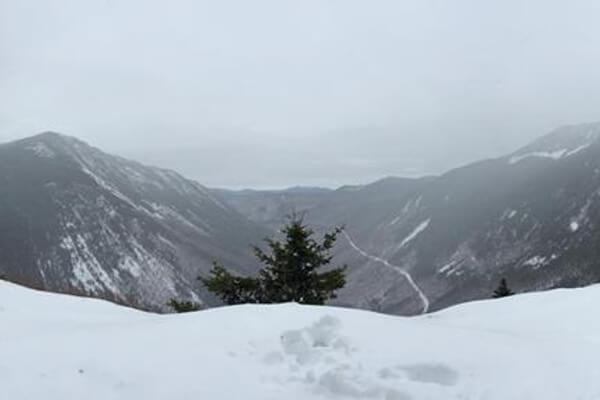 Mount Willard receives a lot of hikers and snowshoe-rs because of it's relatively easy effort to stunning postcard view out to Crawford Notch.
If you can get yourself up there early in the morning or on a cold day, you could have the cliffs that look out to Crawford Notch to yourself though. A 3.2 mile round trip hike, the grades are easy and the view is worth every step.
Quick local tip: The AMC Highland Center at Crawford Notch has delicious soup to warm you up (and public restrooms) after your hike!
Moderate
Mounts Percival and Morgan, Holderness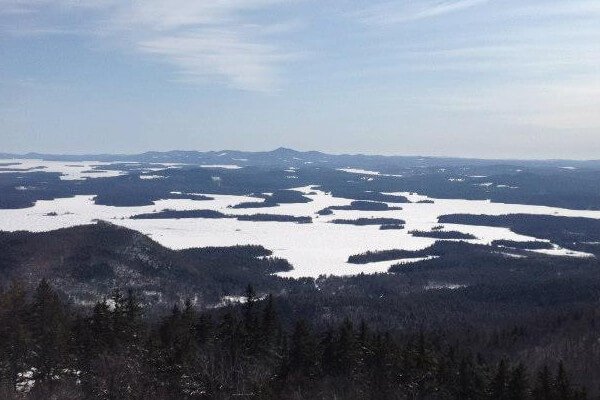 This 5 mile loop takes you up over Percival and Morgan, where you can take in views of the Lakes Region.
Squam Lake, famous for its role in the 1981 Katherine Hepburn movie, On Golden Pond, sits at the mountains' base, and Lake Winnepesaukee, New England's largest lake, stretches off into the distance.
There is no better bang for your buck than this hike. There are two ways to get down Percival: over the cliffs or through the caves. Be careful on both!
Quick local tip: Grab a bowl of delicious New England clam chowder at Walter's Basin on Little Squam in Holderness.
Mount Jackson, Presidential Range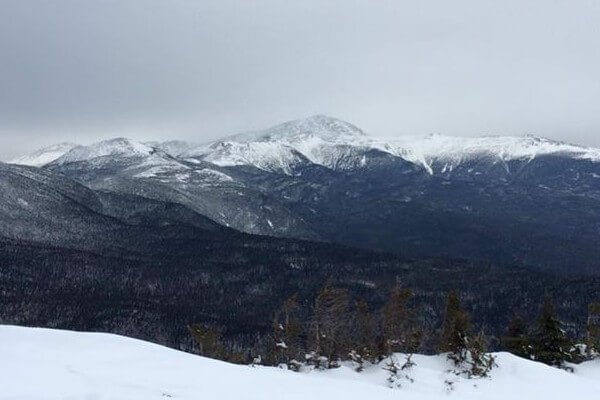 The smallest Presidential mountain, Jackson sits to the south of the famed Mount Washington, and views from the top let you take in the entire southern Presidential Range.
Snowshoeing through heavily-laden boughs insulates you in a snowglobe of a world that feels secluded and magical. Jackson is a great way to get a big mountain feel without too much work.
Quick local tip: Everybody wears snow pants in the grand Mount Washington Hotel during the winter. Stop by and enjoy a Fried Lobster Mac and Cheese Trio at the Rosebrook Bar that overlooks the mountains.
You may also like: A Snowy Paradise In Japan
Difficult
Mount Garfield
The access road to Garfield, closed in the winter, adds 2.5 flat miles to this 10 mile hike (so a total of 12.5 miles). It is the distance, not the steepness of this hike that makes it difficult.
Twelve and a half miles is a long distance on snowshoes!
But the peak of Garfield always makes the trip worth it. Thrust into the Pemi Wilderness, Garfield offer 360 degree views of scenery that will take your breath away. If the wind is too strong, you can hide out in the stone foundation from an old fire tower.
Quick local tip: You will be hungry after this hike. Stop at Black Mountain Burgers in Lincoln, and order one of everything!
North Kinsman, Franconia Notch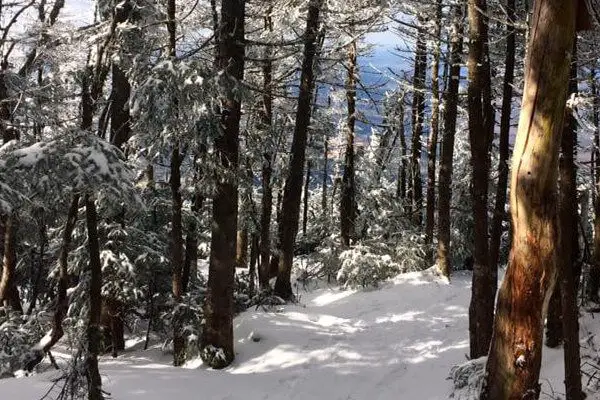 The 8.2 mile round trip snowshoe to North Kinsman offers numerous focal points.
First is Lonesome Lake with its views to Franconia Ridge and the AMC Hut where you can warm up for a bit.
Second, is the beautiful Kinsman Pond, nestled high in the mountains, and then third, of course, is the stunning view from the top. The Fishing Jimmy Trail is notorious for icy patches, so be sure to have your microspikes with you!
Quick local tip: Grab a fresh brewed beer at the Woodstock Inn and Brewery on your way home!
You may also like: Best Views In Anchorage, Alaska