If you love being surrounded by greenery in the foothills of a brooding, sacred mountain; the summer sun's rays beating down all day long, Malaysian Borneo might just be the place for you.
It's a little bit out of the way for most of us, especially if you're taking two one-hour flights, two seven-hour flights and one four-hour bus journey like I did. Generally, though, the further away from home you travel, the more diverse the culture. And that's half of Borneo's appeal right there.
So, for those of you considering a trip to somewhere that not many have wandered before, here's our list of Borneo's best bits.
If you are looking for adventures in Malaysia, do check out Bookmundi which has a good selection of tours. And as always, for the best guidebook on Borneo we recommend [easyazon_link keywords="lonely planet borneo" locale="US" tag="tbelles-20″]Lonely Planet's Borneo Travel Guide[/easyazon_link].
See Mount Kinabalu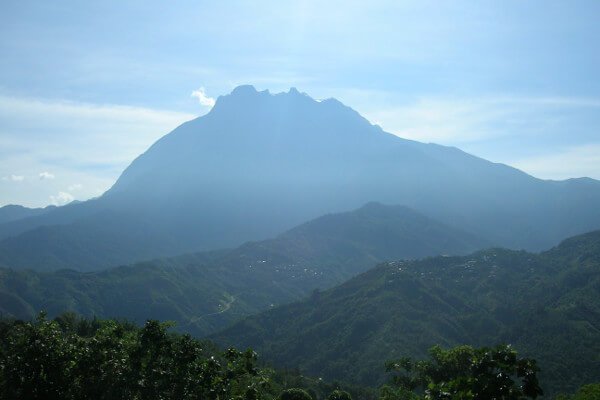 It's pretty hard to miss but nevertheless an important natural wonder to tick off the list.
Mount Kinabalu is the inspiration for many national songs and the Bornean's equivalent to nursery rhymes. It stands proud at 4,095 metres and is the tallest mountain in Malaysia. I wasn't brave enough to climb it, but those who do and reach the top have said it is well worth it.
Not only is the mountain beautiful, it is regarded as sacred by those who live in Borneo. During World War Two, the Japanese marched Bornean, British and Australian soldiers through the jungle on what is known as the Sandakan to Ranau Death March and the clouds surrounding the top of Mount Kinabalu like a halo are said to protect the spirits of the dead.
You may also like: Fried Bananas and Rickshaws: Traveling Solo to Melaka, Malaysia
Visit Sepilok Orangutan Sanctuary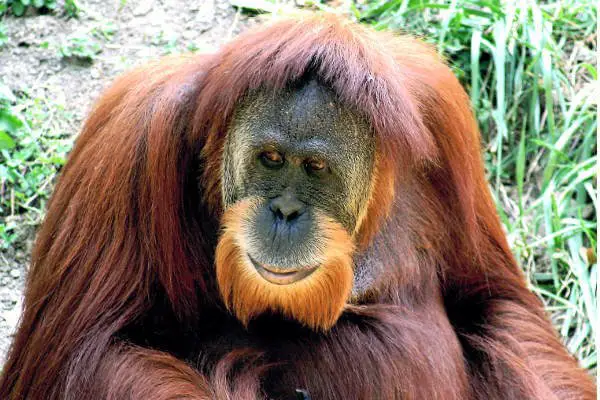 Whether you're visiting alone, with family or with friends – Sepilok Orangutan Sanctuary is one of Borneo's must-sees.
Sepilok's ethos is to rehabilitate orangutans that were held in captivity, injured in forest fires or left homeless during the process of deforestation. Once this is achieved, the orangutans are released back into the wild to live independently.
I cried for a good five minutes when I watched the orangutans at feeding time. You are insanely close to them and there is something totally moving about that.
When I was walking to the gift shop, though, the magic happened. Right next to me was an orangutan. He stood off from a tree and walked on the wooden railing, our shoulders virtually brushing against each other. The sheer emotion I felt remains unmatched still to this day. I have never cried in public like that before or since. Sepilok is somewhere you must visit.
Take a walk on the wild side…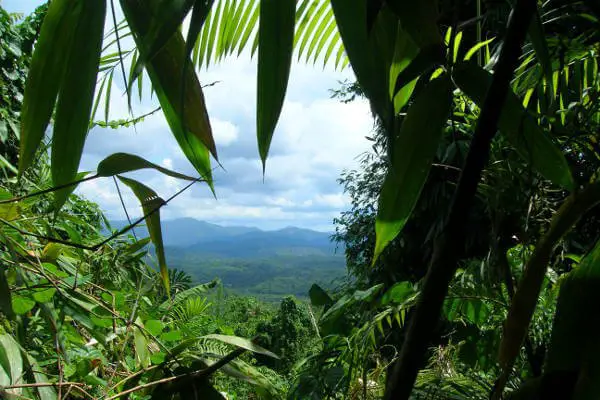 That's right: the almighty jungle.
It was 40-degree heat and 99% humidity when I set off on my trek through the jungle. One thing you learn fast is that sweating – just this once – is a good thing. Why? Because it means you're hydrating enough. In one day I had managed to chug four and a half litres of water.
The jungle is an experience that you don't want to miss out on, though. It involves the sacrifice of any vanity you may have – something that is helpful to many of us. Moreover, it requires determination and willpower. Sleeping in a hammock in the middle of the rainforest is not easy.
Stepping foot into the jungle is not something you regret. Suddenly, there'll be a tiny break in the trees and you can see jungle looking onto jungle. It is breathtaking.
You may also like: Cool Things To Do In Siem Reap, Cambodia
Relax in the Poring Hot Springs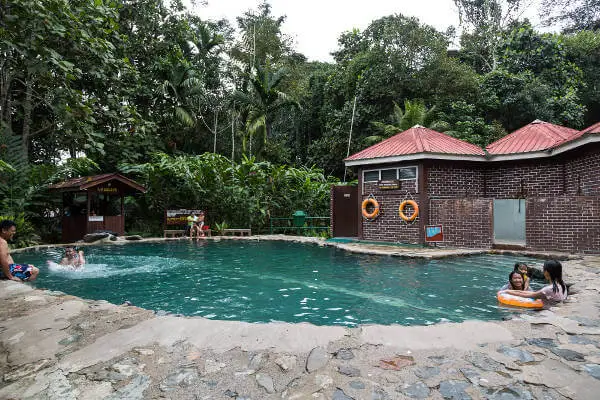 Chances are you'll have a love of nature if you're visiting Borneo, so the Poring Hot Springs will definitely appeal to you.
Before that, though, take the Canopy Walk. You are hundreds of metres high in the dizzy heights of the jungle canopy. A narrow wooden bridge is all that stands between you and (if you look down) what can only be imminent death.
Those that fear heights should be cautious of the Canopy Walk. You can still enjoy the hot springs, though – there are alternative routes.
When you get to the hot springs, it's time to relax. You can have a bath to yourself and watch the steam rise with the water from the spring just in front of you.
Does it get any more awesome? I think not.
See the Floating Mosque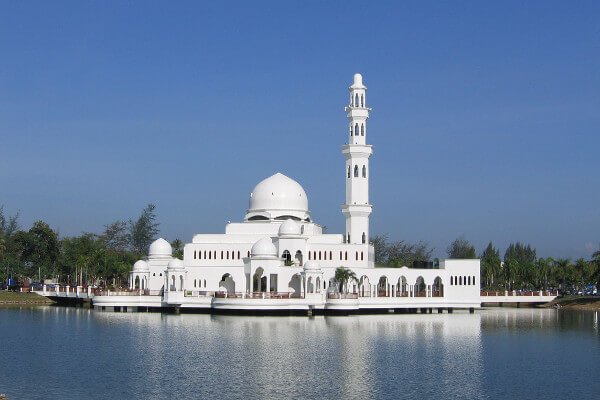 Borneo is an extremely diverse country with its people speaking at least two different languages, subscribing to certain tribes, religions and being of many ethnic groups. It's calming to see that such diversity can still result in unity.
In Kota Kinabalu, the capital city of Sabah, the Floating Mosque is genuinely an amazing sight to see. Of course, it's not actually floating, but it most certainly looks like it.
Sitting pretty on top of the water on what appears to be an extended jetty, it's a great photo opportunity and something to tick off the bucket list for many.
You may also like: Awesome Things To Do In Jakarta, Indonesia
Gaya Island – do you really need convincing?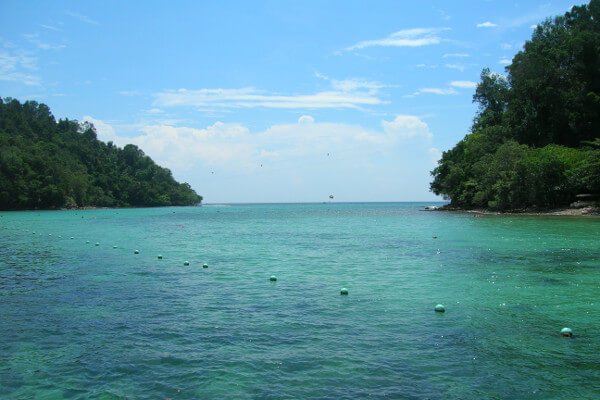 As you can see from the image, Gaya Island is everything and more. Every time I look at my photos from there, I immediately wish I was back.
You can sunbathe, take a swim in the sea, have lunch and – most importantly – you can snorkel and you can do the island-to-island zip-line.
Snorkeling is an experience I'll never forget: seeing coral reef for the first time is magical, as is seeing rainbow fish, puffer fish and an array of other marine life.
The zip-line, though, is unbeatable. You set off from the edge of one island and arrive at the end of another, flying over the aquamarine sea. If you have a fear of heights, try your hardest to forget it because the view is unbeatable and so is the speed as you travel.
If you're too light, you'll end up going back to the half-way point (like I did!) and just dangling over the sea. It's a pretty cool way of doing it, though.
Borneo is known for its stunning scenery and majestic mountains – it excites, amazes and engages its people and its visitors. If you're not already planning your trip there then you're not doing it right. Fact.