If you're visiting New York City anytime soon then this list is for you.
In it I capture the best bits of the city that never sleeps including its hidden gems, obvious favourites and some practical information for those who like to be prepared.
Travelling to New York City soon? For awesome travel tips and guidance make sure to pick up [easyazon_link keywords="frommers new york easy guide" locale="US" tag="tbelles-20″]Frommer's EasyGuide to New York City[/easyazon_link], it's awesome! Travelling to New York and doing cool stuff in the city is not always cheap, here's some money advice information for budget travellers.
Visit Central Park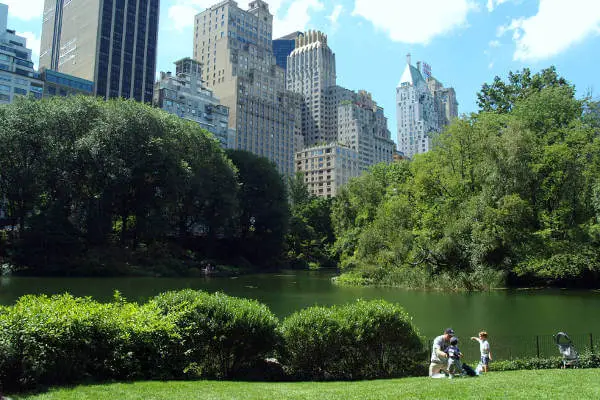 I'm sure that the man-made wonder that is Central Park is a beauty in every season, but the crisp auburn leaves littered on the ground are pretty difficult to beat.
There are tracks through the park that you can walk on, taking you through trees, more trees and, on occasion, a tree with a lightning-speed squirrel nipping around it. On the way, the infamous Strawberry Fields – where the John Lennon memorial lies – is pointed out by one of New York's trademark sign-posts.
If you're not all about the walking, there is the option to go rowing on the lake. Fans of all-things quaint will enjoy the unique experience, even though it takes around twenty minutes of the allocated hour to pull off the 'I can row' look.
Magnolia Bakery – just go
If you're in New York, you simply have to go to Magnolia Bakery. There is no question about it – that place serves heaven in a red velvet cheesecake.
Just next to the Rockerfeller Center, the vintage bakery serves your desert dreams, ranging from caramel pecan cheesecake to a rich, velvety chocolate cupcake.
At $7.50 for my favourite order – the red velvet cheesecake – it seems a little pricey. That is until you have your first taste. I recommend going towards the end of your time in the Big Apple, otherwise you will be there every day and before you know it, you've ballooned in size.
You will also like: Best Chocolate in New York City
9/11 Memorial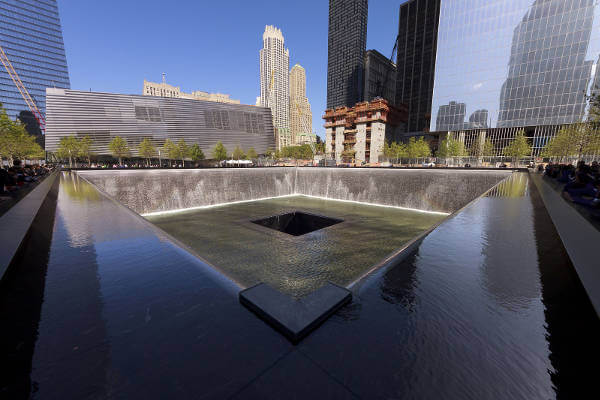 A tragic must-see is the 9/11 memorial museum. Built in the footprints of the Twin Towers that were taken down as a result of terrorism, the memorial does its job: to make people recognise the humanity in tragedy.
The exhibition inside of the One World Trade Centre is truly heartbreaking. When I visited, I cried for about ten minutes straight. Hearing the individual stories of each victim in a square room in the middle of the memorial is moving beyond belief.
No one enjoys pain or suffering, but if you're in the city then you must visit to pay homage to those who lost their lives and to remember that the city with which you have fallen in love has its trauma too.
Times Square is calling!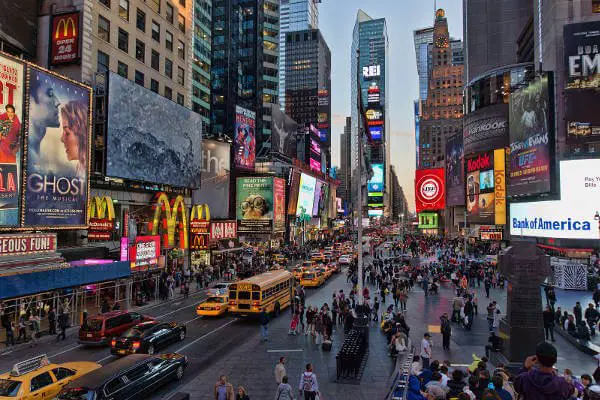 I walked through Times Square at all times of the day. The best times, though, are certainly in the morning and at night. America's own Harper Lee said that 'everything looks better in the morning' and I came to agree with her when walking through Times Square.
During one of my morning walks, Good Morning America – one of the city's breakfast programmes – was filming out in the street. For a little English girl from a little English town, being caught up in the bright lights of broadcasting was an experience I'll never forget.
At night, though, you'd think it was daytime. The fence of billboards surrounding you light up the place like a manufactured sun.
You will also like: Best New York City Cocktail Bars
For the history, visit Ellis Island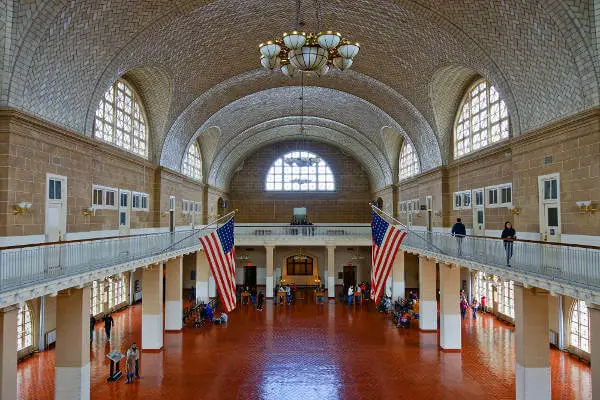 Any fellow history fanatics will enjoy Ellis Island and the sheer magnitude of the past it holds as it sits on the water between the Statue of Liberty and Manhattan.
The ferry (although a wee bit too breezy if you didn't tie your hair up that day) passes the heroic Miss Liberty and her torch held high into the air. It's interesting to think of how many others have taken the journey before you and how many of them felt so inspired by the sight of the national monument.
I lay on the ground on Ellis Island, looking up at the American flag blowing in the wind. The sea air is refreshing and the view across the water is breathtaking. Looking out at the city – the big, big city – it felt like I was staring at something that was staring right back.
Sbarro after a long day of sightseeing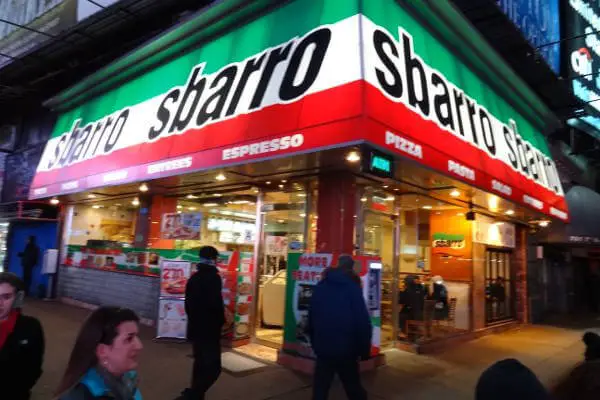 If you're a tourist who likes to wander where no tourist has wandered before, take yourself to Sbarro – a food place that I quickly identified as an epitome of American food culture.
Huge slices of pizza are available as well as pasta, meatballs, bread stuffed with spinach and mozzarella and so much more. It is delicious and what's more, somewhere that no other tourists seemed to frequent.
Just up from the magical Macy's, Sbarro's culinary delights await and I dare you to try it out.
Get in an Empire State of Mind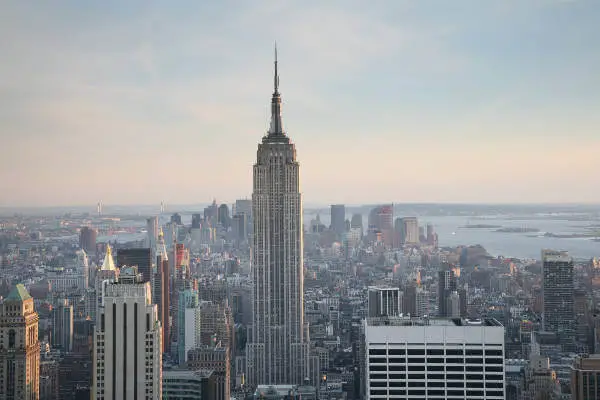 The Empire State Building is the forth tallest in the world and was previously the world's tallest.
To beat the queues, it's best to go as soon as it opened as security is rigorous and a bore to wait in for over an hour, trust me.
However, the view from the top is unbeatable. Once you look out at the rest of New York City, you understand why it is that they call it the Concrete Jungle. Somehow, though, looking at grey building after grey building doesn't get old. It just takes your breath away.
You will also like: Wineries in Long Island
The Magic of Macy's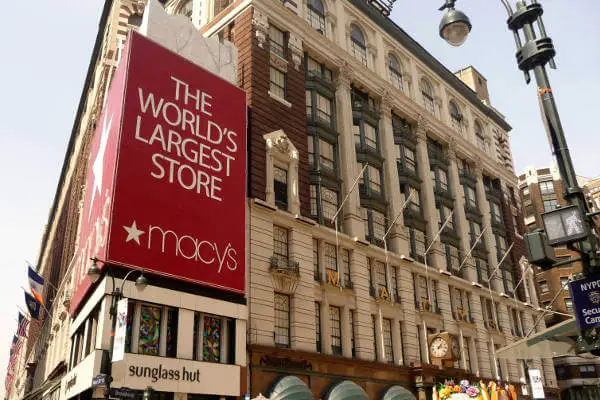 Macy's Department Store is perhaps one of the most famous in the world. It is shown in films and books – and the magic is not all hype.
The customer service is unlike anything you receive certainly in England and the staff have a genuine interest in serving you. I suppose that's what makes it so magical – you feel valued and there's also usually a sale on some of their items. Who doesn't love a good bargain?
Broadway is a must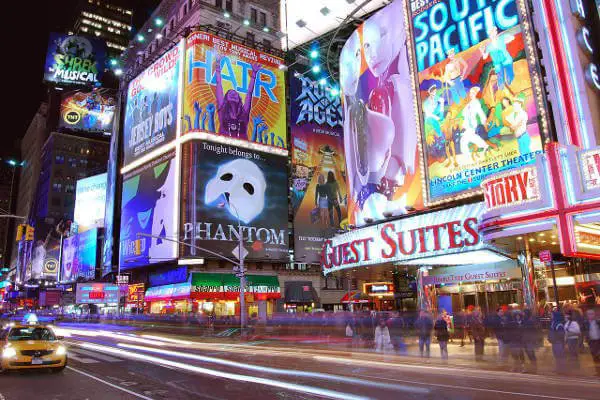 Regardless of whether you're a theatre person or not, seeing a show on Broadway is a part of the NYC experience.
There is a plethora of shows on offer for you to see, including Matilda, The Lion King, Fiddler on the Roof and many more. I saw Andrew Lloyd Webber's School of Rock and came away possibly the most entertained I had been in a long time.
The atmosphere of Broadway is palpable in the theatre and on the streets next to it. It's one of the most regarded parts of the city and rightly so – you can be entertained by people who are living their dream and I think that is wonderful.
Ice hockey at Madison Square Garden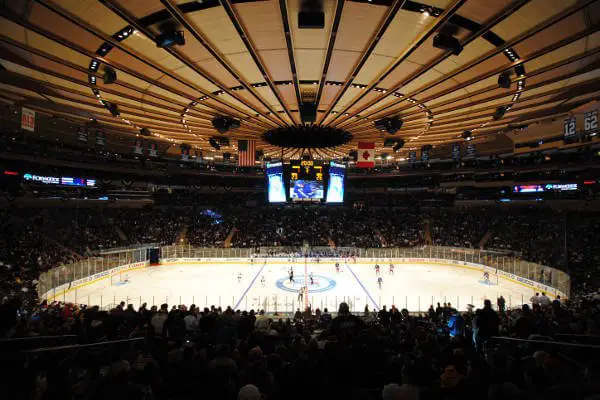 I am not a sport person at all. And I have no clue about the rules of ice hockey.
What I do know, though, is that you have to see a game. I saw the New York Rangers play against the Arizona Coyotes and it was so much fun.
The whole arena is screaming and the walls are thumping. It is exhilarating and something you can easily become enamoured with. I was told before I booked ice hockey tickets that I should go because it is an experience. I give you the very same advice.
New York City is, I'd say, the eighth wonder of the world. Everything about it is so completely different to anything you've ever experienced. The food is amazing, the people are too and the views…well, they stole my heart. My only regret is that my ticket wasn't one-way.