General unspoken guidelines for how to find the best southern barbecue (or bbq, as it is almost always abbreviated):
1. Though it seems strange, the more human-looking the pig(s) on the restaurant's signage, the better the barbecue. BBQ restaurants featuring realistic-looking pigs wearing neither clothing nor smiles are best approached with caution, or at least not without a recommendation from another source. Restaurants featuring fully clothed families of pigs are almost always a good bet.
2. The more of a dive the barbecue restaurant seems to be from the outside, the better the bbq. Big pluses for wooden structures appearing in need of a fresh coat of paint, re-purposed gas stations and graveled parking lots full of pick up trucks.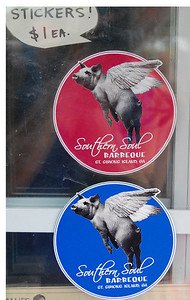 As with all general guidelines, there are always exceptions.
In recent years the quest for preparing the best southern barbecue has become a decidedly crowded and testosterone-driven competition: Think swaggering iron chef-style face-offs in communities across the country amongst men with nicknames like Meathead, Fiery Frank, and Beefy Jack Daniels. A lot like politics, strong yay or nay opinions abound. The result is many communities across North America  – and not just in the southern U.S. – have one or two favorite barbecue establishments. Although few women have risen to the top of this mostly male-dominated sport, there are exceptions such as Nicole Davenport and Lee Ann Whippen.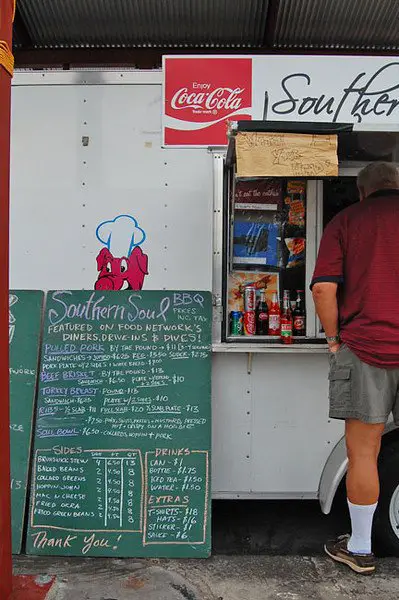 This past weekend while visiting St. Simon's Island, GA for the Labor Day weekend, we looked forward to trying out the best barbecue the community has to offer at Southern Soul Barbecue. We learned about this one on Guy Fieri's "Diners, Drive-Ins and Dives."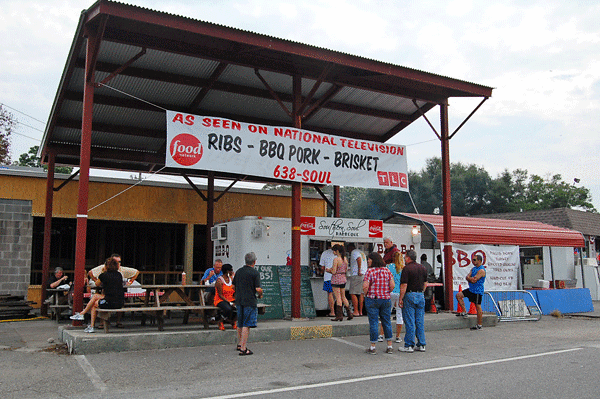 Until we were told by our hotel concierge at the King and Prince Resort, we hadn't heard that this past March, Southern Soul had gone up in smoke – or at least its building had – literally.
But as loved as the historic building was, which prominently sat at the main traffic circle on the island (which indeed was a re-purposed gas station – see #2 above), Southern Soul barbecue is alive and well following the devastation. Thanks to an outpouring of community support, the business was able to quickly set up makeshift cooking and distribution headquarters in front of the building, where the process of being rebuilt is now well underway.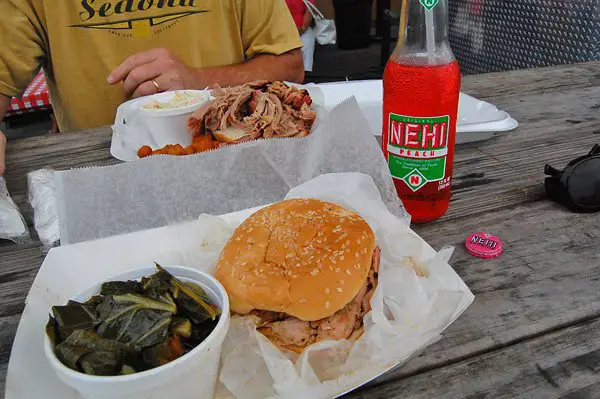 Southern bbq is vaca and weekend food at its finest, meant to be consumed in large quantities when seriously hungry with a Miller, Bud or Nehi chaser; before and after college football games and at native sons and daughters' weddings and graduations, and grandfathers' funerals. Judging from the number of women gathered at the trailer at midday, eating barbecue clearly isn't just for the guys. Not that we didn't know that already.
The verdict? Amazing. Cooked over oak for 12 -14 hours and cooked with a secret "soul rub," Southern Soul's pulled pork was delicious, with flavorful and unexpectedly large pieces of meat that were neither tough nor mushy. Rounding out the experience was a to-die-for sweet barbecue sauce, one of several offered. Confession time: We thought about stuffing the bottle in our pocketbooks, but in the end decided instead to come by some honestly by visiting the shop on the Southern Soul website.
The collard greens were good, but minorly disappointing because of the absence of a bottle of vinegar to top them with, but given the restaurant's makeshift circumstances, we let it slide. The fried okra and coleslaw were just right. There were multiple side dishes, including several choices to please vegetarians. We wanted to try many of them and would have preferred to have an option for smaller servings so we could sample a few more. After observing what others were eating around us, next time we would think about ordering the ribs and some of the local Brunswick stew.
Do you have a favorite barbecue restaurant? How did you discover it? Tell us about it!
Pin for Later