When you think of food in Israel, you probably imagine hummus. Although hummus is eaten throughout the Mediterranean and much of the Middle East, it's synonymous with Israeli cuisine. 
But there are a plethora of delicious things to eat in Israel. Remember that the Holy Land is a melting pot of several cultures-you can find the best of Arab, Druze, Bedouin cuisine as well as traditional Jewish cuisine. And like many regions of the world, the exact origins of foods are unknown, and favorite dishes are shared and recreated in a unique way between nations.
But if you find yourself in Israel, these are a few foods you can't miss trying! From crunchy, sweet halva to thick, bubbling tomato-based shakshuka, you will be amazed at the variety and quality of food in Israel.
Knafeh
Possibly my favorite food in Israel, knafeh, is a dessert made with white cheese, delicately stringed filo dough (kadaif) and sugar syrup. It's fascinating to see it made. Baked in enormous metal pans, the kadaif, mixed with clarified butter, is laid down first, then the cheese. 
The pan is baked in the oven, then removed, and the entire thing is flipped upside down into a new pan! I don't know how it's not always all over the floor. Then the syrup is drizzled over the top. When the knafeh is freshly baked and still warm, the gooey, creamy cheese precisely complements the crispy, sweetened dough. It's heaven! 
Halva
Halva is made with sesame seed paste that's been sweetened and baked into a loaf. The texture reminds you of cooked peanut butter, but with more of a chewy consistency. It's delicious alone, but even better when flavored with ingredients like coffee, chocolate or pistachio. 
Halva isn't cheap, and many vendors selling fresh halva at outdoor markets will give you a taste test to see which flavor you like best. Sample away! The famous Mahane Yehuda Market in Jerusalem is an excellent place to sample halva or knafeh, as well as an array of interesting foods from Israel. 
Pita Druze
Pita Druze are one of those foods that have been recreated in different cultures but have a similar structure and idea. It's like a burrito made with hummus or cheese. A large, thin bread known as pita Druze bakes on a dome-shaped metal oven. 
Then it's filled with a light layer of hummus or creamy labneh, and whatever condiments you would like. The classic spice zaatar adds flavor and vibrant green, while spicy red schug gives your taste buds a zing. 
Pita Druze is from the Druze people who serve this filling snack. The Druze people live in Israel, but their religion is an offshoot of Islam. They are peaceful and hardworking and serve in the Israeli Defense Forces to prove their loyalty to Israel. Women wear white headscarves and are known for their hospitality. Daliyat El Carmel, near Haifa, is the largest Druze village in Israel, and a good place to understand more about Druze food and culture.
Shakshuka
The ultimate in warm, bubbling comfort foods, shakshuka is made from cooked tomatoes and red peppers, although alternate versions can have eggplant or spinach. Smoky paprika or a little pepper can add some heat if desired. After the sauce has simmered for a while, raw eggs are added and cooked to your liking. Then all served together with pita or challah bread. Try it at Dr. Shakshuka in Jaffa or Tel Aviv. (use Google to translate the website)
Falafel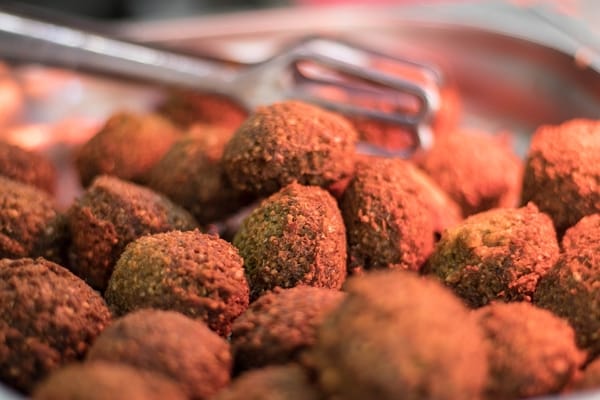 Falafel, another food Israel is known for, is prevalent around the Mediterranean. Made of dried chickpeas, which have been ground into a thick paste and mixed with spices. It is scooped into 1-inch balls and fried. Falafel can be eaten alone or in a pita. It's a hearty meal because chickpeas have a lot of protein. 
Like many fried foods, falafel is the most delicious fresh and hot. Pop the falafel balls into a soft pita, top with a little Israeli salad mix and drizzle with tahini. Yum!
Mezze 
Mezze is a meal or a course in a meal where a dozen small dishes are presented at your table at once. Just tiny portions to try and share with your companions. Try salads of carrots, cabbage, Israeli salad, creamy potatoes, fried cauliflower, pickled vegetables, hummus, beets, baba ghanoush and much, much more. All eaten with plenty of pita or Arab laffa bread (like pita but thinner) to dip and scoop it all up. 
An outstanding restaurant in the port of Old Jaffe called The Old Man and Sea is known for its dizzying array of small plates, more than 20 little tastes to go with your main dish. 
People enjoy this style of a meal eaten with local specialties in restaurants throughout the Middle East, Northern Africa, Turkey and Greece. So far, the overall best I've tried is in Arab restaurants.  
Hummus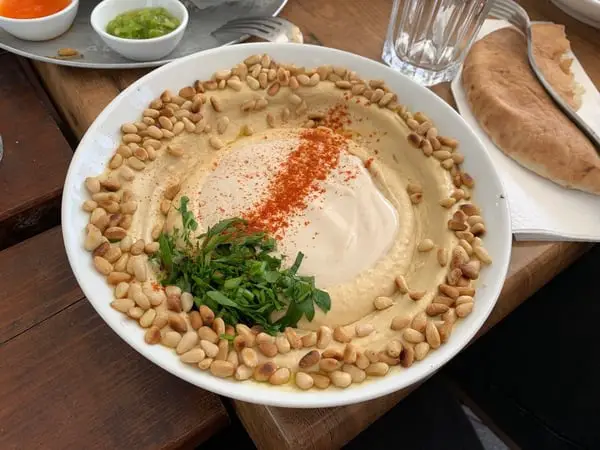 We can't possibly leave out the national favorite-hummus. Hummus is cooked chickpeas blended with olive oil, tahini and lemon juice. This creamy and healthy dip is eaten with pita or vegetables or even all by itself. You will find Israelis eating hummus for breakfast, lunch, dinner and snacks.
Honestly, you will wonder what the beige pasty stuff we eat in the U.S. is-the quality is so different. And chickpeas are so good for you too! They are rich sources of protein, fiber and minerals.
Although Israel is famous for hummus, Arab restaurants tend to add a little more olive oil for a thinner, tastier result. Try both and see what you prefer. Abu Shukri in Jerusalem is an excellent place to taste this national treasure.
Israeli Salad
Another classic dish, Israeli salad, consists of chopped cucumbers and tomatoes in olive oil. Sometimes onions or avocado may be added. Its simplicity is deceiving, though. The flavors expertly combine to create a crunchy, sweet, mellow side dish that fills you up. 
A big part of its success is the high quality of vegetables in Israel. The country prefers the small, pickling cucumbers, and the demand is high, so you always get a freshly picked crop in grocery stores. Tomatoes are also fresh and flavorful.
But quality olive oil is quite essential as well. The Mediterranean is famous for its olive oil, but Israel has second-best, I believe. (Greece has the best olive oil, in my opinion.)
Tahini
Tahini (tahina in Hebrew) is ground sesame paste, which is used as an ingredient or topping in several famous dishes in the region. It has a flavor similar to peanut butter and must be stirred because the oil naturally separates from the thick mass of seeds. 
Tahini adds a richness to foods and is full of healthy fats and a generous amount of protein. Israelis love to drizzle it over their falafels, shawarma and salads. It's the ranch dressing of Israel.
Israeli Breakfast
The most memorable meal in Israel may be a traditional Israeli breakfast. Served with eggs cooked your way, but usually, an omelet cooked through; the concept of wet eggs in not common in Israel. Your meal will also come with a good portion of Israeli salad, types of bread like a croissant, hearty wheat bread and breadsticks. 
You'll also receive a few kinds of cheese, such as local favorite Bulgarite cheese (like firmer feta) and a few dips and spreads such as tahini, hummus, labneh, maybe tuna fish or mashed avocado.
It's a feast to take you past lunch! Of course, quality coffee is delicious with breakfast. The whole country knows how to pull a mean shot of espresso (the gas stations workers/baristas make delicious cappuccinos) Or possibly spicy, black Turkish coffee if you prefer.
Honorable Mentions
Here are some favorites that we'll call Honorable Mentions: challah bread (traditional for Shabbat), pita bread, whole baked fish, shawarma (extremely popular), sufganiyot doughnuts (fried doughnuts to celebrate Hanukah), borekas (cheese-filled pastries), schnitzel. 
And a few drinks for a bonus: black coffee or hafuch (literally upside-down coffee, but similar to a cappuccino), Bedouin tea and limonana (lemonade with mint).
There are just too many fantastic foods to enjoy in Israel to list each in detail. You may have to plan a return trip to finish tasting each specialty. As they say in Israel, bete'avon! (bon appetit).
Main image by DanaTentis.
Pin For Later