* Editor's Note: Yes, there is such a thing as chocolate travel; and yes, we at The Travel Belles take our responsibility to tell you about it very seriously.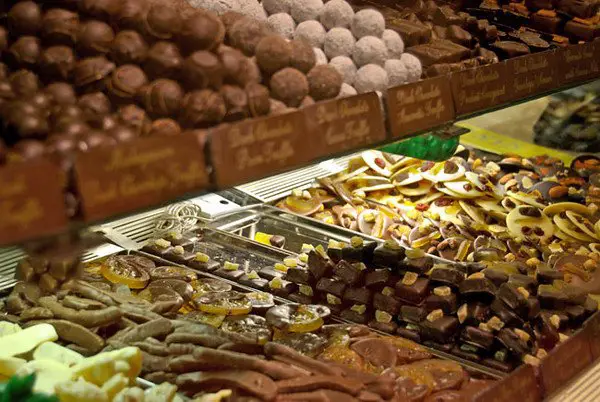 Confession:
I am obsessed with chocolate, specifically European chocolate.
Several years ago I had the opportunity to travel in Europe frequently for work. During that time I enjoyed eating and bringing home chocolates from England, France, Germany, Spain, and Italy. Sadly job no longer requires international travel so visiting these destinations is now a luxury.
However, this past holiday season, my husband and I traveled to London and Paris for vacation. On the flight over I thought about my long and disjointed itinerary for the trip – restaurants, cafes, Stonehenge, palaces, cathedrals, shopping, museums, and (of course) chocolate shops. I decided my chocolate-related shopping goal on this trip was to find the most delicious truffles in the two European capitals we would be visiting. After arriving in London, depositing our luggage at the hotel, and eating a good English breakfast we took to the streets. Of course, being my husband's first trip to Europe he was excited to see the architecture and experience the city; I was looking forward to finding some of the best chocolate in London!
Our first chocolate-related stop was Fortnum and Mason. I normally prefer small, independent chocolate shops, however, this department store is in a league of its own. Supplier to the British royal family, this stop has a lovely tea shop, and the food halls are a must-visit for foodies and chocoholics alike visiting London. The ground floor and basement are like a jewel box of gourmet groceries, wine, teas, baked goods, and – of course – chocolate. I purchased a variety of chocolate confectioneries, including some lovely dark chocolate ginger truffles. Creamy and decadent, with a hint of spice, these were the perfect chocolate treat for a winter's afternoon.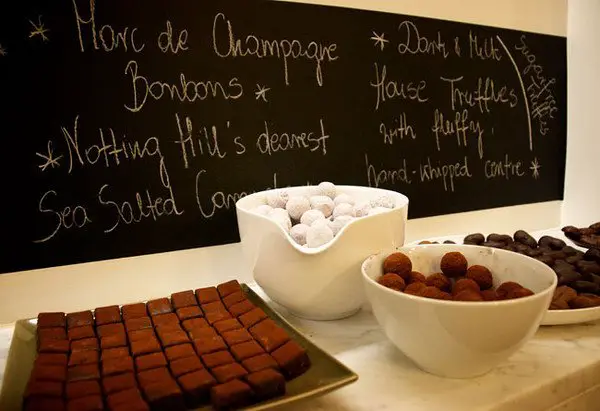 Continuing my chocolate adventures in London, one afternoon we ventured over to Notting Hill. This area of London is like a postcard, with colorful row houses and narrow streets. While shopping on Ledbury Road I came upon Melt.  Walking into this adorable shop with its wonderfully intense aroma of chocolate was like walking to a cloud.
In addition to being delicious, shopping at Melt is a fun prospect. The chocolates are exquisitely displayed around the store and customers select what they would like using wooden trays and tongs. After purchasing several truffles, the shopkeeper was happy to oblige when I asked if I could photograph the beautiful confectioneries. When I finally put my camera away and turned around, my husband was enjoying a free sample of Melt's fabulously rich hot chocolate and chatting with the shopkeeper.
The truffles from Melt – and the sip I had of my husband's hot chocolate – were sublime. Probably my favorite chocolate experience in Europe. I tried both dark chocolate and Marc de Champagne truffles and both were absolutely delicious. Each truffle was creamy and intensely chocolately. In addition, the hot chocolate was thick and creamy, like drinking a molten chocolate bar. Amazing.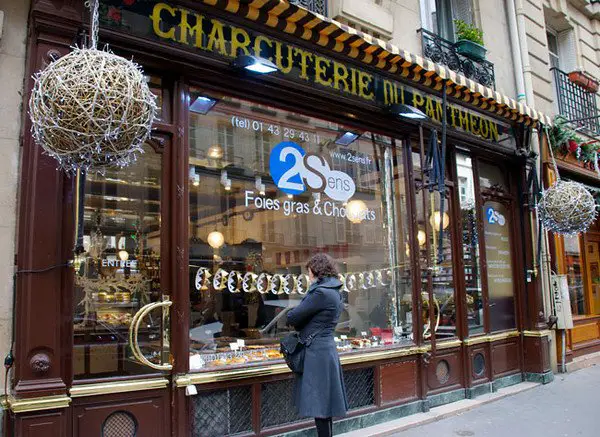 Now to move across the English Channel and talk about chocolate in Paris. One of my favorite things to do in Paris is to wander the streets and discover hidden treasures. When traveling I have often found that sights and tastes discovered along the way often eclipse those of the planned destination. I go armed with a good guidebook and map but I am careful to roam with an open mind and curious eyes. This is how I happened upon some of my favorite chocolate discoveries during this trip.
Paris is a city made for chocoholics and people who love sweets. There are patisseries and chocolate shops around every corner selling beautiful edibles. I visited many of them, sampling truffles and other confectioneries. (After a few days in the city I was accumulating my own lovely display of sweets in our hotel room.) Of all the chocolate shops I visited while in Paris there are three that I wish were right around the corner from my home back in Washington DC.
First, and most out of the way, is Charcuterie du Pantheon. We walked by this shop on Rue St. Jacques on the way to dinner one night and the sign in the window made it necessary for me to stop – Foie Gras et Chocolat. Interesting combination, and while chocolate is one of my favorite foods, foie gras is one of my husband's preferred indulgences.
Inside I perused the sweets while my husband investigated the savory. The shop carried truffles and chocolates made by Regis (a chocolatier that has been making confectioneries for over 50 years). I asked the shopkeeper for four truffles.
"Only four?" he ask rather indigently.  He then handed me a bag with approximately a dozen truffles in it. (He knew these truffles were too good to just eat four!)
The Regis truffles were amazing with a creamy dark chocolate center and a thin dark chocolate coating. Rich and decadent, the shopkeeper was right – these chocolates were too good to just eat four! Another fabulous Parisian chocolate shop is Chocolat Chapon at 69 Rue du Bac. This little store is exactly what you would expect a chocolate shop in Paris to be like. Shelves and counters are filled with chocolate bars, confectioneries, and truffles, as well as candied fruits and other fantastic looking treats. I purchased some truffles, took some photographs, and headed back out onto the street to continue wandering and shopping.
A few blocks down the street I paused to try my latest chocolate purchase. The Chapon truffles are very smooth and have an elegant, mild chocolate flavor. A less intense chocolate experience than the Regis truffles, but no less wonderful.
The last chocolate shop in Paris I want to share with you is Chocolat Debauve et Gallais. This shop has a long and royal history. Opened in 1800 by  King Louis XVI's pharmacist and apothecarist this shop sells wonderful luxury chocolates. Located a block off Boulevard Saint-Germain on Rue Saints Pères, this shop exudes elegance and reeks of history, definitely a chocolate shop fit for a king. In addition to chocolate bonbons, truffles, and bars, the shop sells, teas and chocolate coins originally created for Queen Marie-Antoinette. All these delectable items are displayed on a beautiful semi-circular wooden counter.
We went to Chocolat Debauve et Gallais on our last evening in Paris. It seemed fitting to visit a chocolate shop for kings right before returning home. Here I tried some their truffles, purchased a dark chocolate bar at the request of my husband, and got a small gift box of bonbons for my aunt.
While I wholeheartedly recommend the chocolate shops in London and Paris I have shared in this article, I encourage visitors to wander the streets, discover their own hidden chocolate adventures. Just follow your nose!
Pin for Later