"To hell or to Connaught," Oliver Cromwell, 1653.
Sligo: A Place to visit in Ireland that you've probably never heard of
The west of Ireland (the province of Connaught) hasn't always had the best rep. Thankfully this quote doesn't grace any brochures, and the tourism trade in this area of the country is on the rise. When planning a visit to Ireland most are magnetically drawn to the bustling capital Dublin, and when attention is turned to the West it is usually directed at Galway. While Galway is great, there is the case of a neighboring county that doesn't always get the attention it deserves: Sligo. As I grew up in Sligo I may be ever so slightly biased, however, this county isn't termed "the land of heart's desire" for nothing.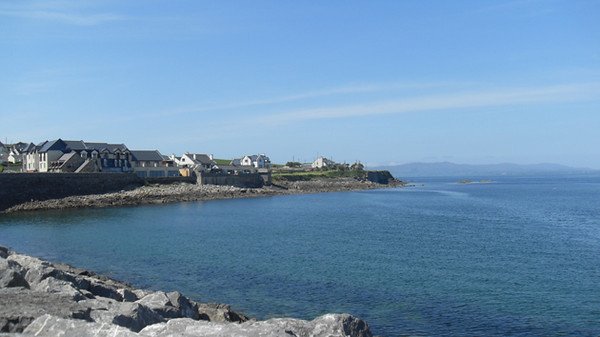 As Ireland is a small island, it isn't particularly challenging to find the coast or beaches here, and Sligo boasts a wonderful coastline. While a stroll on the beach or it's leading promenade is lovely, to make the most of these Atlantic shores it's essential to try your hand at one of the many water sports practiced.
Conditions for surfing on the west coast are world-renowned. Mullaghmore hosted Ireland's first tow-in surf session last year, and the European Surf Championship was held last September in Sligo's neighboring Donegal. As most of us won't be throwing ourselves into 45-foot waves, there are many surf schools that cater for beginners where lessons include wetsuit and board rental. Strandhill, a village outside Sligo town, is a great spot as it is very accessible and the village itself has a laid back atmosphere with more than one spot to pop in for a pint after a day at the beach. If you can't bear the thought of cold waters then the relaxing seaweed baths located on the seafront are also a good option!
A water sport which I have yet to try is kite surfing. Part of the reason for my abstinence is due to fear, however, from all accounts it's not as intimidating as it seems. Conditions for this sport are favorable in Rosses Point, another seaside village not far from Sligo Town. There is a kite-surfing school here that provides all the equipment and takes lessons at a steady pace to allow you to get to grips with this relatively new sport. If you find yourself in Rosses Point there are also charter boats that take you out on the seas to spot local wildlife, dock on remote islands, and maybe even do a spot of fishing.
Being honest, unless you're planning to visit Sligo during the summer or the months boarding the season, the water is going to be cold. Being even more honest, it's going to be cold during the summer too. It is nothing that a good wetsuit can't handle, and for those more inclined to stay out of the water, there is still plenty to do in Sligo County.
Ireland is said to be the land of saints and scholars. One scholar who was particularly enamored with Sligo as a great place to visit in Ireland was poet William Butler Yeats. Having family roots in the county, Yeats spent a lot of his time here and much of his poetry is inspired by the area. "The Lake Isle of Inishfree" and "The Song of Wandering Angus" are beautiful examples of this work. You can visit Yeat's grave in Drumcliffe, where the poet is laid "under bare Benbulben's head," a striking mountain that dominates the view.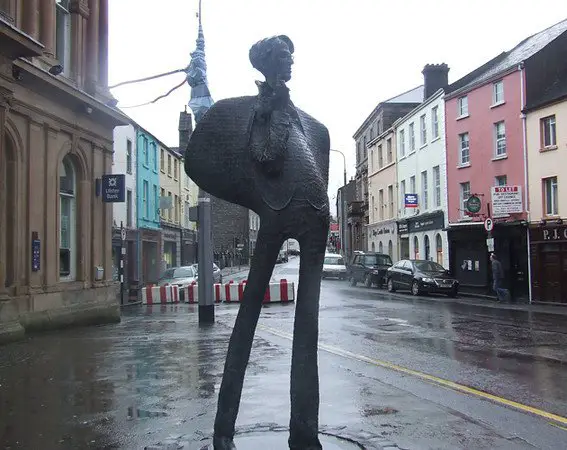 To learn more of the poet there is a memorial building in Sligo Town where a small but cohesive exhibition is housed. Also of interest is the work of William's brother Jack Yeats, an important Irish painter. His work is often displayed at the town's Model Gallery. If you don't happen to catch a Yeats exhibition, though, it's still worth a visit as the gallery always boasts internationally noted exhibitions.
Along with the galleries mentioned above, Sligo Town, which lies on the Garavogue River, is a small, lively town with a lot to offer. It is scattered with a variety of cafes and restaurants, such as Bistro Bianconi, an Italian with some of the best pizza I've had; Osta, a cafe on the riverfront; and Lyon's, a charming, department-store cafe. If you're eager to see if the Guinness truly is better on Irish soil, then Hargedons and Mc Garrigles on the main street is the most authentic spots to nurse a pint.
Sligo is accessible from Dublin via train or bus. There is also a small airport in Strandhill that has flights to Dublin. Alternatively renting a car might be one of the best ways to get around. If Cromwell were around nowadays I'm sure he would be eating his words … and maybe drinking a Guinness!
All photos property of the author and used with permission.
Pin for Later