Whether you are traveling for business or fun, it will always be a much better experience if you are organized.
There are enough unexpected occurrences that happen when traveling, and if you are organized, everything can be handled with far less stress.
Having habits and tools in place are the key to being successful with this, and we've put together a list of both that will help you out.
1. Start with a Packing List
The earlier you compose your packing list, the less likely you will be to forget important items. When you are ready to pack, check each item off your list. Do not throw the list away after you have finished packing.
Take it with you on your trip.
When you are ready to go home, check each item off when you repack. You do not want to leave any of your personal property behind at the hotel or at other locations. It is also an effective way to add to the list or delete things that you brought which were unnecessary.
Using your phone is a fantastic way to keep track of your items if you do not prefer pen and paper.
2. Organize Your Itinerary
It's simple, one of the easiest ways to reduce stress and avoid mistakes is to prepare an itinerary before your trip.
You don't have to stick with it, but you will be happy that you are spending your time enjoying the sights and not researching what you want to do, or should be doing, while you are on vacation.
Depending on your personal preference, you can use apps on your phone or a small notebook.
Some of the information to consider may include:
Times, schedules, and other information related to your airline reservations; do not forget to include the schedules for trains or other public transport that you may be using
Confirmations for your rental car or other transportation arrangements
Directions and maps – these may be in the form of apps on your phone or tablet
Hotel reservations
Relevant phone numbers and addresses at your destination
Information for stops or layover locations that you will experience during your trip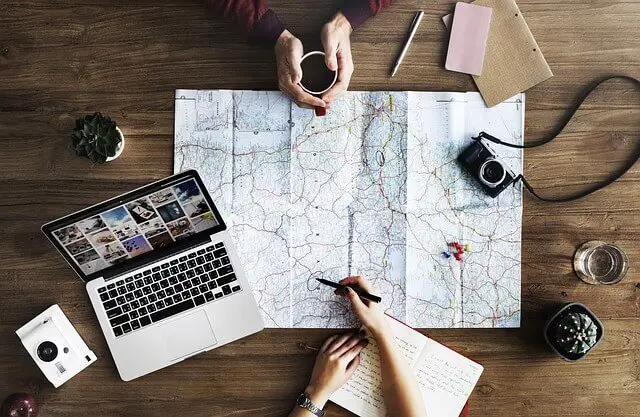 3. Choose Appropriate Products for Packing
You want the items you are taking with you to be in good condition when you arrive, and for some to be easily accessible during your trip. Pack according to when you will need which items. It is always best to travel light. Unless you are planning a very long vacation, you can manage with only one suitcase. Outfits can be repeated.
Consider the size and weight of your suitcase. In addition to items you are taking with you, it should accommodate items you buy while traveling and at your destination. You can also pack a fold up bag to bring back items that you purchase.
Consider small packing products to prevent loss or damage. Folders and plastic bags with zip-tops are two examples. Small items and breakable items will stay safe and you will have plastic bags for wet bathing suits or dirty laundry.
A travel purse will keep items you need during the trip easy to access and within reach. The purses are available in a variety of sizes and styles, so you can find one that meets your needs. Cash, credit cards, your cell phone and charger are some items you want to carry with you always. You can also include a snack in your travel purse.
Check with the airline to learn about its luggage policies. You need to know how many items you can carry with you, and how many bags can be checked. The airline may also have weight limits for suitcases. Make sure to have a tag with your name, address, and phone number on every bag. Carry-on bags need tags as well as checked bags.
4. Plan Your Travel Budget in Advance
It is quite common to spend too much money on a trip because you get caught up in the moment. Before you leave home, decide how much you will spend. Allot a specific amount for meals, snacks, souvenirs, and entertainment.
Stay within your budget while traveling and at your destination. Once you are home, you cannot easily return impulse purchases.
5. Plan for Some Extras
Your trip will be more enjoyable if you are sensible with both time and money. You may find something you want to buy that you did not think of before. You may see an interesting restaurant, or a fascinating tourist attraction. You may have planned every minute of your busy schedule, but allow yourself time to relax and to partake in the unexpected.
A successful trip requires organization, but the best trip includes leeway for little extras. You do not have to be deprived of free time, or a small expense that occurs on the spur of the moment. Your trip can be more special when you are not excessively rigid with your time and money.
If you have traveled before, and were not well-organized, you probably encountered several difficulties that ruined your trip or provided you with unnecessary stress. Over-spending, missing flights, losing a wallet or other important items, and a trip filled with challenges to overcome as well as exhaustion are common examples.
You can avoid these hazards by making plans. Regardless of the length of your trip, and whether you are traveling for work or fun, it can be a wonderful experience. When you start with these 5 ways to stay organized while traveling, you can have a fantastic time and create happy memories.
Pin For Later