Native American culture comes alive in the Four Corners region of the United States.
To a geography teacher, the place where Colorado, Utah, New Mexico, and Arizona all intersect is a testament to the power of latitude and longitude lines.
To archeologists, the cliff dwellings, prehistoric pueblos and sheer tonnage of pottery shards here are perfect for dissertations and digs.
To anthropologists, this desert is a Mecca of Native American culture; the Hopi, Ute, Ramah Navajo, Zuni, and Acoma, Laguna and Navajo Native Americans all reside in the area. Their creation myths and centuries-old stories are based on the rock formations, mountains, and valleys of the area.
You may also like: 10 Things To Do In Indianapolis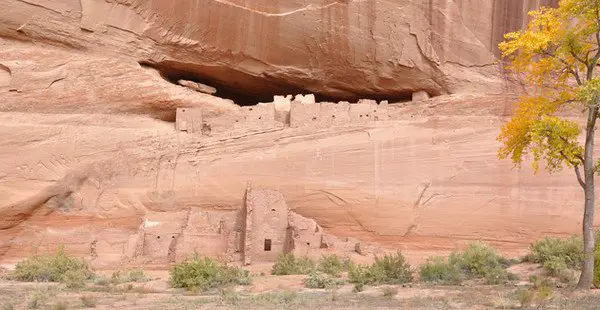 Native American reservations and inhabited pueblo tours
Santa Fe, New Mexico, is often thought of as the gateway to the Four Corners area.
Sure, its mission-centered plaza and adobe buildings are great, but keep heading west on I-40. You've arrived when you hit the Laguna and Acoma reservations past Albuquerque.
If you are visiting between February and November, the Acoma Pueblo is worth a visit. The visitor center is very well done, with art and photography exhibits rotating through the museum space.
Take a guided tour and you'll be escorted up the mesa and through the oldest continually inhabited pueblo in the United States. The Acoma people who maintain residences here live traditionally, with no electricity or running water.
If you keep heading west on Highway 53, you'll find the Zuni Pueblo. Although much more modern, a guided tour of the mission church and the pueblo provides evidence that the Zuni people have held onto their traditions.
While many of the other Native American tribes are quickly losing their language and religion, the Zuni are maintaining these aspects of their culture.
The Hopi Reservation in northeast Arizona is another great place to visit.
Unlike Acoma, tourists are welcome to explore the twelve Hopi villages unescorted, but tour guides are also available. Like Acoma, some Hopi people live traditionally with no electricity or running water.
A tour through the Hopi villages often means meeting artists and checking out Hopi goods. Kachina dolls and baskets are the must-purchase items here.
Tip: be sure to double-check all pueblo tours before heading out for a visit. They often close due to cultural events, festival preparation, bad weather, and/or staffing issues.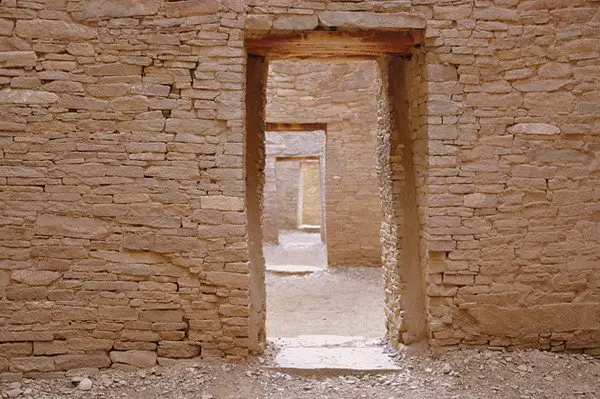 Pre-historic pueblo ruins
Mesa Verde National Park in southwest Colorado is the most well-known example of prehistoric pueblos, because the Ancestral Puebloans (formally referred to as the Anasazi) built their houses high in the cliff crevices here.
With park admission, anyone can walk through Balcony House (open March to November) and Step House (open Memorial Day to Labor Day) unaccompanied.
Take advantage of the opportunity to for crawl down a ladder into a kiva, an enclosed space that the Ancestral Puebloans used as both a religious gathering place and a storage space. The more kivas a pueblo had, the more important it likely was.
You may also like: Shopping For Naitve American Art In The Four Corners Region
Visitors can sign up for guided tours of Cliff Palace, Balcony House, and Long House. If you are planning on visiting the park for more than one day, look into booking a room at Far View Lodge. This will save you from spending time driving up and down the mesa each day.
Still, Mesa Verde isn't the only place to see some prehistoric housing.
There are visible remains of pueblos all over the Four Corners area. Chaco Culture National Historical Park in New Mexico is another good place to go. These huge pueblos were built on the ground, but fewer visitors and no requirements to sign up for tours makes them much more fun to explore.
The large percentage of kivas here suggests that it was one of the most important trading posts for tribes in the southwest.
Other pueblo sites in the Four Corners area include Montezuma's Castle (near Camp Verde, Arizona), Wupatki National Monument (near Flagstaff, Arizona), Homolovi Ruins State Park (near Winslow, Arizona), and Aztec Ruins National Monument (near Aztec, New Mexico).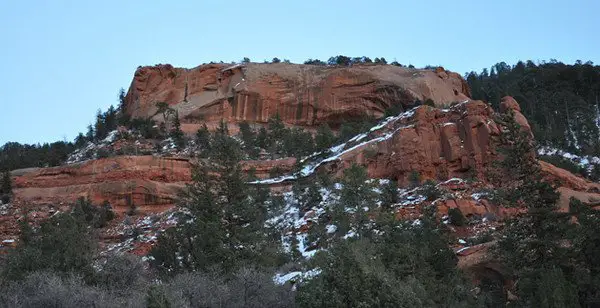 Hikes and desert landscapes: choose your color
Red: John Wayne fans, photographers and those who really like the color red will want to check out Monument Valley on the Arizona/Utah border. The spires of red rock protruding up through valley floors can be found here. A drive through Monument Valley provides endless vistas of the buttes and mesas that are pivotal to Western cinema. Make sure you stay for sunset.
You may also like: Falling For The Red Rocks of Sedona
Orange: Visit Arizona's Canyon de Chelly if you are after sandstone cliffs and the color orange. This National Monument is unique because it is run in conjunction with the Navajo people who live in the canyon. Visitors are free to drive the canyon rim road and gawk at the overlooks, but in order to climb, hike, camp or horseback ride down into the canyon, a tour needs to be arranged with a Navajo guide.
It's worth it. Guides point out ancient rock art on the canyon walls and lead you up natural footholds through the canyon walls for the best views. Several cliff dwellings like those in Mesa Verde can be found here.
Red and white stripes: Tucked in the Zuni Mountains is the tiny town of Ramah, known for its 'candy-striped' mesas and hoodoos. Hike through El Malpais National Monument for great views and check out Inscription Rock at El Morro National Monument.
Spending the night?: Oso Vista Ranch is a great out-of-the-way place to stay in Ramah, especially for families. Multiple bedrooms, bathrooms, living spaces and fireplaces are yours, as is the kitchen.
Green: Take a drive up to Buffalo Pass through the Navajo National Forest. The green trees against the red cliffs will color your thinking about Christmas hues. Go at sunset and keep your eye out for deer. Pull over frequently to take pictures of Shiprock, Bennett Peak and Ford Butte in the valley below. These volcanic formations turn from red to purple to blue as the sun goes down.
Travel assistance
For insight into Native American culture, directions to the best viewpoints, hiking buddies and an escort service through those potholed roads, call on The Blue Desert Guide Company.
The only all-inclusive travel guides in the Four Corners region, Amanda and Vino will design a custom trip based on your preferences and plan everything ahead of time for you. They cover airport pickup, ranch accommodations, authentic New Mexican meals, and hundreds of possible itineraries.
A trip with The Blue Desert Guide Company provides a real taste of the Four Corners without having to do the months of planning and legwork that goes into creating such a special trip.
Pin for Later