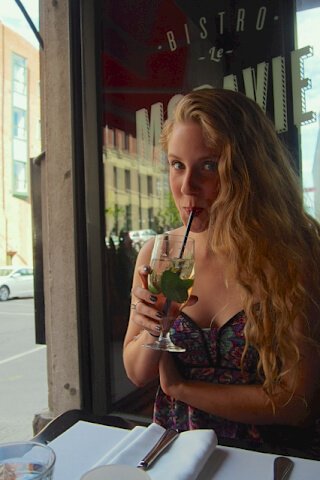 Pulling our suitcases behind us down Laurent Boulevard towards Old Montreal, we were two women ready to take on the eighth largest city in North America. Adults in the eyes of most laws around the world – Meg, a recent high school graduate, me her mother, not. At first I feared I made a mistake bringing her to – Canada? Wouldn't France or a Yucatan all-inclusive with a swim up bar have been a better choice to celebrate a high school graduation?
At least here we would have the Quebec drinking laws on our side. The drinking age in the U.S. is 21, the highest in the world, and shared only by a handful of countries including Indonesia, Pakistan, and Sri Lanka. Puritanical and over-reaching, the law confounds many parents. Given the hypocrisy and futility of teaching "Do what I say, not what I do," the law has managed to marginalize the role of parents in teaching responsible decisions about alcohol use and the importance of following the law. Mostly deemed a statistical failure, the laws have not prevented drunk driving accidents. And given the prevalence of binge drinking on college campuses, some would say they may have made matters worse.
Puritanical, Montreal is not. For all its proximity to the U.S, the city remains a confluence of its French and Anglo heritage, embracing both aspects of its history. During a temperance movement in the late 19th century, Quebec, the uniquely Gallic of the provinces, was the sole holdout, preventing Canadian prohibition. The populace overwhelmingly voted down a federal referendum by over 80% of the vote.
We marched past restaurants and shops with doors and windows flung open, the June sun warming our shoulders. Passing through Chinatown east towards the St. Lawrence river, smells of spicy, roasted chicken gave way to sweet maple candy as we approached the city's main tourist area. Turning right on Rue St. Paul, the historic main road through Old Montreal, we occasionally stopped to peek through an art gallery window, our hands up to the sides of our faces to block the light.
On that first day, we dumped our luggage in our room. We didn't choose to go back and eat maple candy or ramble around art galleries. As two adult ladies are wont to do, we decided we wanted a drink. No embarrassing Shirley Temples in store for Meg this trip, while I, her lushy mother, imbibed Pinot Grigio alone. Good God, it was even almost five o'clock. We headed back to Modavie, a busy wine bar that had caught our attention at the corner of Rue St. Paul and Laurent Boulevard.
We sat at a table by a window with its shutters opened onto the street. She ordered a lamb burger – I had to make her do the cocktail part. It was as if such a thing couldn't really be possible. I chose for both of us  – Cosmo Royales, pale pink concoctions of Chambord, vodka, cranberry and lime juices. I uploaded a picture of her with her first legal cocktail to Facebook. She didn't post it on hers. Good American pilgrims we were, I understood.
Details:
Le Petit Hotel
168, rue Saint-Paul Ouest, Montreal
Modavie, Bistro et Bar au Vin
1, rue Saint-Paul Ouest, Montreal
747 Airport Bus, runs 24 hours a day, 7 days a week to and from Trudeau Airpot to downtown Montreal