Skiing is one of the most popular winter sports across Canada and the United States. When the cold weather comes and the first snowflakes begin to fall, some of us dig out our equipment and hit the slopes. This is a perfect way to deal with the melancholy of shorter days and colder temperatures. It doesn't matter if you're experienced or a novice, anyone can spend a holiday skiing in Canada and will have an unforgettable experience. This article is here to describe some of the best ski resorts to visit.
Fernie
Fernie in Western Canada is the perfect destination for experienced skiers. The region can get anywhere between 9 to 11 meters of snowfall during the winter, which practically guarantees awesome conditions. You can expect to find long and steep slopes that will satisfy any adrenaline junkie's desires. There's a small village in the resort with a few bars and restaurants to unwind in the evening. Prices are affordable for two to five days in Fernie.
Sun Peaks
This is one of the best ski resorts in Canada for beginners. Sun Peaks has three peaks: Sundance, Mount Morrisey and Mount Tod. You can take the lift up to the top and enjoy tracks longer than 8 kilometers from top to bottom with a descent of 800 meters. There are a few ski schools in this resort offering reasonably priced lessons. The village is surrounded by picturesque mountains and is a perfect place to come and spend the evening after skiing.
You may also like: The Westin Beaver Creek Skier Resort for Non-Skiers
Whistler Blackcomb Ski Resort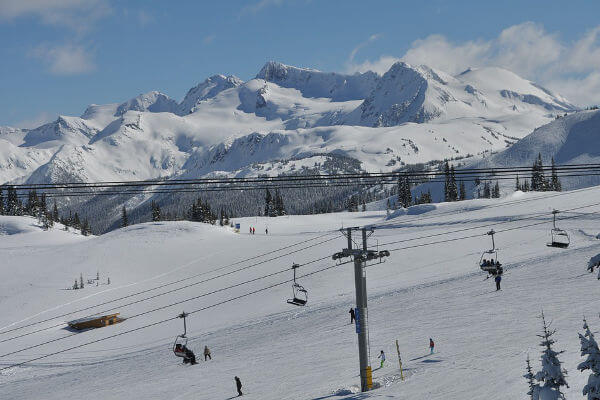 Whistler is one of the biggest ski resorts in the world outside of Europe and people from all around Canada flock here in the winter. There are lots of slopes and more than 200 marked trails, which should keep any level of skier entertained for a few days. One of the best features is that it's not just designed for people who want to spend their time skiing. You can find plenty of other activities, bars, and restaurants in Whistler Village. This makes it a perfect resort for bringing the family.
Kicking Horse
This resort deserves a special mention. Kicking Horse has a reputation for being difficult and it gives thrill seekers a run for their money. If you're looking for a new challenge and want to get away from the crowd, you'll find what you're looking for here. Expect more than 100 marked trails and one of the largest vertical drops in all North America covering a descent of over 1200 meters. You can find a few resorts at this destination that provide facilities such as bars and restaurants. There's also a small village that caters for skiers. But, expect it to be a little pricey.
You may also like: Visit Aspen on a Budget
Concluding Remarks
Canada has lots of opportunities for skiing in the western part of the country. Different resorts cater for different abilities and you can expect a range of facilities at any resort you decide to visit. This article has only covered a small percentage of the best skiing resorts in Canada and I'm sure you'll find the perfect one to suit your needs.
Pin For Later