While Australia is justly known for its glorious beaches and wild bush country, there are also spots off the beaten track rich in history and quirky characters. One such place is the Glengallan Homestead and Heritage Center, a 19th-century country house near Warwick, Queensland.
A grand, imposing edifice, Glengallan sits atop a hill and boasts gorgeous views of the Darling Downs from its many windows and expansive verandas.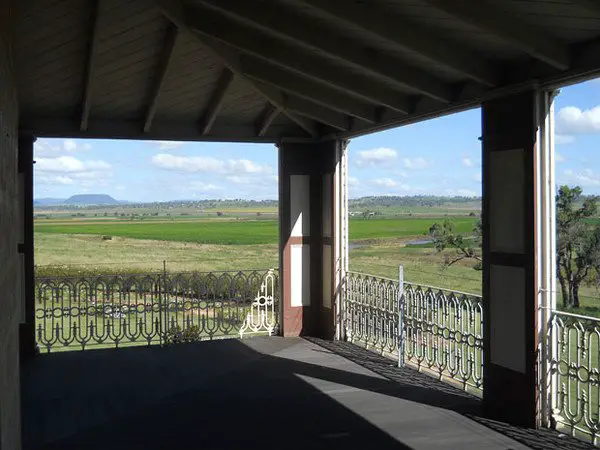 Built in the 1860's by Scottish stockman John Deuchar, Glengallan House was a home noted for its stocked larders and the lavish hospitality of Deucher and his wife, Eliza Charlotte.
A visitor in 1866, one Katie Hume, wrote: "Mrs. Deuchar is quite young, in spite of five children who are hideously like their Papa – a common looking man. Their house has been added to until it resembles a village, connected by verandahs and covered ways…They are the most kindhearted and liberal people possible – keep open house and welcome all comers; of course their kindness gets imposed upon and people will go and "sponge" upon them for weeks, but that is always the way in this naughty world! It is said they spend 400 (pounds) a year in soda-water and lemonade and of course other things in proportion!"
For a few years Glengallan House was the most opulent and enormous home in the area, a haven for community parties, cricket matches, and family dinners. Unfortunately it was also an outrageous expense in a time of drought, rural depression and personal crippling debt.
By 1870 John Deuchar was flat broke. The house went into foreclosure and the Deuchar family moved to the outskirts of Warwick. Two years later John developed pneumonia linked to symptoms of alcoholism and died a short time later when he was thrown from his horse on his way to fight a bushfire.
Eliza Charlotte Deuchar wrote sadly:
"Are there people who have never,
in the course of an anxious life,
felt desire to be away,
to fly away from anything,
however good and dear to them;
and rest a little,
and think new thoughts,
or let new thoughts flow into them
from the gentle airs of some new place
where nobody has heard of them?
ECD thinks very few!"
Glengallan House changed hands several times over the next 70 years, the last occupants moving out in the 1940's. Along the way the homestead lost buildings, furnishings and fittings. Marble mantlepieces were hacked out, plate glass windows smashed, the exquisite woodwork covered with dust and animal feces. The once proud house of Glengallan was utterly derelict, little more than a ruin.
But all was not lost. In 1993 the Smith family sold the place to the Glengallan Homestead Trust for one-third of the market value with the understanding that it would be held in trust for the people of Queensland.
Restoration of this once handsome homestead was a daunting project, but donors and volunteers gave generously of their money and time to preserve this  part of Queensland's history. Soon the dismantled verandas were back in place, providing delicious shade and cool breezes on hot summer days. Bit by bit original furnishings were recovered or similar ones found, and slowly but surely Glengallan House began to look spiffy again.
While there is still much work to be done, visitors to Glengallan Homestead and Heritage Center can wander through the gardens, amble about the property, and see the beautifully restored rooms. If you can, take time to watch video of local Aussies sharing their wonderful memories of Glengallan, and make you sure you ask about Myrtle, the Mummified Cat.
After your tour, make time to stop by Eliza's, the cafe known for making everything from scratch including beef pies, bangers and mash, and fresh from the oven scones, pikelets and dampers.
Header Photo by sandid
Pin For Later