The village of Annecy, located in France's Haute-Savoie, offers a little bit of ultimate
You know those French villages with dramatic landscapes, charming canals, colorful buildings, and adorable residents? The French village of Annecy is one of them – if not the ultimate one.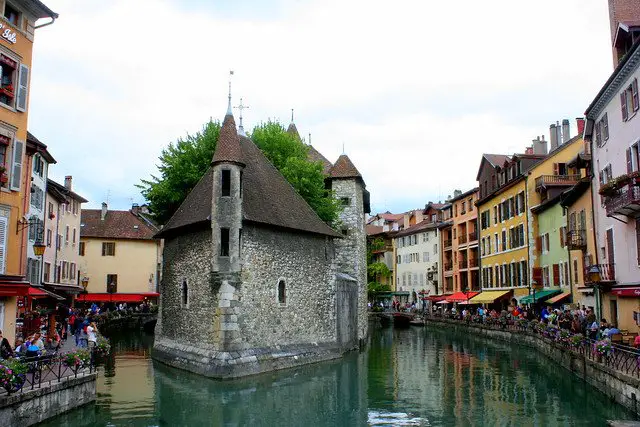 When I got in the Old Town, I was immediately drawn to two things: the turquoise lake and the ice cream shop. A Travel Belle's gotta indulge, after all. I took my ice cream to the harbor and sat there for what seemed like hours, watching the superb scenery before my eyes, amazed that such a beautiful place existed and remained unspoiled by contemporary life.
Paddle boats were technically also an option, but I preferred the boat's glamour (after all, it was a 15 km/h bomb, who could resist that?).
I wanted to explore the lake a little further, so I convinced the travel beau he wanted to drive a rented boat so we could enjoy the fresh air and the views from the middle of Lake Annecy. Paddle boats were technically also an option, but I preferred the boat's glamour. (After all, it was a 15 km/h bomb, who could resist that?) It was truly worth the expense – I have no words to express how peaceful it felt, being on a pristine lake, surrounded by mountains, the fresh air brushing against my cheeks. I hadn't felt so at peace with nature in a long time!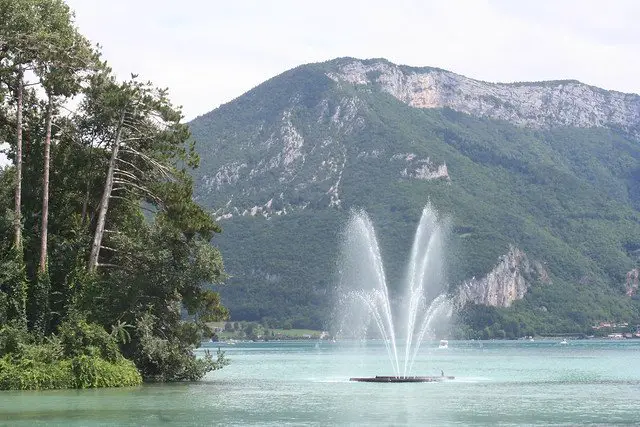 After our water adventure, we ventured in the Old Town of Annecy's maze-like streets, with no destination in mind. The busiest avenue is Rue Saint-Claire, home to many family-owned restaurants and independent/local stores. We spotted a great restaurant for dinner but being in France, 7PM was definitely not an acceptable time to eat – we wrote the address down and continued our exploration.
We ended up following other tourists to the main attraction, le Palais de l'Isle. Built in 1332, the castle is built directly in the Thiou canal and has a very varied history: it served has a royal residence, a mint and a courthouse, but more often than not, it was also used as a jail, up until World War II. His history is only a small part of its attraction, considering its superb architecture and surroundings.
We headed back to the restaurant, le Fréti (12 rue Saint-Claire) and I couldn't contain my excitement for my first authentic cheese fondue anymore. I opted for the one with herbs and to say that I made an excellent choice is an understatement – it was amazing! This particular region of France, being so closely influenced by Swiss traditions, is one of the greatest places to taste fondue without actually crossing the border.
Over dinner, we realized that Annecy, despite its striking beauty, wouldn't entertain us for two full days – we decided to get out of town the day after and explore the region, including the outstanding natural phenomenon of the Gorges du Fier as well as the château of Montrottier and the nearby village of Menthon-Saint-Bernard.
To help us get over the food overload, we walked around the Old Town again. It felt completely different at night time; I didn't think this place could get any more charming, but it did. Wine glasses toasted, people laughed, lights reflected on the canals, smells bourgeoned. Definitely, Annecy is an epicurean's heaven.
Lake Annecy France
Header Photo by sohrabi7399
Pin For Later