When long-distance hiking gets personal, but not in the way you thought it would be
The Camino de Santiago, or the Way of Saint James, is an ancient pilgrimage route following the path taken by Saint James, eventually ending in the cathedral that holds his tomb in Santiago de Compostela, Spain.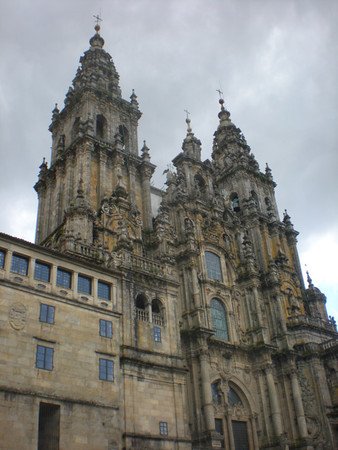 "F@#$." I said, feeling the weight on my tired shoulders; not ignoring the fact that I was in a church, but thinking that the suffering of the previous three days on the Camino, and the seven ahead of me would sufficiently square me with God.
As I pressed on, away from the Church, out of the small village and back into the hilly woods, I wondered why I was it again that I was lugging around a 20-pound backpack through the north of Spain?
I knew why: because I wanted to lose weight, I wanted an adventure, I wanted the cool document from the Pope at the end to put on my wall, but what I really wanted was to feel enlightened somehow. It sounds silly and pretentious, but I wanted to finish the Camino feeling some profound difference in myself, knowing some truth.
By the time I arrived at that church though, I had stopped looking for the meaning of life around every corner and total nirvana over every hill. By that time, I was playing mind games with myself to get through the day; alternately focusing on the pain in my shoulders and the pain in my feet; dividing the day into two-hour segments and telling myself I just had to make it through the next two hours, doing anything else to keep my mind away from pain and time.
I decorated my apartment several times, was interviewed by Oprah,  and even discussed writing styles with Ernest Hemingway. To keep my feet walking, I kept my mind running.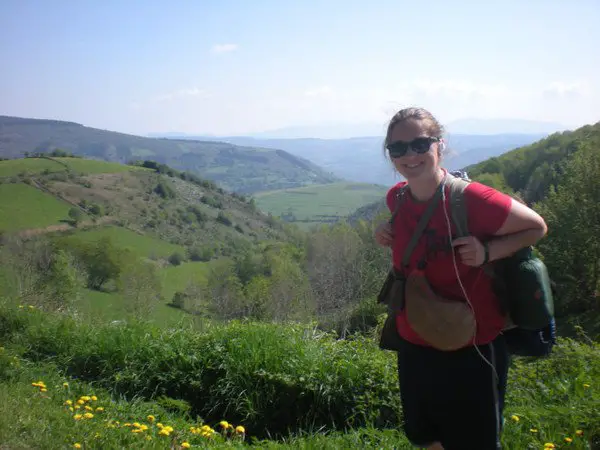 I was successful enough at this for a while – I am an expert daydreamer – but, no daydream could protect me from the last 9km of that day.
Suddenly, the mountains in the distance were beneath my battered feet. I knew I was in trouble when another pilgrim advised,  "Just look at your feet, don't look up."
That was not the encouraging, end of a sports movie speech I was looking for, that was "We're all probably going to die, but at least will die with honor" Civil War movie speech. And, in the hours ahead of me a cannonball to the head would have come as a relief.
The path became almost vertical and soft mud turned into hard rocks which either stabbed into my feet or made me slide backward, losing ground as I walked. I reached a point when I could only will myself a few steps at a time, just make it to that tree, that flower, that rock. Then when I finally made it, I didn't have much time to catch my breath or ease the pain of my burning muscles before I was pushed on by the sound of angry buzzing bees in the bushes.
It wasn't worth it; I had given up the enlightenment idea already, and even that wasn't worth the next 9km on this mountain. I wanted off! Only that was no longer an option. There was no road, no town; the only way out of this torture was to survive it. So I crawled my way up, just concerned with making it to the next tree, rock or flower; beyond that, I didn't know. Eventually, I was out of the woods, not in the metaphorical sense, but at least I'd made progress.
When I was close to desperate, exhausted and in tears, I saw a sign; not in the holy sense, but in the "Bar/Cafe 600 meters" sense. It was better than a burning bush and a heads up on a great flood any day.
I leaned against a wooden fence, caught my breath and went – not looking up, just at my feet.
I finally collapsed on the barstool. The woman behind the bar asked if I needed a bed.  As it turned out the Bar/Cafe was also an Albergue, a hostel for pilgrims. The woman lead me upstairs; she even carried my sweaty backpack for me.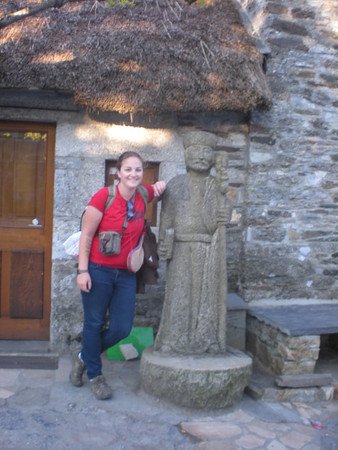 The room was simple, a bathroom in the corner and six beds on either side of the room. But as the sun shone through the big windows and the wind blew fresh mountain air that cooled my wet skin, I lied on soft, clean, sheets, letting my feet rest, and listened to Spanish guitar music from the bar below. I felt something almost better than enlightenment – peace.
After 10 days, 200kms, and immeasurable foot pain I made it to Santiago de Compostela. By the time I made it to the end of the Camino de Santiago, it wasn't about the Cathedral or the cool document – it was about those few precious moments of peace that come when you realize that you are stronger than you thought you were and that your will is as strong as you'd hoped it would be, and maybe there's some enlightenment in that.
Pin for Later