… because sometimes our best travel tips for women come directly from our experiences and relationships with technology!?
I don't remember where Garmin came from, just that we brought her into our lives for my daughters to use to navigate their way to Virginia while Dave and I traveled to Europe last year.
Our relationship didn't start out well. She was useless.
For reasons either atmospheric or technical, she believed she was suspended 100 feet above Interstate I-95, where we all know there aren't any roads. Google maps saved the day.  I would never have guessed then that I could grow to love her.
When I was solo driving around France in the Loire Valley several weeks ago, let's just say my GPS and I got to know each other pretty well. Here are some things I observed and how our relationship developed from its rocky beginnings:
If you bring your GPS from home, she will be as jet lagged as you are.
I'd taken on the transatlantic flight, the cab ride across Paris, and the three hour train ride on the TGV with something approaching aplomb. By the time I swaggered into the rental car agency, I had made it to within five miles of where I was staying. Mistakenly I said to myself, "That wasn't so bad!"
I climbed into my rental Fiat and fired up Gar, which I had already loaded up with maps back home. Never had it occurred to me that I should have turned her on hours earlier.  To see a map leading to my home in South Carolina on the screen and the message "searching for satellites" was disconcerting, but I figured that these floating space objects would be found momentarily. I went back into the rental agency to get directions, wrestled with a paper map at strange stoplights in a new country, and took what felt like at least 75 wrong turns. Over an hour later, as if  on cue, Garmin, whom I still didn't like very much, found the right satellites just in time to let me know that I had arrived at my destination.
She gets very quiet when she has no idea what she's doing. She may even just ditch you when it matters most.
You will make a turn just as directed. You will think you are on the right path until you realize little miss fancy pants hasn't chimed in with her next directive. She will be uncharacteristically silent. Silence from Gar after any maneuver is never good. You will look at her screen and see that according to her you aren't on any road at all; you are driving in the middle of a field somewhere or through a building. You feel silly noting the pavement beneath you.
When she knows what she's doing – or to rephrase, "thinks she knows what she's doing," she will not be quiet.
I guess God made human friends too big to throw out of car windows for a reason.
Even if it was just for a bathroom break, Garmin felt it her duty to scream her standard staccato chorus of "RE-CAL-culating," "RE-CAL-culating," every time I left the purple route drawn on her screen.
"BE- QUI- ET, Bee-oych, BE-QUI-ET, Bee-oych," I'd say back to her.
That and the off switch shut her up.
She only thinks she speaks a foreign language
Garmin with her European maps all loaded on her and all, fancied herself as quite the polyglot. She would switch from French to Flemish pronunciation in the middle of a street name. Making her way flawlessly through long flowing Frenchie street names, she would then stumble over the 101 words, startling me by choosing  a dissonant Flemish "blauw" over the French "bleu." As if I wouldn't notice.
She would rather sound authoritative than be correct
Instead of just admitting she did not have a clue as to what side of the road an upcoming exit was on, she would say:
"in 100 meters take "ef, hen righ-le."
She says "ef, hen righ-le" with so much confidence that you may think it's your vocabulary that's lacking, or that perhaps she knows English words that haven't been invented yet.
She's got a great sense of direction, but sometimes get a little confused.
Garmin sometimes has spells of vertigo. On curvy roads the vehicle on her screen will spin in circles (and yes, this is one of those times when she gets uncharacteristically silent.) You must always have a backup plan. I highly recommend buying a small Michelin map book that can be tossed in your bag. (On the last day, this little gem is what got me to the train station – but that's another Gar story.)
After a couple of days traveling together, we hit our stride.
On our third day together I made one wrong turn, then a second wrong turn and ended up plunging into the middle of a large city. At first she relentlessly fell into her "Re-CAL-cu-lating" repetitions. And I needed her now more than ever, so I couldn't turn her off.
But after a third wrong turn at a confusing multi-pronged traffic roundabout, a beautiful thing happened: Garmin stopped trying to put me back on the large autoroute and navigated us deftly through the center of town and then onto a beautiful two lane road.  It was as if she had said, "Well, okay then. You don't want to get back on that road. I'll show you another." This is the moment I think I first loved her.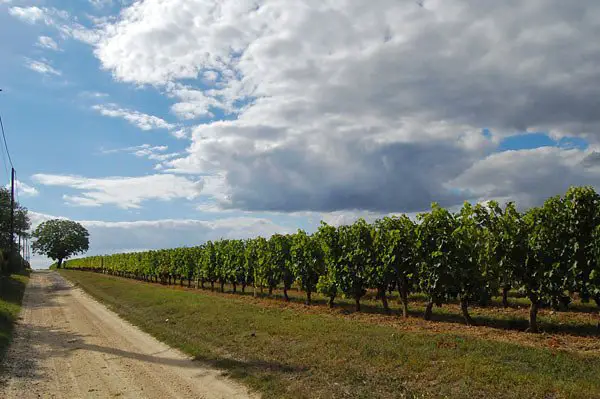 For the rest of the trip I followed impulses and exercised defiance. It felt amazing the first time I completely turned Garmin off, for no other reason than I wanted to get lost, and drive without a plan. I'd let her regroup in dark screened silence, only firing her back up when I  needed her to get me out of the middle of nowhere.
I became incredibly comfortable taking a little road because it looked as if something interesting might be down it. I'd see a steeple on the other side of the river and drive across a narrow bridge to get there. I followed signs with the words vin or fromage written on them, to places I would never find. Without her I wouldn't have found plateaus of blue skied and stormy vistas, full of ripe vineyards that felt like secrets.
She gave me the luxury of being able to get completely lost.
*all photos by Margo Millure © all rights reserved
Now we want to know: What travel tips for women have you gleaned from experiences with pesky technology?
Pin for Later