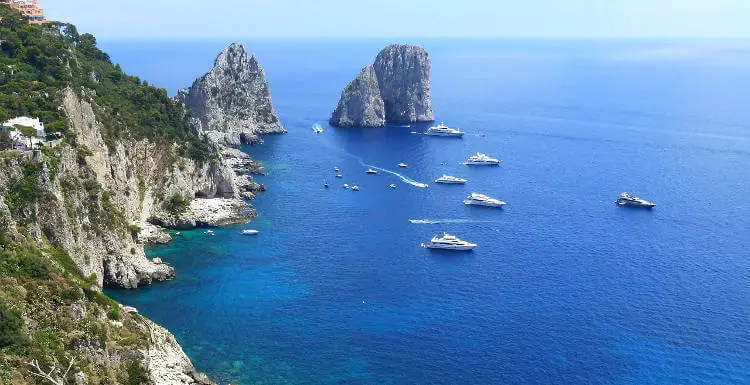 Awesome Things To Do in Capri Italy
So you have decided to visit the island wonderland of Capri, Italy!
Here are 5 awesome things to do in Capri, provided by our Travel Belles friend, Rebecca Humphrey.
If you are looking for the best guidebook for Capri and the surrounding area (i.e. Naples, Pompeii, the Amalfi Coast or Cirento), then we highly recommend Lonely Planet's Naples, Pompeii & the Amalfi Coast Travel Guide
#1 Rent a Boat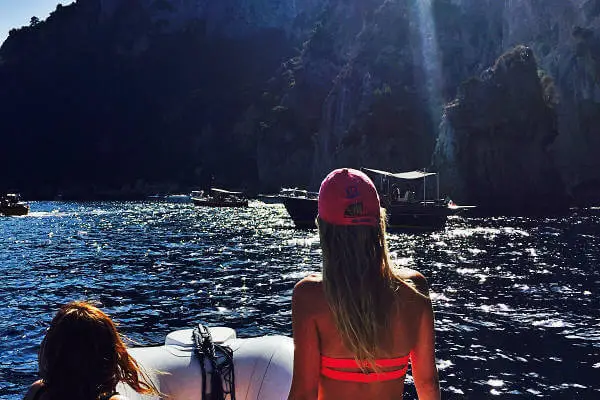 Capri is an island and there is nothing like viewing an island from the perspective of a boat. I cannot stress enough the importance of this. I am very tight with money, but it is worth the splurge to rent your own private gommone for the day, which is about 70 euros for 3 people with a hired skipper.
Or, you can catch a ride on a group boat. Whichever way you choose, see the island from the perspective of a boat. Not only is it a different sight, but it also gives you more opportunities such as swimming in the different grotte, or caves.
Tip: If you do want to go ashore, don't dock at Marina Grande. Instead, go to Marina Piccola. Here you do not have to pay the 50 euro docking fee as long as someone stays on board.
#2 Le Grotte: The Caves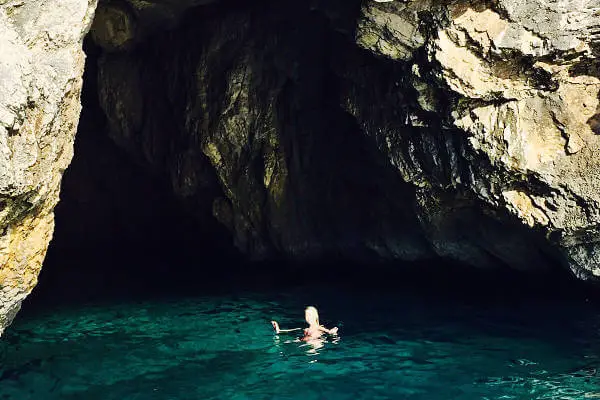 One of the best things about Capri is its caves. Of course, you need a boat to get there. There are three main caves, La Grotta Azzurra, La Grotta Verde, and La Grotta Bianca. Let's start with my favorite, La Grotta Verde.
La Grotta Verde: The Green Cave
This cave is so beautiful and was such a wonderful experience for me that I feel words do not do it justice.
You must take a boat to this cave that has such a low ceiling that boats cannot pass under. From there, you must dive into the water and swim through the cave (or stay on the boat and drive around).
As you swim through this tunnel-like grotta, green and clear water merge and glimmer, thus giving it the name, the green cave.
When you get out on the other side, you can see the expansive sea on your left. On your right there are two other larger and deeper caves that you can also swim into. Warning: It might be a bit scary!
Take your time swimming around, exploring the caves, and climbing the rocks.
The great thing about the green cave? There is no line, no crowd, and it is free!
You my also like: A Rome Day Trip to Bracciano
La Grotta Azzurra: The Blue Cave
This infamous cave also has a low ceiling that only a row boat can pass under. The water is a translucent blue that gives the cave its name. Unfortunately, there is often a long line (when we went it was 40 minutes). Plus, it costs 12 euros to go inside.
I know it is famous and beautiful, but to be honest, it could be skipped if you don't feel like wasting time waiting in a line. There are so many other beautiful places to explore around Capri!
La Grotta Bianca: The White Cave
La Grotta Bianca is much smaller than the other too. It is still beautiful, however, with it's white-rock facade. Worth a trip to take a look.
#3 Natural Landmarks
I Faraglioni
I Faraglioni are two rocks that are seen in almost every picture if you type 'Capri' into google search. They are famous for a reason. Their presence is powerful and demanding. You can practically feel the age and strength of the rock as you pass by them.
There is an arch carved into one of the rocks. Take your boat through it. Our skipper called it, "The Tunnel Of Love."
Arco Naturale: The Natural Arch
Again a name fit perfectly to what it is: a towering rock emerging into the sky with an arch etched through the middle. Breathtaking.
You may also like: Staying Local in Florence, Italy
#4 Marina Piccola: The Small Marina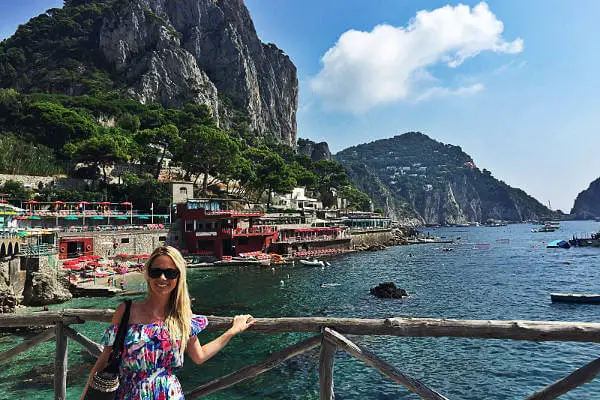 I prefer this marina over Marina Grande (Big Marina) because of the charming, tiny beaches that line either side of the dock. In front of the small beaches there are rocks jutting out from the sea that you can swim and splash around. There is a bar nearby to get refreshments, and it is well connected with an easily accessible bus that takes you to the other major towns.
Interesting Fact: They say this is where sirens seduced Ulysses.
#5 The Town of Capri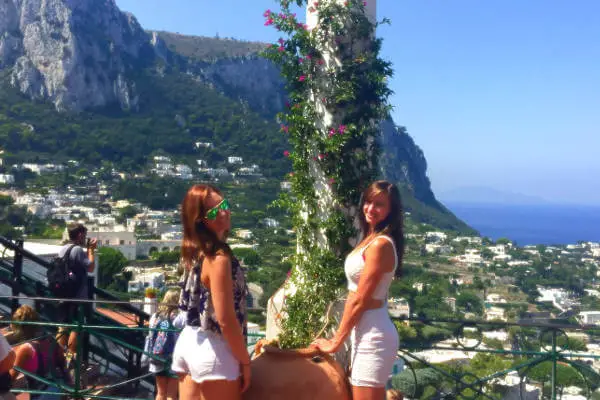 White-washed buildings and tight, winding pathways make this maze of a small town affascinante. The bus from Marina Piccola drops you off at the entrance piazza where there is a wide panoramic view of the sea. You can even spot Marina Grande down below.
As you enter the inner part of the town, the streets are lined with boutiques and other stores. Restaurants surround the smaller square, La Piazzetta.
Continuing further through the town, you will see signs marked with the names of the hiking destinations such as the Natural Arch. They also state how long it will take to walk there, which is a big help.
And that's it for my top tips of things to do in Capri. I hope you enjoy your visit as much as I did!
You may also like: Exploring the Slow Food Lifestyle in Italy