A traditional post-party breakfast of Spanish hot chocolate (churros con chocolate) is a chocolatey treat Travel Belles can enjoy any time of day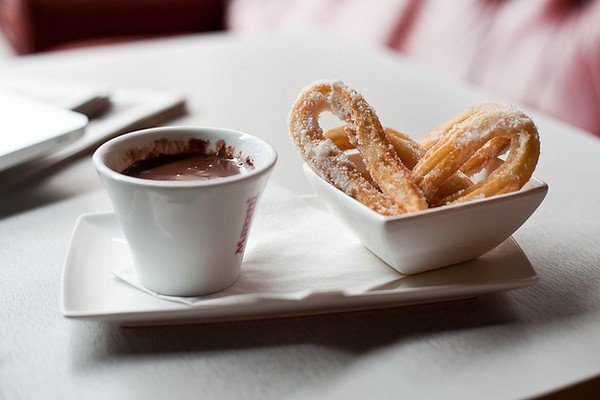 When it comes to chocolate I love it. Here in Spain, especially after a late night out, a Cola Cao, the country's trademark hot chocolate, or coffee along with churros dipped in a rich chocolate sauce, is a popular breakfast time indulgence. My stomach doesn't approve of such early morning eats, but any other time of day  –  well that's a different story.
Steaming hot churros wrapped in a serviette and dunked in thick, oozing chocolate and sugar is a fantastic treat, and one that visiting family and friends always expect. I couldn't possibly refuse them, now could I?
Leaving the churrería with a flat coil of piping hot dough between paper and knowing that at home little bowls of thick chocolate sauce and sugar are being prepared along with a decent ground coffee made in a bodum is fun.
The same goes for stepping into a cafe and watching the flamboyant yet artistic method of squeezing the dough out of a huge 'gun' into sizzling hot oil in one long unbroken curl. Even extracting any dough from the large gun is a testing feat.
So what is it about churros con chocolate that the Spanish and visitors like? Maybe it's that "oh I really shouldn't" feeling, or perhaps an iron stomach or a tee-total night before.
Mobile churro stands are common sights at the fiestas and come into their own around 6 a.m. when partygoers end the night by having churros and coffee before heading home, perhaps to soak up some of the alcohol and go to bed with a full stomach.
Born out of the Spanish thriftiness and that amazing ability to make something tasty out of nothing, churros of churros con chocolate, are created simply from flour and water cooked in the inevitable olive oil. Try these deep-fried churros with a thick chocolate dunking sauce any time of day.
Churros Con Chocolate Recipe
Ingredients for churros
Olive oil
1 cup water
1/2 cup margarine or butter
1/4 teaspoon salt
1 cup all-purpose flour
3 eggs
1/4 cup sugar
1/4 teaspoon ground cinnamon (optional)
Method
To make the dough for the churros, heat the water, margarine, and salt until boiling in a saucepan. Add the flour and mix well and vigorously over low heat until the mixture forms a ball, about 1 minute.
Remove the pan from the heat and beat in the eggs all at once. Continue beating until smooth and then add to saucepan while continually stirring the mixture.
Heat about 2 to 3 cm of oil in a frying pan over medium heat.
Spoon the mixture into a churros maker or a cake decorators' tube with a large star tip.
Squeeze 10 cm strips into the hot oil, frying 3 or 4 strips at a time until golden brown. Turn them once, cooking for about 2 minutes on each side. Drain the churros on paper towels and sprinkle with sugar. Cinnamon is a nice addition to the sugar, although not in the traditional recipe.
Don't forget to try making the traditional coil. Starting in the middle of the pan keep constant pressure on the dough-filled tube, trying not to break it. This needs lots of practice!
Ingredients for chocolate dipping sauce
2 cups milk
4 oz dark chocolate, chopped
1 tbsp cornstarch
4 tbsp sugar
Method
Put the chocolate and half the milk in a pan and heat gently to dissolve the chocolate. Keep stirring until the chocolate has melted.
Dissolve the cornstarch in the rest of the milk and add to the chocolate with the sugar. Cook on low heat, constantly stirring, until the chocolate has thickened, this should take about five minutes. Add extra cornstarch if necessary (depending on the consistency you prefer).
Remove from the heat and whisk until smooth.
*Photo by Matt Biddulph
Pin for Later