"The superiority of chocolate, both for health and nourishment, will soon give it the same preference over tea and coffee in America which it has in Spain."
– Thomas Jefferson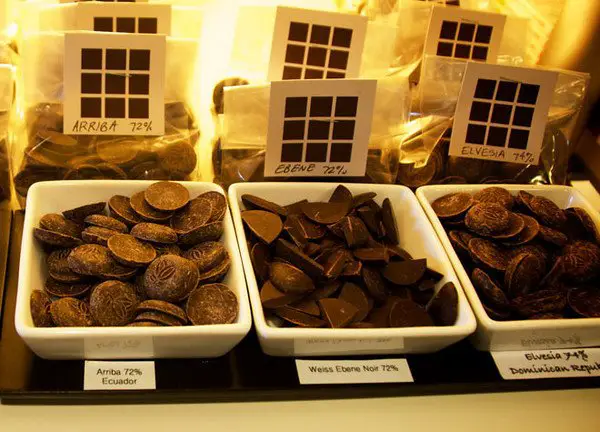 I am from New England but have had the opportunity to travel to and live in several wonderful cities around the world. Whenever I travel I like to visit the chocolate shops and discover unique confectioneries at my destinations. About a year and a half ago my husband and I moved from California to Washington DC, and since this city is still new to me, in addition to exploring the best restaurants in DC, I decided to check out and discover the best chocolate delicacies right here in my new home town.
Washington is a diverse city. There are three distinct versions of this metropolis – the city of politics, the city of tourists, and the city of residents. Today I want to share three equally diverse chocolate experiences I have discovered here in the U.S. capitol.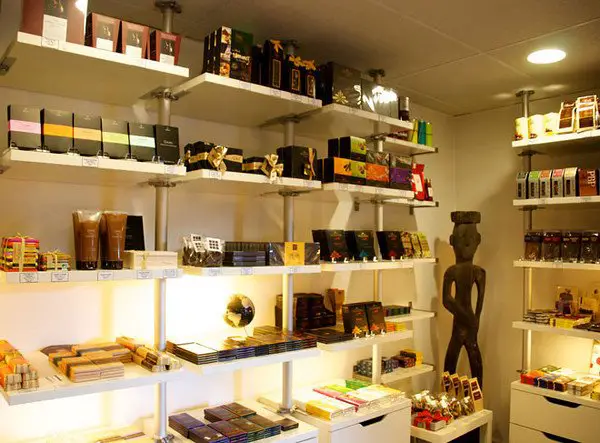 One of the first chocolate shops I visited after moving to DC was Biagio Fine Chocolates. The small store located on 18th Street NW  has quickly become my favorite place to go for high-quality chocolate bars and confectioneries. The shop is within easy walking distance from the Dupont Circle and Adams Morgan neighborhoods (as well as my house!)
Biagio is an adorable garden level shop; when open a sign is propped on the sidewalk. enticing customers to walk down the steps in search of chocolate. They sell a wonderful range of artisan and fine chocolate bars from all around the world. Brands include Amano, Blanxart, Cote d'Or, Domori, Michel Cluizel, Pralus, and Vosges Haut Chocolat, as well as local artisan producers such as Potomac Chocolates. While the other brands are probably familiar to chocolate aficionados, Potomac Chocolate is the first "bean to bar" chocolate company in the Washington DC area.
If you have not had the opportunity to try sample high-quality artisan chocolate before, a bar from Potomac Chocolates is a wonderful place to start. Founded by Ben Rasmussen in 2010, Potomac Chocolate handcrafts every bar using "bean to bar" principles. (In other words, Ben handles every step of the chocolate-making process: from roasting the cacao beans to molding the bars in his workshop in Woodbridge, VA.) The resulting chocolate is smooth, intense, and flavorful. Like with fine wine or really good quality coffee, you can taste the true flavor of the cacao beans in every bar Ben makes. (And good news for Travel Belles from outside the Washington metro area, Potomac Chocolates accepts orders via the web!)
Around the corner from Biagio is Locolat Café, a small Belgian cafe with seats spilling out onto the sidewalk in good weather. This is a perfect destination to enjoy a casual lunch or to stop for a beverage. In addition, they serve fabulous hot chocolate, but more about that in a minute. For lunch and dinner, Locolat Café serves waffles, panini sandwiches, salads, mussels, and other Belgian specialties. When I eat lunch here I like to order one of their savory waffles. These are a far cry from the traditional breakfast version. They come in a variety of flavors, including potato and chive, potato and sweet corn, red vegetable, and green herb. After selecting your waffle flavor you can choose from a variety of toppings: grilled vegetables smoked salmon, prosciutto, tomato, and mozzarella, or Flemish beef stew.
After enjoying my savory waffle, I order a cup of chocolate and a pastry and relax. Locolat Café serves hot or cold dark, milk, white, caramel, and cappuccino chocolate drinks. I am rather fond of their dark chocolate drinks; their rich chocolate flavor is not overly sweet.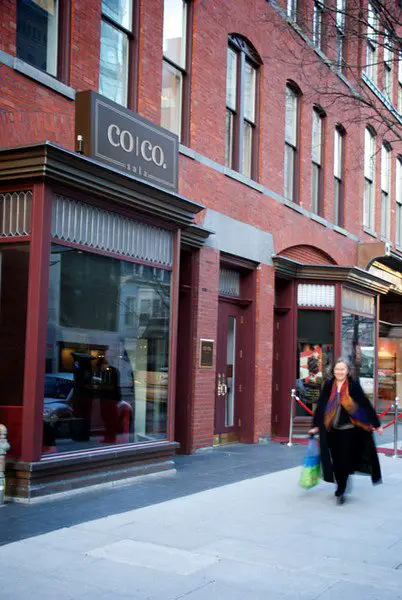 But Locolat is not only about waffles and hot chocolate; the cafe also has a wonderful selection of homemade truffles, chocolate confectioneries, and pastries. I love their truffles and often buy a box as a gift or to serve for dessert when I have company. The truffles have a very creamy texture and are available in dark chocolate, milk chocolate, croqaunte (hazelnut butter with crisped rice), almond, and coconut. (These delicacies are especially tasty when consumed with a glass of wine!)
Finally, it is time for us to move on to our last destination on a Travel Belle's chocolate tour of Washington DC – Co Co Sala. This trendy restaurant, lounge, and boutique features food, desserts, and drinks inspired by or containing chocolate. The first time I went to Co Co Sala, my husband and I came for coffee and dessert. We sat at the bar and enjoyed some lovely chocolates and decaf espresso. As soon as I sat down and looked at the menu, I knew I wanted to return soon for dinner.
A few weeks later I was meeting my aunt after work on the sidewalk outside Co Co Sala. After snapping a few requisite photos of the building's facade, we went inside. The interior of the restaurant invokes luxury – dark wood with rich red accents – perfect for a place dedicated to chocolate indulgence.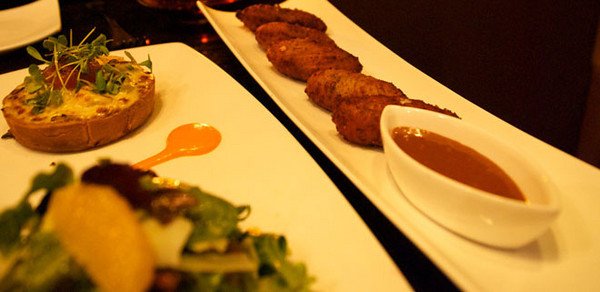 We sat down at a table along the wall and studied the menu. Yes, studied. Both my aunt and I perused the entire menu (appetizers through desserts and drinks) to plan out our whole meal. The menu is not overwhelming, but we wanted to assure we could sample a nice assortment of both savory and sweet dishes.
The food began arriving – savory first. Scallops with a cocoa nib crust, artichoke tart, and four cheese fritters. The food is served tapas-style making it perfect for sharing.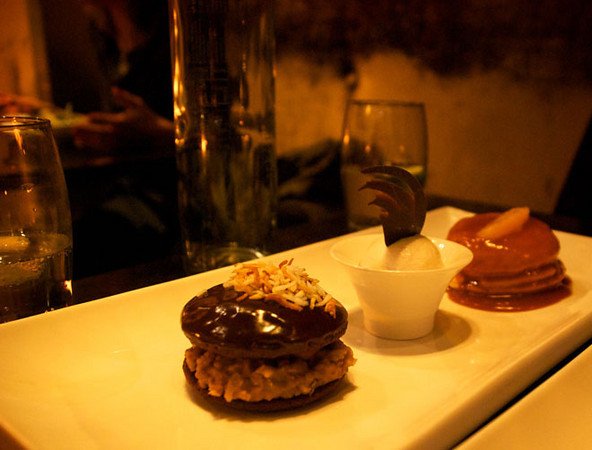 When dessert time arrived the waiter brought two beautiful plates to our table. Each dessert dish on the menu has given a cute name; our desserts were called "Makin' Whoopie" and "Chocolate Onyx". The presentation on both made it almost a sin to eat them, but not quite!
The first dish had two whoopie pies – one warm made of German chocolate, and the other milk chocolate with passion fruit sauce. The German chocolate pie was rich and nutty, while the other was light and delicate. Both were delicious!
The second dessert was truly all about chocolate decadence. There were three components to this dessert: first, a creamy cinnamon toffee ganache bonbon, then a small cup of chocolate sorbet, and finally a square of chocolate mousse with crème brulee and chocolate pearls in the middle and topped with salted caramel. It was absolutely amazing – the perfect end to the perfect chocolate-inspired meal.
Next time you are in Washington DC take some time to explore beyond the museums and monuments and you will find some delightful treats!
Finding the best chocolate in DC:
Biagio Fine Chocolates
1904 18th St NW
Washington, DC 20009
(202) 328-1506
Potomac Chocolates
Locolat Café
1781 Florida Ave NW Suite A
Washington, DC 20009
(202) 518-2570
Co Co Sala
929 F St NW
Washington, DC 20004
(202) 347-4265
*All photos by and used with permission of Jessica Orquina
Pin for Later