Exploring Recoleta Cemetery (Cementerio de la Recoleta)
In the heart of Buenos Aires lies a favorite destination for locals to take an afternoon stroll through the small winding streets, admire the scenery and enjoy the peace and quiet. But this place is not a neighborhood — at least for the living……
it's a cemetery.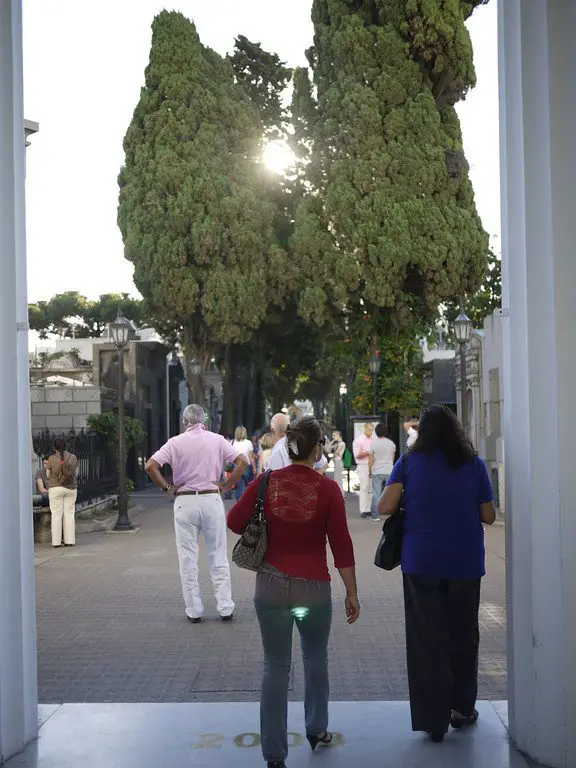 On any given afternoon, stylish Buenos Aireans can be seen entering through the massive gateway of La Recoleta cemetery, into what could be best explained as a maze of tiny streets and miniature buildings. At one time the home to an order of friars, the site became the first public cemetery of Buenos Aires in 1822 when a freed slave and a young Uruguayan girl were buried on the property.
To this day, no one knows the location of those graves, but since then the cemetery has become the place for the wealthy to be buried. With no further room for additional structures, only those who belong to the families of the 4,870 graves already built can be laid to rest here.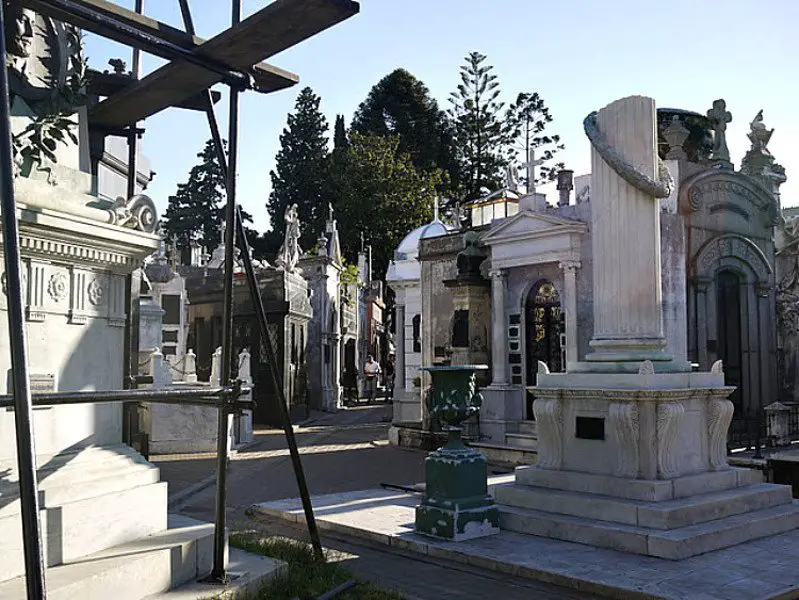 One of the most famous residents of La Recoleta is Eva Peron. As the champion of the poor and disaffected, she would probably roll over in her grave knowing she was buried in what is the elite cemetery of Buenos Aires. Yet after her body was moved multiple times since her death in post-Peronist Argentina, she's hopefully at peace knowing she is finally at rest in one place.
You could wander forever alongside the eternal souls who most certainly do, among these elaborately carved monuments. Some contain miniature chapels, and peering through the glass you can see spiral staircases heading down into what must be burial chambers below the street level.
The architecture is a mixed bag of Neoclassical, Art Nouveau and Art Deco styles, reflecting the many periods of history the cemetery has been in use. Laid out like a small city, there are even street names at every intersection. The variety of sculpture adorning the monuments is stunning – angels are everywhere, draped over the tomb entrances, guarding doorways and taking up residence on top of towers.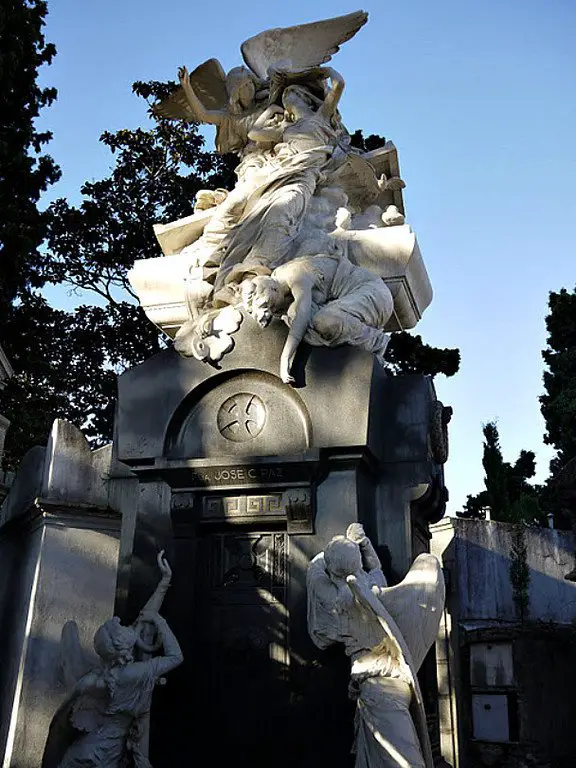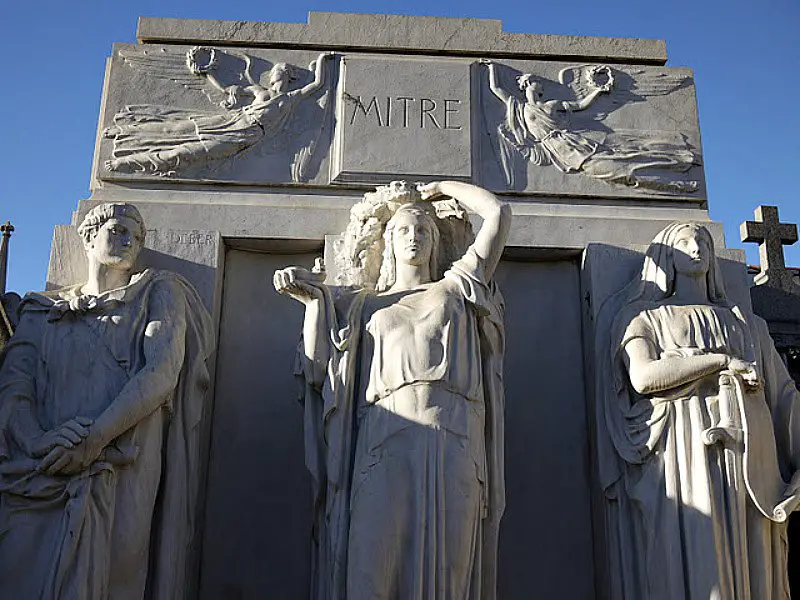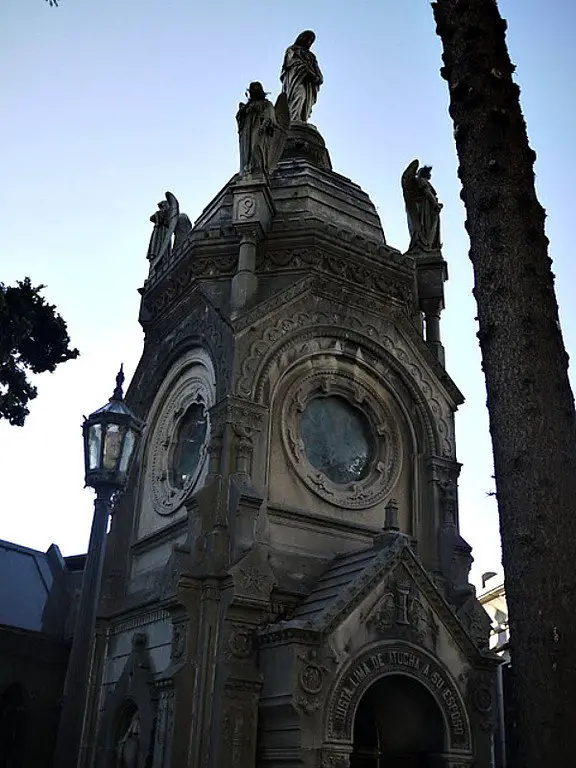 One sculpture adorns the grave of a young woman who died on her honeymoon. As a member of a prominent Argentine family, a statue of her was commissioned to match the bronze sculpture of her beloved pet dog which she, an artist, had sculpted previously. Reportedly the dog fell dead at home in Argentina the same moment his master was swallowed in an avalanche in the Alps.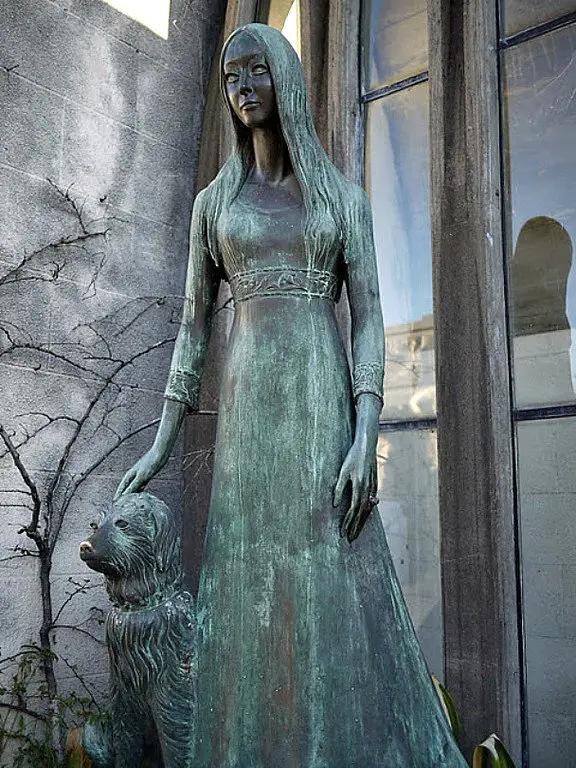 It is strangely peaceful to walk among the graves in this city of the dead, all the time seeing the skyscrapers of the living hovering in the distance. The best time of day to visit is at dusk, just before closing, when the fading light creates deep shadows in the streets, enhancing the ambiance of mystery that permeates the site. As with many graveyards, there are stories of hauntings in La Recoleta, so have your camera ready in case the ghost of Evita manifests among the streets…
….and be sure to watch for the orbs!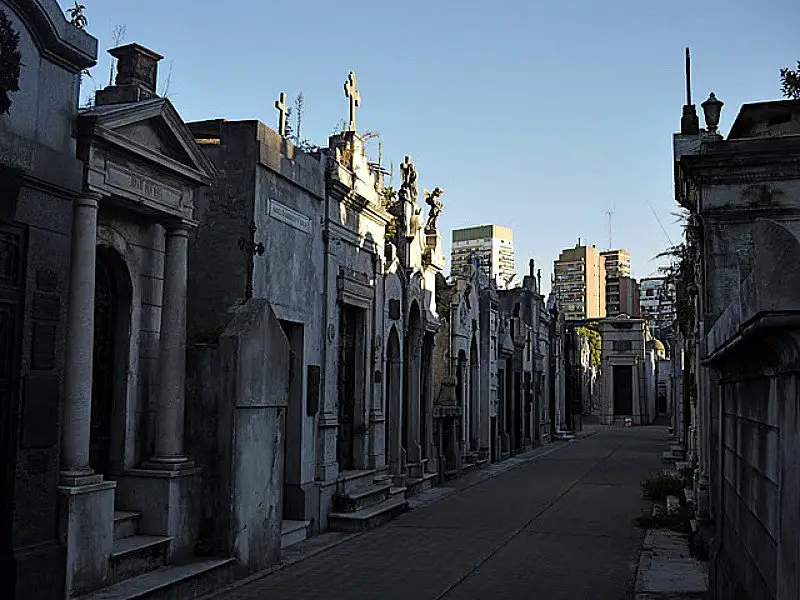 Next up about Buenos Aires: Bright Lights and Tango Steps in la Bonita Buenos Aires 
…And Argentina: Fun and Fiestas in Argentina
Pin for Later